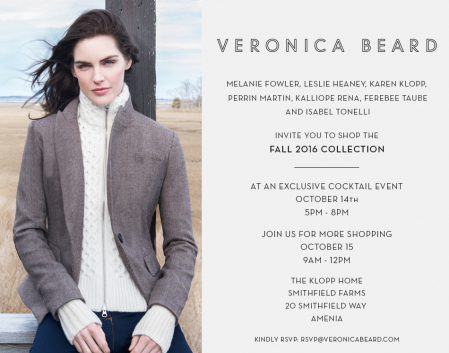 Next weekend Karen is co-hosting a trunk show for the American sportswear brand Veronica Beard. Everyone is welcome!  The classic but cool line was launched by sister-in-laws in the fall of 2010. They began with their signature Dickey Jacket and have evolved into a full ready to wear collection. Their pieces are chic and 
easy to wear, plus the fit is just right. I recently checked out their new store on Madison Avenue and it felt like I was in some ones home, granted a home with lots of beautiful clothes to peruse.  And I just couldn't resist.  I can't wait to see what they do next!  
Editors Note:  Join us at the Trunk Show – everyone is welcome.  Shopping with a glass of wine is the best!   VB is the ultimate classically chic, stylish and  comfortable.  Perfect for Packing for Travel.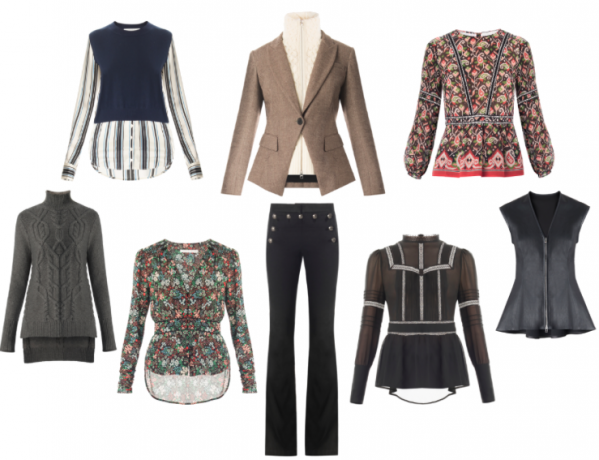 Tops:   Veronica Beard Mellow Mixed Media Sweater $450   /   Veronica Beard Ouija Turtleneck $450   /   Veronica Beard Ripley Ruched Boho Blouse $450   /   Veronica Beard Cabo Crew Neck Boho Blouse $395   /   Veronica Beard Lakewood Lace Victorian Blouse $550   /   Veronica Beard Midnight Peplum Top $695
Jackets:   Veronica Beard Zinnia Dickey Jacket $900
Pants:   Veronica Beard Tide Line Wide Leg Sailor Pant $395