We are starting a new column called "What to Buy This Week" because friends are always asking "What are you buying?" or "What's new?"  So let us know what we you are looking for and we will find a great selection.   Sometimes we have an item in mind, like this week's cardigans and shrugs.  Other times, we are shopping for something, and we spot a trend that we have to share.   This is prime season for a perfect knit pairing.  The temperature is variable, it warms and then it chills, and often places are drafty or have the air conditioner going, especially luncheons and dinners in large spaces.  The cardigan is the ideal way to be prepared.  Throw it over a dress, pants, or jeans and T-Shirt and it completes the look in chic-cozy style.   While, the shrug with its shorter length and snug fit  is a natural pairing for a dress, while solving the "arm" issue that challenges many of us.
Our favorite cardigan of the season is this Tory Burch Garden Variety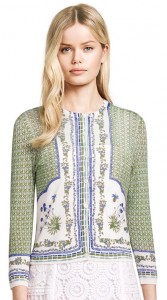 And at Tory Burch, we also great shape, pattern and texture.

Tory Burch: "Margaret" Cardigan $325    /    Tory Burch: "Avery" Cardigan $295    /   Tory Burch: "Trixy" Cardigan $395 
SPRING SHRUGS
For shrugs, Bergdorf Goodman has the best selection.
Oscar de la Renta Cashmere-Silk Shrug $890   /    Lela Rose Half-Sleeve Shrug, Peony Pink $295   /   Lela Rose Classic Half-Sleeve Shrug $295

These are also stylish choices, shrug-like cardigans. 
M Missoni Degrade Grid Stitch Cardigan $595   /   Catherine Malandrino Charlene Zigzag-Pattern Cardigan $195 ON SALE   /   Catherine Malandrino Short-Sleeve Pointelle Cropped Cardigan $295