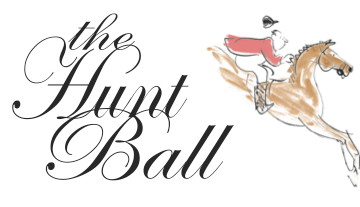 Of all the articles we enjoyed presenting, What to Wear to a Hunt Ball is one of our most popular. Traditionally women wore either white or black and long to a hunt ball but through the years, the accepted color has become black.  It creates quite a spectacle on the dance floor with the women in elegant black gowns and men in tuxedo's or their "pinks" which are actually scarlet formal hunt jackets.  We went to Bloomingdale's to find this sensational selection with a range of price.  Whether you want strapless, sleeveless or a little cover, you won't find a more stunning line-up anywhere.  Any one of these beauties will take you right through the season of long formal dresses.  Please remember when you click through our site to shop, a portion of our commission is donated to our Charity of the Month. 
Left to Right:   Badgley Mischka High Slit Ruffle Gown $670,     Black Halo Eve Asymmetric Neckline Gown $690,     Armani Collezioni Gown – Matte Jersey with V Neckline $1197 ON SALE,       David Meister Embroidered Illusion Neckline Gown $568
We consulted Pat Ike, our expert on the subject, for a bit of history, "White or black and long is correct…more specifically…no color.  Proper term is always scarlet when referring to "pinks".  Named after the tailor Mr. Pink.  Traditionally red is never used as a descriptive term. When the British soldiers came home from the war (redcoats) they hunted in their uniform coats."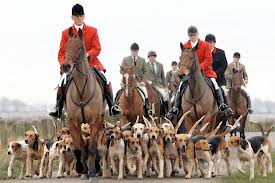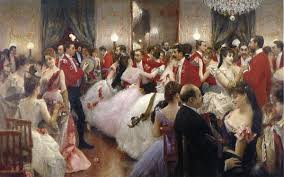 You can see more Hunt Ball photos at New York Social Diary.