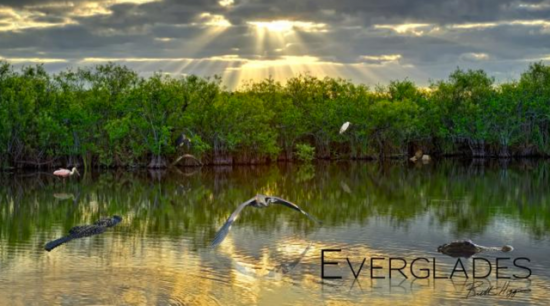 Lions and tigers and . . . . .  our fearless Fashion Director, Hilary Dick is traveling to the Everglades for a stalking Safari with Ron Bergeron, Florida Fish and Wildlife Commissioner.  Ron was raised in South Florida, home to eight generations of his family where they lived and breathed a culture within the elements of nature.  Today he is a champion for the preservation of the Everglades and the teeming ecosystem it supports.    "I'm a true Gladesman and proud of it."  A Gladesman is a person who is very passionate about and has fallen in love with the environment of the Everglades.  Thank goodness there are heros like Ron, a Gladesman and a gentleman.
For what to wear on an aligator adventure, Hilary went to J.Crew for a selection of must-haves for summer that will travel beautiful in the Everglades.    Like an African Safari, when exploring nature, we recommend dressing in earth tones.    For day wear, shorts, tee shirts, sneakers and don't forget your hat and snake chaps. Into your tote throw, sun screen, bug spray, water, binoculars and other essentials.    For casual evenings, nothing beats a pair of white jeans on tunic, and sandals.   Can never get enough white in the tropical heat.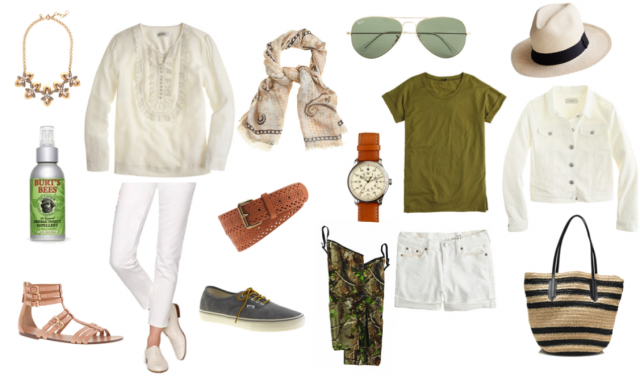 Stacked Flowers Necklace $45 ON SALE    /   Burt's Bees: All-Natural Herbal Insect Repellent $8.75   /   Silk Eyelet Bib Top$148   /   Stretch Reid Crop Jean In Chalk $115   /    Paisley Diamond-Stripe Scarf $55   /  Perforated Leather Belt $55   /   Vans® For J.Crew Washed Canvas Authentic Sneakers $60   /    Denim Short In White $79.50   /    T-Strap Gladiator Sandals $178   /   Ray-Ban® Aviator Sunglasses $145   /  Mougin & Piquard™ For J.Crew Grande Seconde Watch In Cream $425   /  Rattlers Original Snake Chaps $64.95   /   Vintage Cotton Cap-Sleeve Tee $29.50   /  Panama Hat $58   /   Nolita Denim Jacket In White $128   /   Stripe Market Tote $55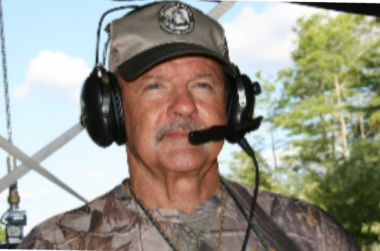 Ron Bergeron's success didn't come easy, "It was quite a journey, I was very disciplined." At the age of 18 he left home with $235.12 in his pocket and started clearing land with a machete, a rope and a 1954 Mercury to drag off the trees. The business was launched when he bought a 1943 Ford Ferguson tractor. He is now one of the most successful and largest site development & roadway contractor's in the State of Florida.  His companies continue to be among Florida's Top 100 Contractors in Southeast Construction Magazine every year.
In addition to all of his entrepreneurial efforts overseeing an empire of more than 30 successful companies, Ron's dedication to all God's creatures extends to both the 2 and 4 legged kind. His love of the Florida wildlife and understanding of their needs to be protected motivates him to budget half of his time to Everglades conservation. He is currently serving as the Florida Wildlife Conservation Point Commissioner over the entire Florida Everglades. He was honored as 1 of the 4 finalists for the National Fish and Wildlife Foundation "2011 Conservationist of the Year".   He is  personally responsible for raising millions of dollars for Boys & Girls Clubs, Partners for the Homeless, the Homeless Center, Arthritis Foundation, Wildlife Foundation as well as countless other non profit organizations.
"I came away with a deep appreciation for the preservation of the Everglades and the man who embodies it all!"