One of our favorite parties of the year is RIVERKEEPER'S Fishermen's Ball.  And this year will prove to be more festive than ever with Jeff Koons in the mix along with the usual cast of celebrities, conservationists, and characters.  Join the festivities as they celebrate their achievements in protecting our region's precious water resources at Pier 60, Chelsea Piers on the Hudson on Wednesday, May 20th, 2015. RIVERKEEPER is pleased to honor three changemakers with their Big Fish Award this year: Eileen Fisher, HSBC, and Jeff Koons. With David Reilly as Chair, and Amy Hall and Monica Rowe as Vice Chairs, the ball is guaranteed to go swimmingly.   For tickets and information, please visit RIVERKEEPER.   

When deciding what to wear to this trending event, our first cast is Nicole Miller, iconic designer and long-time supporter of RIVERKEEPER.  Nicole designs for adventuresome, fun-loving women, like the RK fans.   Take your pick of three eye-catching party frocks, sure to put you in the mood to celebrate.   As the dresses take center stage, add subtle accessories and a pair of feminine earrings to complete the effortlessly chic look to spawn compliments all season long. Nicole's dresses also travel like a dream, so pack a few to go by land, air or sea this summer.
Party in Prints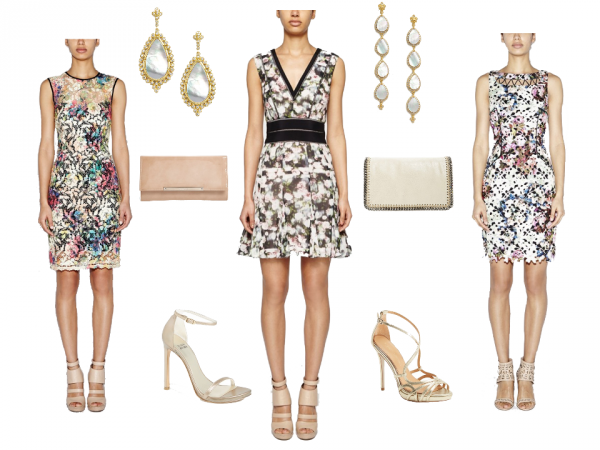 Please click on the links to purchase.
Dresses:   Nicole Miller Artelier Fantasia Lace Dress $420   /   Nicole Miller Rose Trellis Dress $430   /   Nicole Miller Printed Venice Lace Dress $510
Earrings:   Freida Rothman Femme Teardrop Earrings $245   /   Freida Rothman Femme Linear Earrings $390
Clutches:   Jimmy Choo Marilyn Patent Clutch $625  /   Stella McCartney Falabella Shaggy Deer Crossbody Bag $960
Shoes:   Stuart Weitzman Nudist Sandal $398   /   Badgley Mischka Mega Platform Sandal $225