When a bestie decide to fulfill a lifetime dream of driving in the Mille Miglia and asks you to come along to celebrate, what can you say but si,si, mille grazie!  We are beyond thrilled at the prospect of tooling around Italy in May following the race for classic and vintage cars.  The original Mille Miglia took place from 1927 to 1957 but was halted when several fatal crashes took place.   In 1977 the race was reborn and today, only cars produced before 1957, registered to the original race can participate.  The course in 1000 miles beginning and ending in Brescia, about a hour and a half from Milan.
This is the beauty they are driving, (insert long whistle) A 1954 AC Ace.

And these are the beauties driving.  They are avoiding publicity until their stupendous victory,  roaring across the finish line in Brescia next Saturday.   Of course the bespoke  jumpsuits are made by Huntsman Savile Row – who else!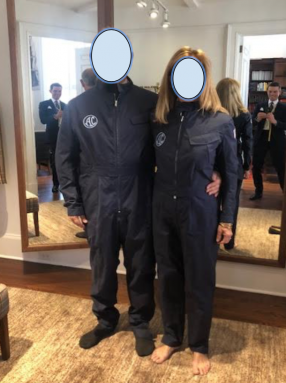 So by now you are begging the question, "What to wear Mille Miglia!?  I was so inspired by gorgeous the shade of of the classic chassis, I went shopping for a complimentary wardrobe – must look good in photos in front of the car in the Awards Ceremony!   I often travel with J. McLaughlin fashion for comfort and style.    Their patented Catalina Fabric is a travelers dream.  You can wear it again and again and it always looks fresh – never wrinkles and it is appropriate attire for any destination.   See full Packing List below.
Off to the Race!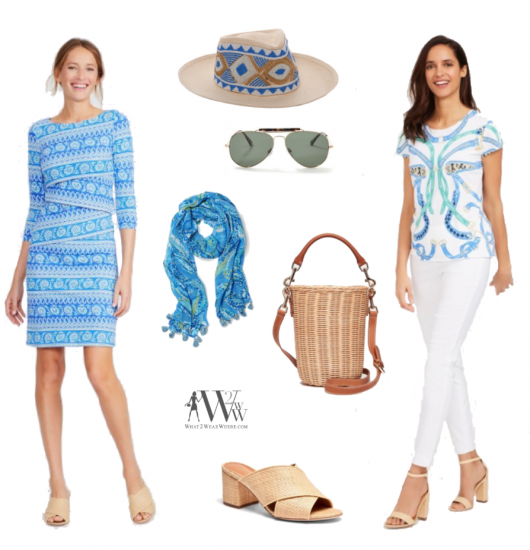 dress & top: by JMcLaughlin  Nicola Dress In Beverly Stripe  $225  /  Emory Cap Sleeve Toe In Neo Chevalier  $98   pants: JMcLaughlin Masie  $158   accessories:  Glamourpuss Nyc Evil Eye Panama Hat  $175  /  JMcLaughlin Ace Polarized Sunglasses  $120  /  JMcLaughlin Postcard Scarf In Watercolor Paisley  $58  /  JMcLaughlin Erin Wicker Bucket Bag  $198  shoe:  JMcLaughlin Tribeca Slide In Raffia  $198
PACKING LIST MILLE MIGLIA 4 DAYS 
Activities during the day  exploring villages both on and off the Race Course, lunches, and visiting historical landmarks along the way.
PACKING LIST DAY:   2  casual dresses, 1 white jeans,  2 tops, 1 cardigan, 1 packable hat, 1 pair of comfortable shoes or sandals, 1 purse, watch, simple jewelry, sunglasses.     Note:  Purse should be large enough to hold cell phone and or camera, water, map of the race, and binoculars,
In the evenings expect parades and parties in the village, dinners under the stars and lots of Prosecco!
PACKING LIST EVENING:   2 dresses long or short,   1 pair of pants,  1 silk blouse, 1 tunic, 1 pair  strappy sandals or wedges,  statement jewelry, 2 wraps, 1 clutch bag    Some dresses and tops can do double duty with a change of jewelry and shoes.
MISCELLANEOUS:  light jacket, umbrella, binoculars
For more extensive Packing Lists and Advice, we recommend: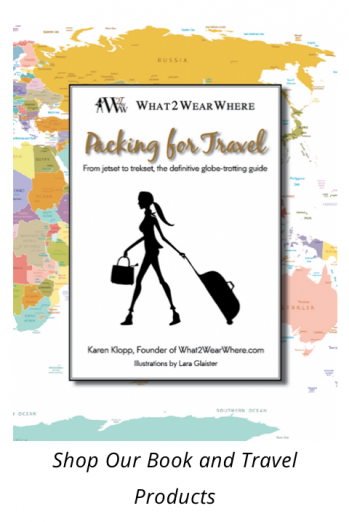 Watch a Video Trailer Mille Miglia The Spirit of a Legend
.