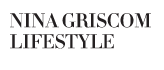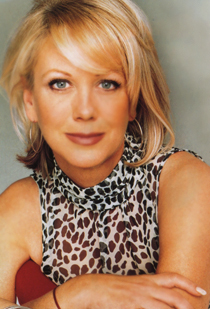 We caught up this week with our witty friend Nina Griscom, who has just launched a fabulous new lifestyle site, www.NinaGriscom.com, and talked to her about her impeccable sense of style, both as a talented interior designer and a superbly stylish woman.  Nina Griscom is well known for her unique, well-honed taste in the world of lifestyle: interior design, entertaining, and gardening.  Griscom's hallmark is characterized by a monochromatic palette, layered with organic, beautifully crafted pieces and accessories derived from her travels around the world. As a young woman, Griscom's personal friendships with Bill Blass, Rose Tarlow, and Axel Vervoordt served as early inspiration and a laboratory for her own brand of luxury and refinement, which she has taken to another level.  Griscom is an expert at advising aspirational clients who want an elegant, well-heeled lifestyle.
W2WW: We have so much admiration for your sense of style. What are your influences?
Nina Griscom: First, Italian women for their well-established ability to style classic designs with beautiful accessories, and to handle ageing gracefully.  And second, what I see in street life conspires to light up my imagination and allow me to go into my closets with a new perspective.
W2WW: How do you define your style?
Nina: Tweaked classics that pertain to my REAL (not imagined, nor former) lifestyle.  More casual, and more emphasis on luxurious fabrics, as well as classic cuts.  More than any fashion direction, I try to define my style by how I honestly live!  Accessories play a larger role in my life now.
W2WW: What pieces are you buying now?
Nina: I love Wes Gordon, who is a young, up-and-coming designer with clients such as Gwyneth Paltrow, and all the cool young fashionistas in town.  I have bought his perfectly proportioned trousers from this Fall's collection.
SEE THE WES GORDON COLLECTION AT BERGDORF GOODAMN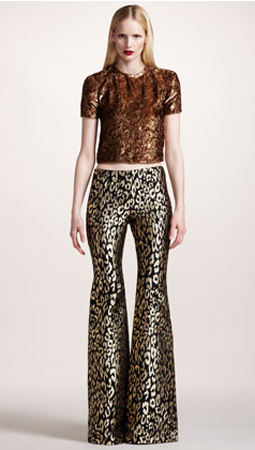 Wes Gordon Crushed Velvet Tee ($1650)
Nina: I also ADORE black leather pieces.  Always have, but now they are so well made and elegant.  The designs from Celine, Tom Ford, and YSL are amazing.
SHOP TOM FORD AT BERGDORF GOODMAN
Skunk Fur Minaudiere ($1660)              Padlock Pump ($1100)              Cat-Eye Sunglasses ($390)
Leather Collar Blazer ($2890)      Leather -Sleeve Tee ($750)         YSL Leather Inset Dress ($1990)
Nina:  For a lower price point, delivering a good product, I like Vince, Theory, and DVF.  Bring on the leather!
SHOP VINCE AT BERGDORF GOODMAN
Vince Leather Crewneck Jacket ($995)                            Vince Leather Jeans ($1150)
SHOP THEORY AT BERGDORF GOODMAN
Theory Leather Jacket ($995)               Theory Leather Sleeve Dress ($355)
DVF Leather Dress ($995)                       DVF Studded Leather Jacket ($1200)
See more from Nina on Interior Design, Food, Entertaining, Fashion, Travel, and more at NINA GRISCOM