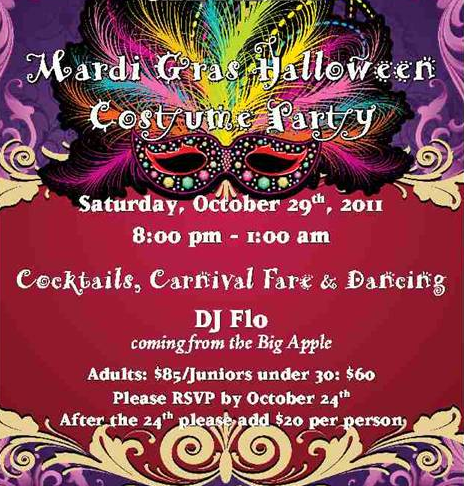 A certain rakishly fabulous party-giver we know is hosting  a Mardi Gras Themed Halloween Bash this year.  For what to wear we went shopping at Net-a-Porter for this stylish column of purple – one of the season's must-have shades.   This dress is lined which makes it really smooth and flattering and it falls really well, so Spanks are optional.  This would be a sultry look with a little bling for a formal event or dresses down for a dinner party at home.  For the Mardi Gras theme, we played with purple, green and gold, the traditional colors of the fete –  purple represents justice; green, faith; and gold, power.  We  jazzed it up with  feathers to strut and beads to toss!   Just don't miss the shoes!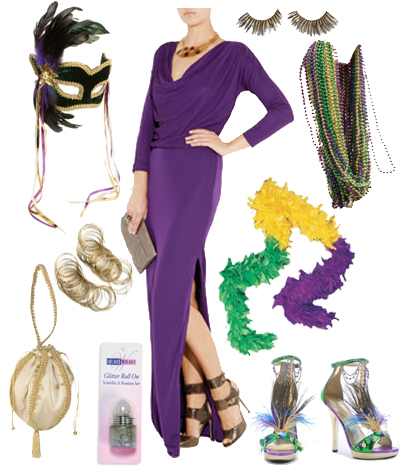 Left to Right: Mardi Gras Feather Couples Mask ($13), Gold Bangles ($4), Renaissance Pouch ($15), Gold Roll On Glitter ($4), Halston Heritage Draped Matte-jersey Gown ($420), Black and Gold Eyelashes ($7),  33″ Round Mardi Gras Beads ($17), Mardi Gras Boa ($15), Mardi Gras Adult Shoes ($57)
Or if Queenie deigns to wear short, another great Halston Heritage from Net-a-Porter!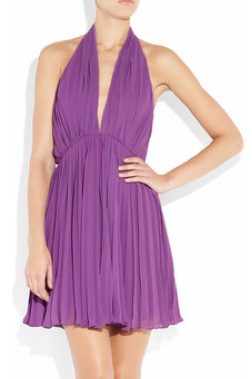 Halston Heritage Pleated Chiffon $475.
For more great dresses go to Net-a-Porter