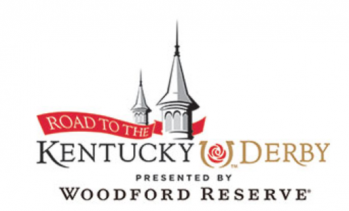 Saturday, May 5th, will mark the 144th Kentucky Derby.  Alternatively referred to as "The Run for the Roses" or "The Most Exciting Two Minutes in Sports." the Derby is so much more than a 1.25 mile race for three-year-old thoroughbred horses – it is one of the great American institutions run under the iconic twin spires of Churchill Downs.  From the parade of horse and rider,  to singing of My Old Kentucky Home, the imbibing of Mint Juleps, to the Garland of Roses, each tradition adds to the rich history.   To find out more about Derby history, the best recipe for Mint Julep, music and lyrics to "My Old Kentucky Home," or even the opportunity to wager on the derby, please visit the website of Kentucky Derby.
In 2009, Churchill Downs partnered with Susan G. Komen for the Cure for the Derby's little sister, Kentucky Oaks.  The race takes place one day in advance of the derby when the historic racetrack is decorated in pink bunting and guests are asked to prominently incorporate pink into their attire in an effort to raise funds and drive national attention to the fight against breast and ovarian cancer. The Oaks has made PINK their signature color and we are presenting our softest pink selection of what to wear to the Kentucky Derby.   Hats or fancy fascinators, of course, take center stage at this glorious equestrian spectacle, so we chose our accessories carefully to compliment this dandy duo, each is guaranteed to put you in the Winner Circle.
Kentucky Oaks 
dresses:  Shoshanna Airi Pink Ruffle  $405  /  Kobi Halperin Andrea Pink Multi Paisley Silk  $548  hats:  Giovannio Trina Asymetrical Sisal Hatinators  $299  /  Christine A. Moore Bonnie- Parisisal Big BrimHat  $624  /  Kokin Hotel De Paris  $875   /  Scala Eloise -Sinamay Fascinator  $69  bag:  Anya Hindmarch Pillow Layered Metallic Clutch Bag  $575  shoes:  Manolo Blahnik BB Patent Pointed-Toe Pump  $625   /   Manolo Blachnik Estro Fabric & Pvc Ankle-Wrap  $745
Love this photo of our friend, Webb Egerton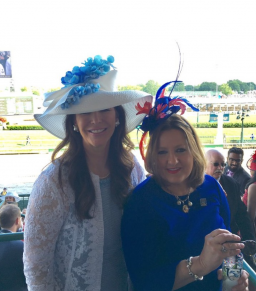 Then onto Derby Day in bouquet of lilacs and irises.  These Shoshanna frocks are so feminine and perfect for a Southern Soiree.   We pared them with the same purse and shoes (to save room in your suitcase) but chose two fabulously festive fashionable toppers.   And they're off!
Derby Day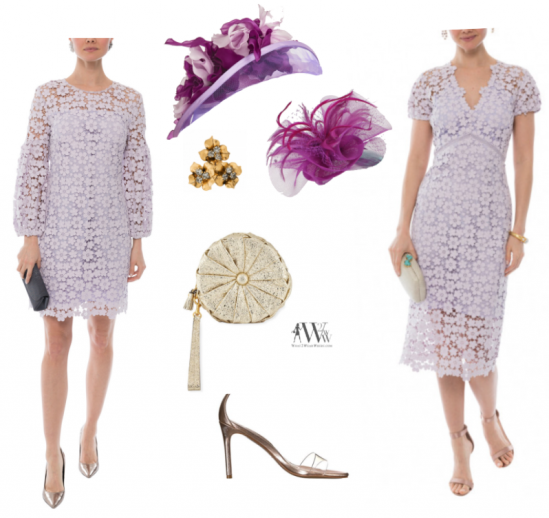 dresses:  Shoshanna Vina Lilac Lace  $418  /  Shoshanna Paulina Lilac Lace  $404  hats:  Christine A.Moore Iris Queen – Parisisol Big Brim Hat  $815  /  Swan Belinda-Headband Fascinator  $59   accessories:  Anya Hindmarch Pillow Layered Metallic Clutch Bag  $575  /  Jennifer Behr Maye Earrings  $128  shoe:    Manolo Blachnik Estro Fabric & Pvc Ankle-Wrap  $745
For Other Ideas on Fabulous Hats:  The Central Park Conservancy Hat Luncheon