Thigh-High Boots seems to be a trend that is holding strong. I have been wary of the look, thinking it could conjure up images of Julia Roberts in Pretty Woman.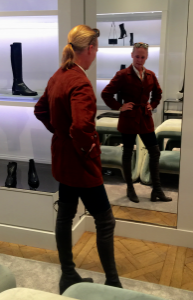 But I decided I better test drive them and see what all the fuss is about. So KK and I headed to Stuart Weitzman and did some boot shopping, all in the name of fashion of course! What we found is that the over the knee boots are actually quite flattering! And if paired with the right outfit can be super chic and fun. I prefer them with skinny jeans, and yes I could get them over my jeans very easily. I like the look of them with a skirt or dress but be careful of the hem length, less is more in terms of showing your legs with these.  Or you can wear with a dark, matching tights to elongate the look even more, eliminating the problem. I shopped at Bergdorf Goodman to find some pairings I thought would work well. I think the boots add spice to these pretty dresses. I particularly like the grey boots with the La Petite Robe di Chiara Bell Sleeve Dress. And the classic jean, sweater and boots combo can't be beat. I am now a Thigh High Boot convert.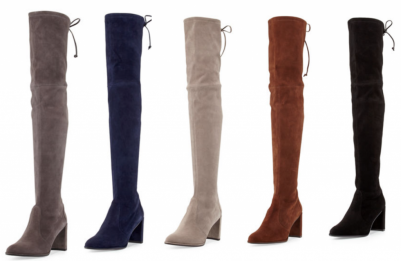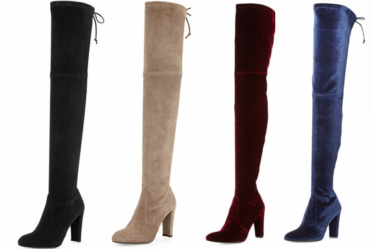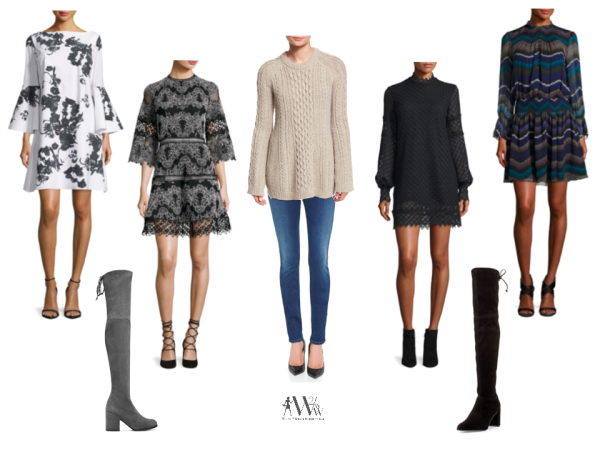 Tops:   Theory Lewens Loryfelt Cable Knit Sweater $425 
Bottoms:   7 For All Mankind Mid-Rise Skinny Jeans $198
Dresses:   La Petite Robe di Chiara Boni Shift Dress $695   /   Alexis Karina Embroidered Dress $649   /   Iro Kara Long Sleeve Lace Mini Dress $445   /   Diane von Furstenberg Kelley Encore Printed Blouson Dress $398
Shoes:   Stuart Weitzman Goodland Suede Boot $798 
Editors Note: I accompanied Hilary on her fact-finding mission to Stuart Weitzman, a favorite bootier with a vast assortment of shapes & styles,  in their newly reopened Flagship on Madison 
Hilary started with a Mid Heel-Over the Thigh – great look. 
 Then tried a Higher Heel which were stunning. 

A quick change and Hilary was modeling the look in a cute floral dress.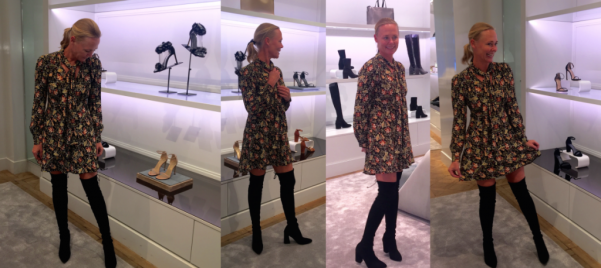 Meanwhile, back at the office Glamourpuss's Courtney Moss was also in vogue.