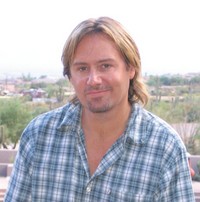 Our friend David Prybil has written a wry drama of California Dreaming in present day Sacramento.  A writer-producer with 15 years of experience in the film business GOLDEN STATE is his first novel, and it has been selected for the iUniverse Barnes & Noble "Rising Star" program.
"Let's also add a dash of the impending governor race where an equally colorful lineup of characters runs for office, the brightest hue being Arnold Schwarzenegger.  David Prybil has created a motley crew of characters who writhe from the page against the backdrop of a state in need of change. The characters' agony, triumphs, and ever-present hope in the American Dream is heartfelt and achingly honest… [and] filled with dialogue and storylines that gleam." Heidi Komlofske, San Francisco Book Review, March 2011 issue.
He will be NYC and the surrounding areas from April 27 – May 3 for appearances in support of Golden State, including a signing at BookBook, 266 Bleecker Street, Greenwich Village, May 3, from 5 – 7 p.m. For more information  and to order a book, go to David Prybil. He is currently at work on a second book, entitled LOLITAVILLE.