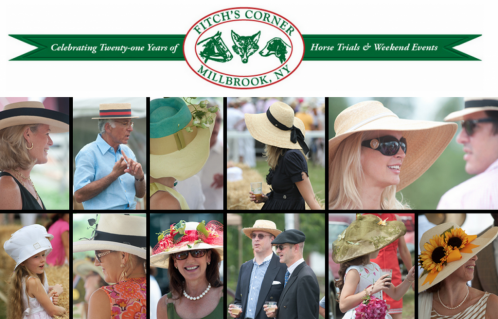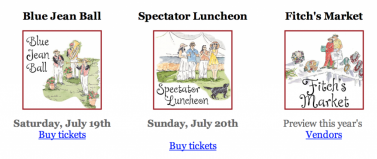 Spectators Luncheon in a Perfect Sun Dress – don't worry about a hat, you can get a perfect one at The Mad Hatters Booth at Fitch's Market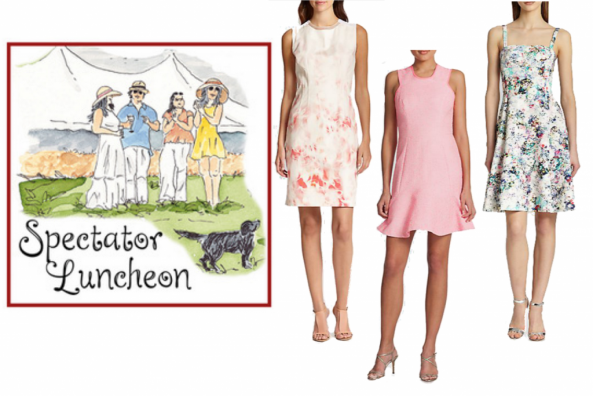 For more information and to purchase, please click on the links.   Elie Tahari Maren Dress $398.   /   Shoshanna Jacquard Eden Dress $385.   /   Black Halo Kellie Floral-Print Dress $435.   /
Blue Jean Ball Pagodas and Pearls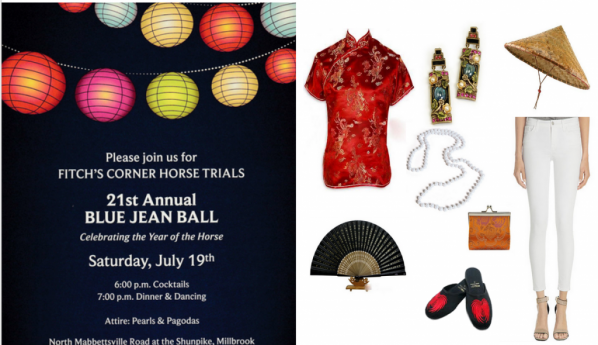 For more information and to purchase, please click on the links:   Satin Slipper w. Red Flower Embroidery $16.50.   /   J Brand Mid-Rise Capri $172.   /   Jacobson Hat Company Men's Adult Deluxe Coolie Hat $18.59.   /   Chinese Orange Silk Coin Purse $8.99.   /   Silver J Black Silk Hand Fan $19.98.   /   Rhode Island Novelty Pearl Necklace $7.72.   /
 There are so many wonderful things happening at Fitch's Corner Weekend, July 18 -21, we don't know where to start. Let's just begin with the raison d'être, Fitch's Corner Horse Trials, a fabulous event for horse lovers and riders of all ages. Here is a perfect description of the discipline: Eventing could be termed an "equestrian triathlon." It involves working with a horse both on the flat and over fences. The three phases are: dressage, endurance (or cross-country), and show jumping. Over the centuries it has developed from the test of the ideal military charger. Eventing has now evolved into an exciting sport attracting interest from all levels of sports enthusiasts, from weekend hobby riders to professional international stars. For more information on the equestrian pursuit go to Horse Trials. Spectating is free, and it is the most delightful way to spend all or part of a day.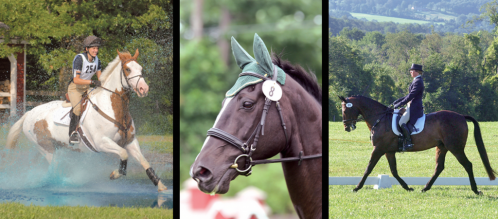 Then there is the Fitch's Market which What2WearWhere is proud to sponsor.  Fitch's Market showcases more than 55 shops and food vendors and has become an unparalleled destination. The large open-air Market tents are adjacent to the Stadium Jumping arena and offer a wide range of exhibitors showcasing items from fashion to fine art to equestrian supplies in a prime location.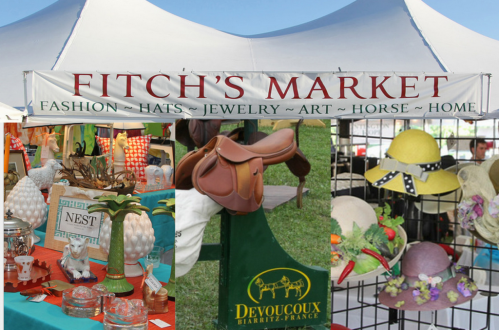 This year, along with Holland & Holland, and Paul Goerg Champagne, we are sponsoring a Sip & Shop, just prior to the Spectator Luncheon.  Please join us for informal modeling and champagne tasting.

Fitch's Corner is the private farm of Fernanda Kellogg and Kirk Henckels, located on 150 acres in the heart of Millbrook hunt community. They welcome the community to enjoy the Fitch's Corner Horse Trials Weekend every July. The horse competition is the core activity of the weekend and, for three years in a row, has been the site of the United States Eventing Association Area 1 Northeast regional championships.