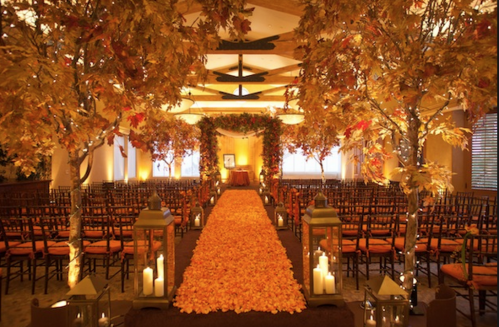 All you need is love!  We have gotten so many inquiries about what to wear Fall Weddings, we decided to put together our best advice on the timely subject.  "In deciding what to wear, your choice should echo the mood of the wedding and reflect the time of day.  Avoid white, or shades close to white, red can also be a no-no – remember this is the bride's special day so don't try to steal the spotlight.  And never wear black, except in the evening when the wedding may be Black Tie.  In any case, you might want to check with the family, ask the bride, or ask us for specific advice.   Many of the old standards simply do not apply in attending today's modern ceremonies. 
The general rule of thumb is the later the wedding and reception, the dressier your outfit should be.  As the nuptials move to the late afternoon, with a dinner following, the attire is cocktail.   We love to dress festively  in something that has a bit of shimmer, like a satin, silk, or brocade.  Sequins, and jeweled details can also be quite celebratory, but don't go too far with the sparkle, remember the bride should be the star of the show.
In keeping with our own advice, we went on an online shopping spree to find a treasure trove of jeweled hues reflecting the rich seasonal palette.   Consider our selection of fêted frocks in several flattering styles, from Strapless to Sleeved, Sweetheart to One Shoulder, one (or more) will be just the thing for you.
Sleeveless, Sleeved, One Shouldered?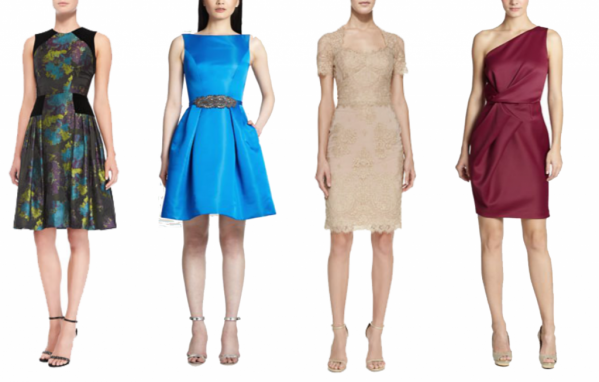 For more information and to purchase, please click on the links.   Carmen Marc Valvo Sleeveless Floral-Print Cocktail Dress $680   /   Theia Jeweled-Belt Sleeveless Dress $595   /   Notte by Marchesa Short-Sleeve Metallic Lace Cocktail Dress $795   /   Halston Heritage One-Shoulder Ruched Dress $375
Lushous Shades of the Season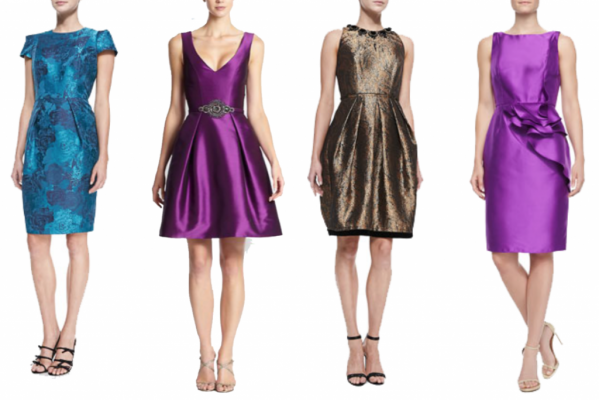 Carmen Marc Valvo Short-Sleeve Floral Jacquard Cocktail Dress $550   /   Theia Flared Satin Dress $595   /   Carmen Marc Valvo Sleeveless Beaded-Neck Cocktail Dress    /   Carmen Marc Valvo Ruffled-Peplum Cocktail Sheath Dress $495
Pick Your Perfect Party Look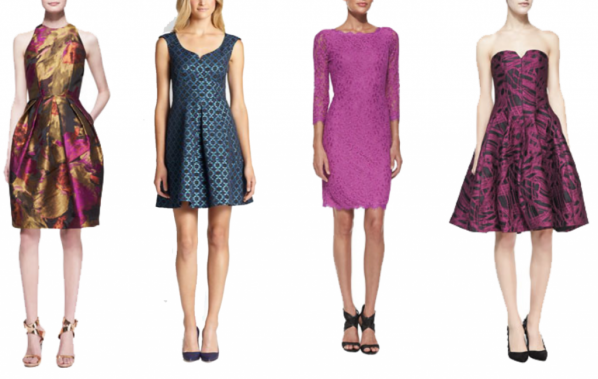 Carmen Marc Valvo Halter-Top Floral-Print Cocktail Dress $585   /   Nannette Lepore Magic Trick Dress $398   /   Diane von Furstenberg Zarita 3/4-Sleeve Lace Dress $348   /   Halston Heritage Strapless Jacquard Party Dress $475