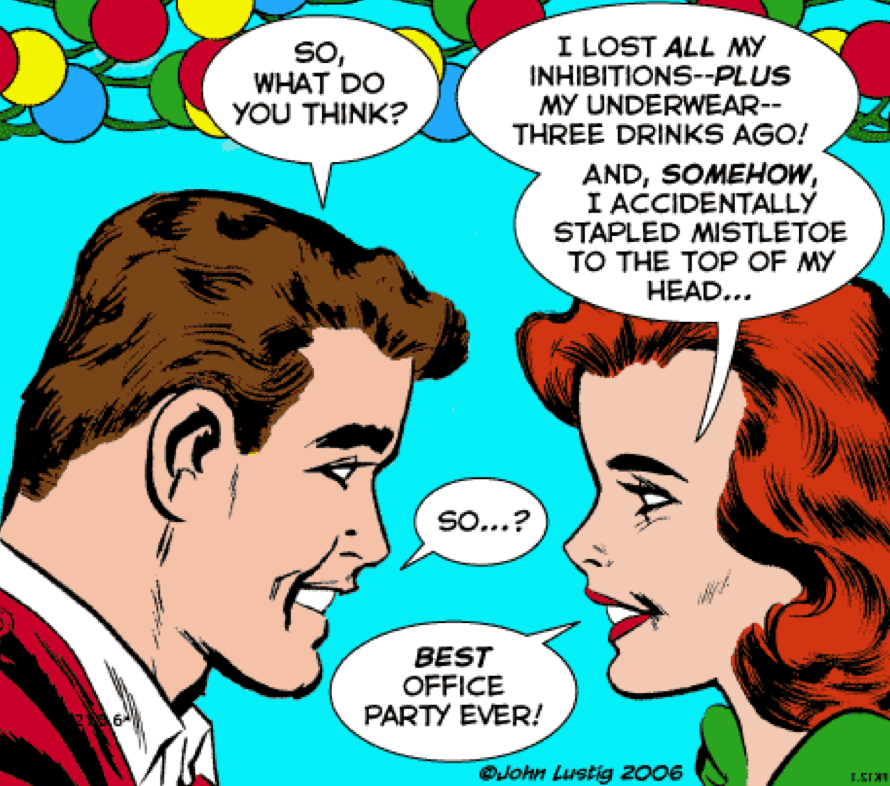 So many young friends have been asking about office party etiquette that we decided to republish our guidelines that we have assembled over years of observation and perhaps over-doing.
Winter White Makes a Great Choice for Holiday Parties
The Swing Dress In Ivory $185      Devon Dress In Winter White $185       The Catalyst Dress In Winter White $185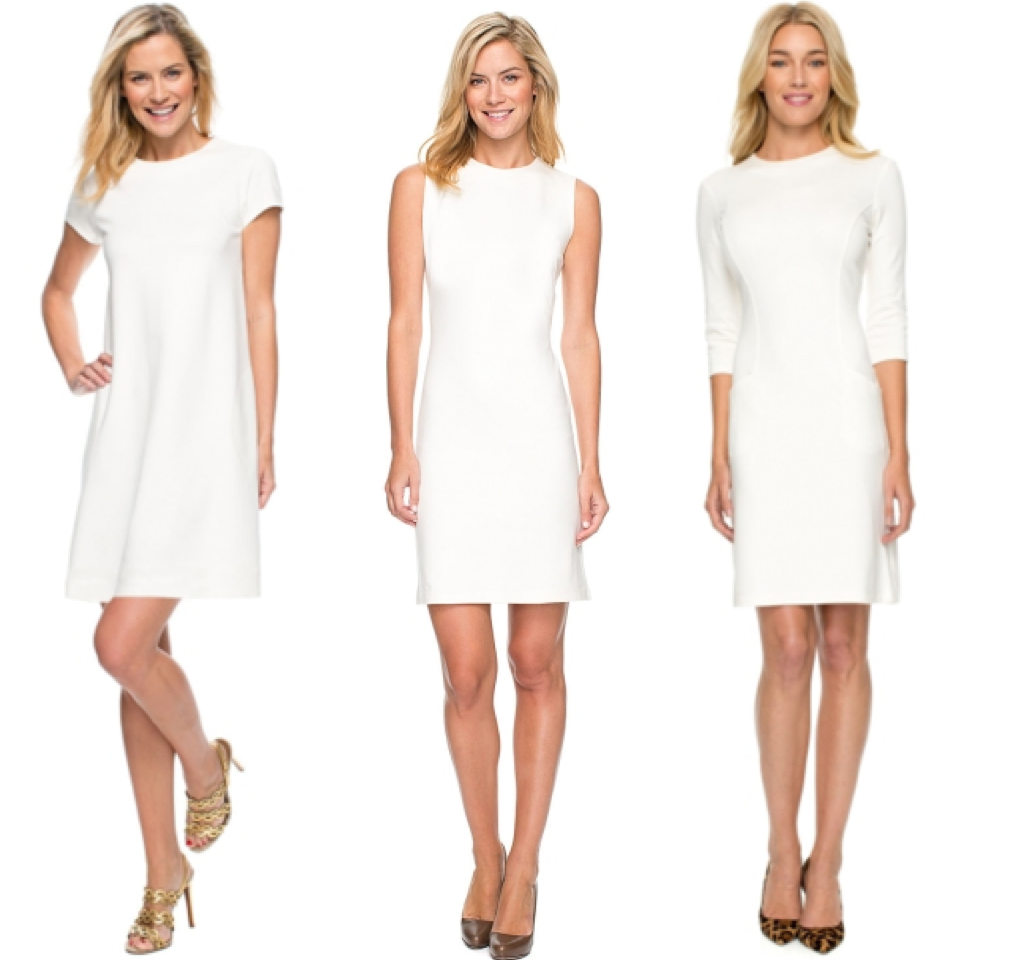 Add Colorful and Sparkling Accessories
Alexis Bittar Lucite & Crystal Multi-Row Bib Necklace $595      Kenneth Jay Lane Long Station Necklace $175 ON SALE      ABS by Allen Schwartz Jewelry Torsade Chain Necklace $85       Kenneth Jay Lane Faux Pearl Multi-Strand Necklace $120
Dolce & Gabbana Miss Eva Flat Paillette Convertible Clutch $657 ON SALE      J. McLaughlin The Oscar Envelope in Red $198      J. McLaughlin The Kingston Studded Clutch In Cream $225      Tory Burch Adalyn Metallic Pebbled Leather Clutch $350
Diane von Furstenberg Rae Mesh & Metallic Leather Ankle-Strap Sandals $278.60 ON SALE      Jimmy Choo Abel Suede Pumps $402.50 ON SALE      Brian Atwood Mirror Leather Pumps $665      Alice + Olivia Dina Suede Pumps $295 O SALE
KK's DOs AND DON'Ts FOR A COMPANY PARTY
DO:  Dress modestly.  Nothing low cut, too short or too tight – no matter what others are wearing.   Save your sexy dress for a night out with friends.   DON'T: Show décolleté.  It is distracting and sends the wrong kind of message.
DO: Dress festively.   Pick a LDB (or LWD) and put in some bling.  Fun sparkling earrings, some rhinestone brooches and a big crystal cuff, high heels and black patterned stockings are also a fun way to make an outfit special.
DO: Set up a strategy in advance.  Is there someone in the company that could help your career?   Remember this is an opportunity to socialize with some higher-ups.  Do some research so you will have something intelligent to talk about.  DON'T: Be obviously sucking up to the bosses.
DON'T: Flirt – everyone is watching.  If you are interested in a co-worker make other opportunities to get to know each other – no making out in the corner!
DON'T: Pre-drink –  wait until you get to the party to start to party.    DON'T: Overdrink.  Start with water and alternate every other drink.  And going out to bars "with the guys" afterwards is also not a great idea although it will seem brilliant at the time.   DON'T: Eat seaford hor d'oeuvres, nothing is worse than fishy breath.
DO: Make it a point to thank the people who have organized the party,  whether it is the head of the company, the head of your department or your co-worker.  DO: Send a hand written note.  Is still the best way to express your appreciation.
DO:  Have a wonderful time and DO send us your DOs and Don'ts!