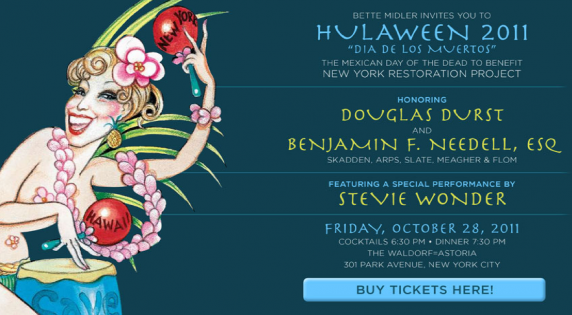 Each Halloween, the fabulously divine Bette Midler throws the most fantastic Hulaween party-of-the-year to benefit, The New York Restoration Project, the organization that Bette founded to promote a cleaner and greener New York.  NYRP helps to restore, revitalize and develop under-resourced parks and community gardens throughout the city's five boroughs.   On Friday October 28, at The Waldorf Astoria, the outrageous celebration will honor Douglas Durst & Benjamin F. Needell, Esq, features a special performance by the one and only, Stevie Wonder, and costume judging by the American fashion icon, Michael Kors. Don't miss the raucous after-party for the younger set and the young-at-heart,  that will rock the Waldorf til the wee hours!  For tickets and further information please visit NYRP's Hullween site.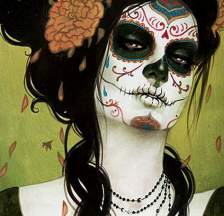 The theme this year is Dia de los Muertos, celebrated in Mexico on November 2nd,  The Day of the Dead is a time for celebration, when people gather to remember and honor those friends and family who have passed on to the other side.  We assembled all of the ghastly elements to make your costume otherworldly.  You might not go as far as our eerie beauty on the left, but we included the Tatoo Liner from and Temporary Tatoos from Sephora to complete your phantom fantasy.  This is one of the most festive, over-the-top party of the year and we chose this provocative frock with sexy lace and tulle accessories, to rock until you drop!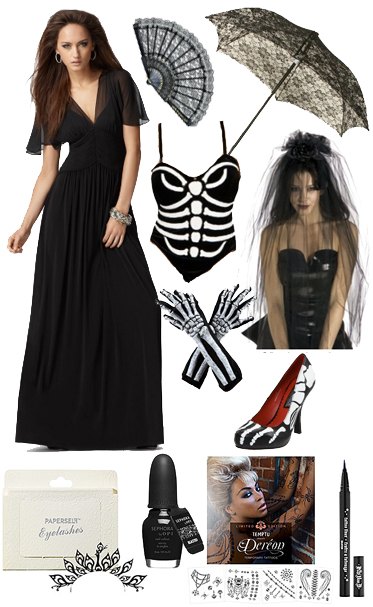 Left to Right: BCBMAXAZRIA Black Evening Gown ($398), Paperself Peacock Eyelashes ($19), Lace Fan ($7), Day of the Dead Bone Corset ($22), Skeleton Glove and Wrist Bone ($15), Sephora Blasted Nail Colour ($10), Lace Parasol ($10), Gothic Bride Veil ($19), Funtasma by Pleaser women's Xray Pump ($45), Temptu Temporary Tattoo ($8), Tattoo Liner ($18)
View the video from last year's extraordinary celebration!
Huge thanks to Bette Midler for all of the beauty you have brought to the city!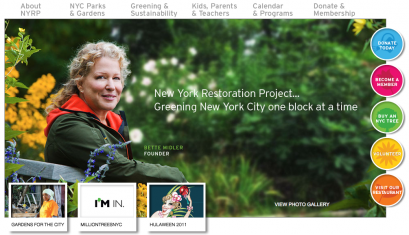 Last week, NYRP joined the Mayor and the Parks Commissioner to plant a major milestone in the MillionTreesNYC initiative – the 500,000th tree, the official halfway mark!