We cannot wait to attend Fashion Meets Furniture: A Conversation with Anna Sui at The Metropolitan Museum of Art on Friday, January 14 at 6pm where Anna Sui will be joined by Andrew Bolton, curator of The Costume Institute, Alice Cooney Frelinghuysen, the Anthony W. and Lulu C. Wang Curator of American Decorative Arts, and Joseph Cunningham, curator, American Decorative Art 1900 Foundation.  Anna will be discussing how Charles Rohlf's (1853-1936) work influenced her upcoming Fall 2011 collection.  One merely has to glance at Sui's past collections to see  how Charles Rohlf's "artistic furniture" and intricate carving made during the American Arts and Crafts movement. the has a distinct influence on the designer.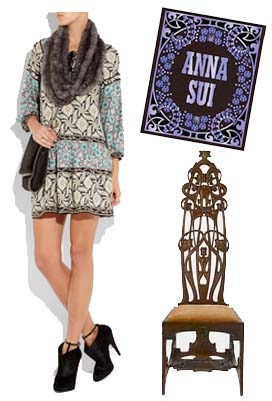 Anna Sui Vine-Print Tunic Dress ($605), The cover of Anna Sui by Andrew Bolton and Charles Rohlf's Tall-Back Chair from the Rohlf's Home, 1898–99
Detroit born Sui stepped into the NYC fashion scene in 70's studying at Parson's School of Design and followed by launching her own line in 1980.  Today, she still reigns as the Queen of Bohemian Chic and we are too excited to see the debut of her Fall 2011 collection at New York Fashion Week next month.  Her designs emanate a neo-folk, rock-n-roll look always involving eclectic patterns in feminine silks layered over one-another.  Her use of nature within her collections directly ties her to Rohlf's Art Nouveau movement, whether  using vintage Liberty-like patterns or even the natural world itself with her feather-trimmed dresses.  Andrew Bolton co-authored, Anna Sui, the first book to cover the entire scope of Sui's twenty year stint in the fashion scenes along with musician Jack White and Fashion photographer Steven Meisel, whom Sui met at Parsons!  The 400 photographs included in this retrospective runway review confirms Time Magazine's distinction of Anna Sui as one of this decades fop five fashion icons.  For further information regarding this engaging Conversation at the Met and to purchase tickets please go to Metmusem.org as there is nothing like starting the New Year off with a bit of visual and intellectual stimulation.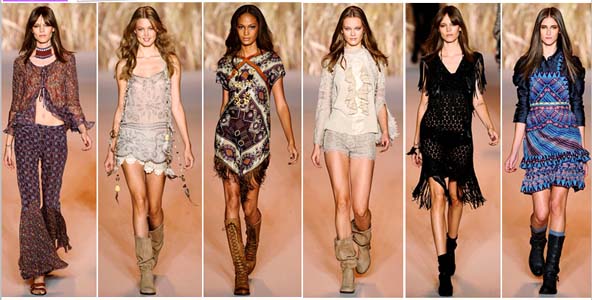 Photos taken from Anna Sui's Spring 2011 Collection