Karen Klopp, Founder of What2WearWhere.com, heads to Fifth Avenue to visit Joe Lupo and Jesse Garza of Visual-Therapy to check out what to wear to work!
Make sure to check out the book: Work It!: Visual Therapy's Guide to Your Ultimate Carear Wardrobe
How to mix high-end versus low-end dressing in the workplace? W2WW found these well-priced Tahari suiting pieces (all under $200) and created an ensemble using these "lower-end" items with "high-end" investment pieces.  We took Visual-Therapy's advice and chose more expensive pieces for items that give you the most wear, such as this Furla Tote and these Kate Spade and Jimmy Choo pumps. W2WW highly recommends that if you treat your investment pieces well, such as taking them to the shoe/bag repair each season, they will last far beyond than expected.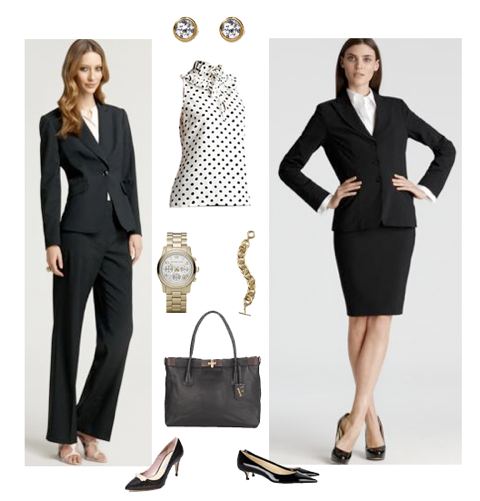 Left to Right: Tahari "Tessa" One-Button Blazer ($178), Tahari "Marisa" Dress Pants ($118), Crislu Round Stud Earrings ($52), Kate Spade Polka Dot Top ($245), Michael Kors Chronograph Watch ($250), Ralph Lauren Link Bracelet ($58), Furla "Cervo" Tote ($395), Kate Spade Pump with White Bow ($225), Jimmy Choo Kitten Heel ($495), Tahari "Bennet" Pencil Skirt ($198)