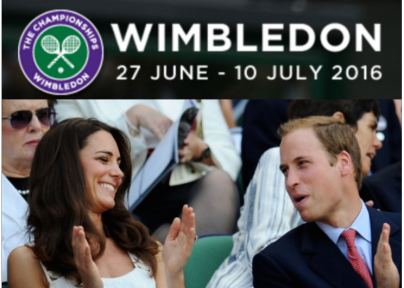 Wimbledon is one of our favorite summer sporting events. The All England Lawn Tennis and Croquet Club began hosting this historical event in 1877. When women first began to play tennis in the 1860s, heavy materials such as flannel and even wearing a bustle was deemed appropriate. It was Maud Watson, who won the first Wimbledon Ladies' Championship in 1884, who popularized the white tennis apparel trend. She favored whites simply because they reflected sunlight and masked perspiration, but to this day Wimbledon still requests that players hold to the tradition of competing in white. And how can one not admire the simplicity of the crisp linens against the bright green court. For more of the most up-to-date information, history, schedules, stats, videos and live streaming of Wimbledon 2016, please visit Wimbledon.
While you may not have the royal box where
Kate Middleton
holds court, you can dress like a lady in one of these perfect summer frocks from
Ralph Lauren
, official outfitter of The Championship.
A pair of flat sandals will assure your comfort on the grounds and in the stands. Add a chic tote for carrying a bottle of water, program of play, and snacks. You can throw in a pair of strappy sandals, to make your way back to London and an evening of celebration, at
Loulou's 5 Hertford Street.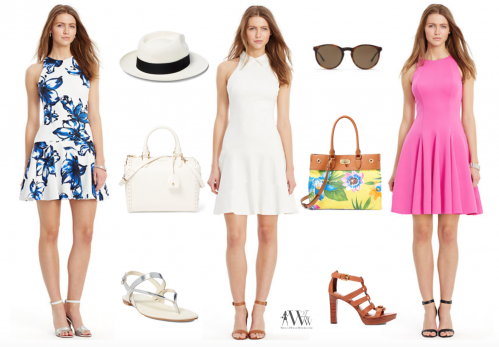 dresses: Floral-Print Drop-Waist Dress $164 / Ponte Drop-Waist Dress $134 / Sleeveless Fit-and-Flar Dress $144 accessories: Hand-Woven Straw Panama Hat $198 / Tortoiseshell Sunglass $169 bags: Small Calfskin Attaché $1174 SALE / Voyager Floral Canvas Tote $15000 shoes: Jan Metallic Leather Sandal $169 SALE / Stasia Calfskin Sandal $59 SALE
While on the Court, Wimbledon Whites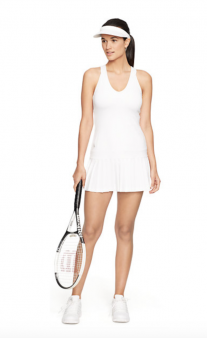 Watch the Ralph Lauren Video