This year for the Garden Club of Palm Beach House and Garden Day, we updated an article from New York Social Diary, which was one of our most popular.
GUEST DIARY• BY: KAREN KLOPP AND HILARY DICK
All aboard the big green bus for a unique discovery of sylvan spaces hidden by high and higher hedges of every tropical description and distinction. The Garden Club of Palm Beach House and Garden Day is held on the first Sunday in March, rain or shine. Those in the know have gotten their tickets early, as the day is always a complete sell out. After all, who wouldn't want to be privy to life behind the privet, discovering hidden enclosures, abundant with verdant treasures? The locations are tip-top secret and only revealed to those participants who receive a map and instructions, making it even more enticing.
---
---
Here is a history of The Garden Club of Palm Beach, as told by Merrilyn Bardes, a long serving member and Chairman of this year's event. "The Garden Club was formed in 1928 with concerns of horticulture, conservation, protection of the environment and town beautification. The projects and issues have evolved, but the underlying dedication to these principles has not."
---
---
'The first thing the Garden Club did was to create a plan for the Town of Palm Beach in order to organize the horticulture growth in the town. The Garden Club funded the plan, and it was accepted by the town in 1930. This started the long relationship we have had with the Town of Palm Beach."
---
---
There are so many beautification projects completed by The Club, including the three spectacular entrance ways to the town. Royal Palm Way, Royal Poinciana Way, and the circle at the Southern Boulevard entrance by the newsworthy Mar-a-Lago. As I find palm trees to be an inspiring and optimistic symbol that upon entering one of these well-preserved pathways, I smile at the elegant and welcoming allées. They seem to herald the beauty and possibilities that await!
---
---
GCPB is also dedicated to conservation and the environment. It has supported Pine Jog Environmental Education Center for decades. Elizabeth Kay was an early member of the Garden Club; in 1948, with her husband, Alfred, they purchased Pine Jog Plantation. In 1960 they established a conservation center and became affiliated with Florida Atlantic University. It is an outstanding organization providing programs, services and resources to schools and the community.
---
---
Another bountiful example of the GCPB contributions to the community are the Demonstration Gardens at the Society of the Four Arts. They were created in 1938 to educate the public about sub tropical landscapes and species. These early devotees with discerning tastes did not want the evocative tropical vistas to disappear. Merrilyn adds, "Today, we remain extremely proud of them, and our members continue to care for these gardens."
---
---
I had a recent pleasure of spending an hour in the gardens and was inspired by the beauty, variety, and generosity of its bounty! It is free and open to the public.
---
---
Hilary has grown up with The Garden Club. The Bunnie DuPont Hibiscus Trophy is named for her grandmother whose Memorial Service took place in the Pannill Pavilion.
---
---
---
---
"It is such a treat to stroll together through these beautiful homes and gardens each with their own unique flair. We also check in on my mom who will be helping direct the visitors at one of the houses."
---
And for my what to wear, I turned again to Merrilyn for her experience: "House and Garden Day is a wonderful tradition in Palm Beach! People wear their Lilly dresses, pants and tunics, and we insist on flat shoes. One must be comfortable but smart!"
I followed the advice and took myself to Lilly Pulitzer. What a bright happy line that embodies the spirit of the town. It is impressive that the brand has remained true to its founder's zest while keeping up with the current generations of devotees. The success of Lilly Pulitzer is legendary. You can read about it in an earlier article we wrote for New York Social Diary and in this article written by DPC when the eponymous founder passed away.
Lilly's Perfect Pretty Florals and Feminine Frocks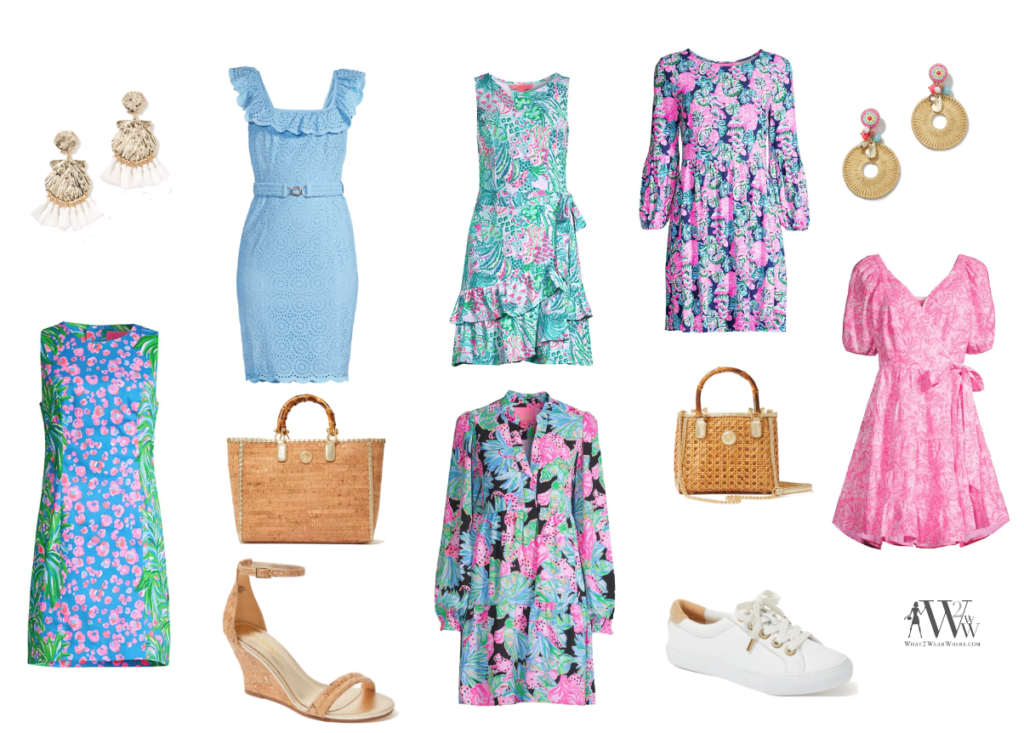 ---
Or if you want to channel your inner Jackie, you can go on eBay to find Vintage Lilly Pulitzer fashion from back in the day.
---
---
There is also a House and Garden Day Boutique with local vendors that takes place on the Four Arts Mall, which is worth a stroll through. And if you can't join House and Garden Day, don't forget The Garden Club of Palm Beach hosts a Flower Show Saturday, April 15 and Sunday, April 16, 2023 from 10 a.m. to 4 p.m. in the. Esther B. O'Keeffe Building. It is an extraordinary display of bountiful botanicals creations assembled with unbounded creativity and skill.
---
---
We asked Merrilyn to explain the extraordinary commitment of the GCPB: "What stands out above our accomplishments, through the years, is our members and their dedication to do their part to improve our town, conserve our resources and protect the environment we all share."
Green Thumbs up to The Garden Club of Palm Beach!
---
Photos by Augustus Mayhew, Karen Klopp and Kim Sargeant, and Courtesy of The Garden Club of Palm Beach
Karen Klopp & Hilary Dick: helps today's busy women shop for life's events, sports, workplace and travel. The site is a synthesis of the latest looks and trends compiled by Karen Klopp & Hilary Dick: www.what2wearwhere.com