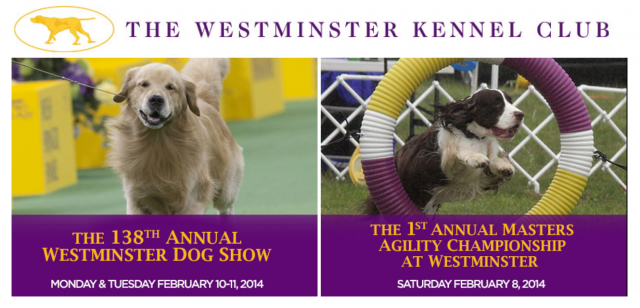 One of our favorite tail-wagging events of the season is The Westminster Kennel Club Dog Show, now in its 138th year.  On February 10 & 11,  178 breeds will trot majestically around the stage at Madison Square Garden as the judging commences to determine the next Best in Show. Monday night is LIVE ON CNBC from 8:00 to 11:00 pm.  Tuesday night is LIVE ON USA from 8:00 to 11:00 pm.    Live streaming of all breed judging will be available on westminsterkennelclub.org and on The Official 2014 Westminster Show Ap.
 What to wear to this barking good time event?  Unless, you are sitting on the show floor wearing black tie, we were inspired by the official royal shade of purple and went dashing over to to find Bergdorf Goodman some fab canine chic for you.  These two pieces from Milly are incredibly on SALE, so we splurged on the Jimmy Choo Boots.   For the accessories we chose Herve Van Der Straeten Gold Earrings, and Paige Novick Sting Ray Cuff and  Alice + Olivia Mini Haircalf Bag to add a little texture and dimension.  These are the the kinds of go-anywhere separates that we love to feature. 

Go straight from work to the show!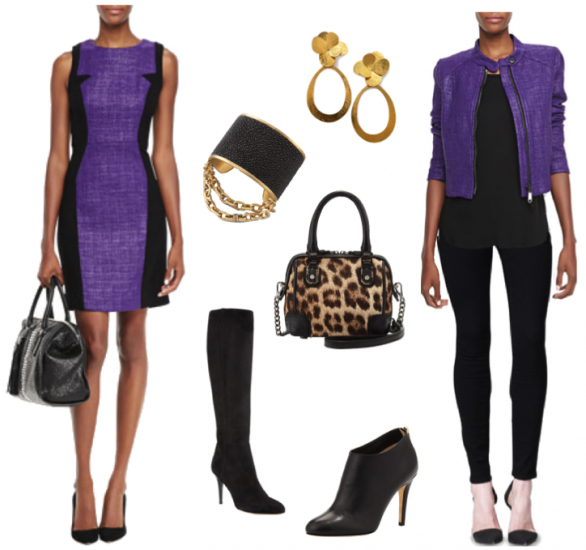 Milly Two-Tone Tweed Dress $267 ON SALE /   Herve Van Der Straeten Hammered Gold Petal Earrings $340   /  Paige Novick Natalie Stingray Cuff $380   /   Alice + Olivia Olivia Mini Calf Hair Shoulder Bag $295   Jimmy Choo Grand Suede Boot $995    /  Jimmy Choo Mendez Leather Ankle Boot $850   /   Milly Metallic Tweed Motorcycle Jacket $330  ON SALE   /    Proenza Schouler Ultra-Skinny Ankle Jeans $255
If you are going to the daytime breeding classes on Piers 92 and 94, here is what our friend Sarah Montague has to say on the subject.   I've covered the show for WNYC for the last fourteen years, and one thing I've learnt is that if one's going to go to the daytime breed classes–which is a great way to get to know all about each breed for dog shopping families–a good pair of flats, or flat-soled boots–is essential.   These classes are held at Piers 92 and 94, about the size of Rhode Island!

The Westminster Dog Show is one of the longest-running shows of its kind, starting in 1877. A two-day event featuring hundreds of dogs from across the country in several different judging categories, and the claws come out for this intense competition. This prestigious dog show judges canines on categories such as Best in Group, Best of Breed and Best in Show.  This is one fierce competition you wont want to miss out on!