We received a lovely email from a friend,   "I am going to Nantucket for a relative's wedding  in late June.  I have lived all over the country but have never been to the northeast. The wedding is at a chapel , and the reception the Scionset Golf Club.  Any idea what a guest should wear. Thank you for any help!"
Our fabulous Fashion Editor,  Vanessa Diserio,  Nantucket native and Proprietor of Erica Wilson, the best shop on the island, gave us all her "secret spots."   Just scroll down to see her insider picks.    For a wedding with an evening reception, at a club, we would suggest a cocktail dress.  We love these J Crew dresses for their understated style.  Keep in mind that most every piece that you buy will need to be taken to a good tailor for a little tweaking.   That is how you can make a less expensive dress look like it was made for you.   For shoes, you can either go neutral or gold metallic – pumps or strappy sandals would work equally well.   Add a wrap in the same shade of the dress or in a neutral shade.  When packing for any weekend, wedding or not, we recommend packing in a color scheme to streamline the task of packing and dressing.   For Nantucket we like the simplicity of Blue and White for it's versatility and chic crispness.   And add a punch of gold metallic for a bit of bright shine.
The Wedding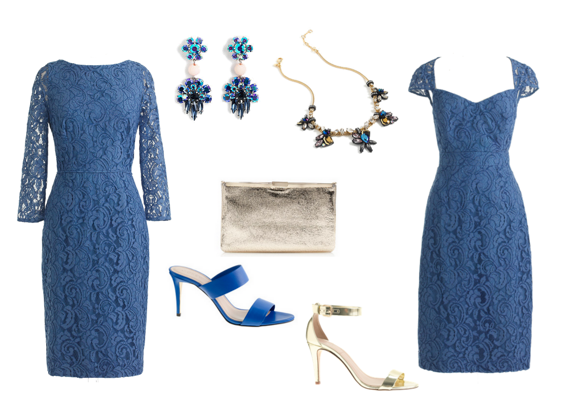 Please click on the links to purchase. 
Dresses:   J. Crew Tinsley Dress in Leavers Lace $275   /   J. Crew Natalia Dress in Leavers Lace $275  
Accessories:  J. Crew Dangly Gem Earrings $68   /    J. Crew Stone Cutout Statement Necklace $48
Clutch:  J. Crew Crackled Gold Foil Clutch $118
Shoes:    J. Crew Lena Heeled Slides $218    /   J. Crew Mirror Metallic High Heel Sandals $198

Rehearsal Dinner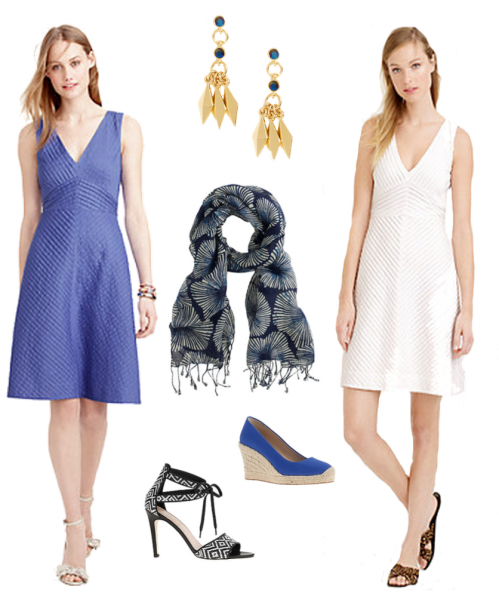 Dress:  Chevron Pleated Dress  ON SALE $89 
Earrings:   J. Crew Dangling Kite Earrings $34
Scarf:  Batik Scarf  $49.50  30% off with WEEKEND 
Shoes:  Collection Raffia Tie Sandals $324   /  Espadrilles $94  30% off with WEEKEND  

Traveling to the Island, and Getting Around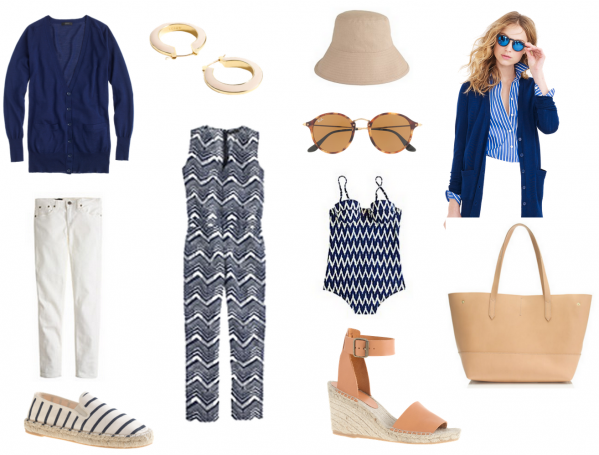 Left to right:  J. Crew Classic Merino Wool Long Cardigan Sweater $89.50   /   Stretch TootHpick Jeans $115  25% off with SUMMERLOVE  / J. Crew Espadrille Slip On Sneakers $98   /   J. Crew Everyday Hoops $45   /   Ray Ban Iconic Round Sunglasses $165   /  Linen Zig Zag Jumpsuit $158   /  Zig Zag Swimsuit $115  30% off with WEEKEND  /   Terra Bubble Trench $390  /  Corsica Wedges $128 30% off with WEEKEND  /  Striped Shirt $79  30% off with WEEKEND  /    New Uptown Tote $178 25% of with SUMMERLOVE  /

Don't forget to pack your waterproof jacket, the Grey Lady is out in the Sea.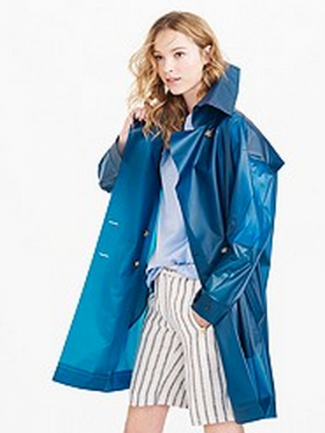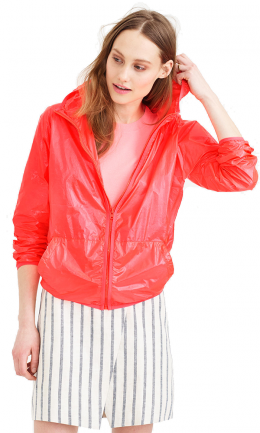 Terra New York Bubble Trench Coat $390   /   J. Crew Packable Ripstop Windbreaker $98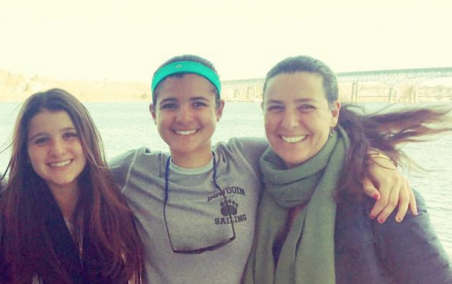 Vanessa Diserio
June on Nantucket – Wedding Season begins!
If you have been lucky enough to be invited to a wedding on Nantucket, don't walk, run!  Book your tickets for the "faraway island" right away!  Besides enjoying the nuptials, there is plenty to do, so leave an extra day or two to enjoy all that Nantucket has to offer.
The island is covered with bike paths and as of last year there is now a new path to Cisco Beach on the South Shore. To start your day grab a delicious breakfast at Black Eyed Susan's on India Street. The Sourdough French Toast with Orange Jack Daniels Butter is a great way to get the weekend going.  Then dash down Main Street, buy a magazine at The Hub and stop into Erica Wilson next door and pick up a beautiful Eres Swim Suit and a fun new Roller Rabbit Kurta for the beach, and while you are at it, how about an Alice and Olivia or Harvey Faircloth dress for dinner?! (shameless plug!)   Now you can hop on your bike and make your way out to Cisco, but before you get there stop at Bartlett's Farm and pick up a picnic for the beach. You may even decide to pick some fresh strawberries while you are there.  The Curry Chicken Salad and Spicy Asian Noodles are family favorites.  After you have had your fill of sun and surf, make your way back to town, but be sure to first drop in at Cisco Brewery to sample some local beer, wine or vodka. It's a great scene and if you are lucky, local band Coq au Vin will be playing. A quick shower and then off to purchase some wine and cheese from Table 1 on Old South Wharf; it's a new comer to the island but sure to be a summer favorite. Now stroll down to Steps Beach to watch the sunset and while you are at it, snap that holiday card picture! From there, it's time to enjoy one of the islands many enchanting dinner spots.  Lucky for you June is not as busy but even so, you still will need to reserve in advance. Be sure to try Cru for a delicious raw bar and local seafood or The Pearl where Chef Seth Raynor will indulge you with a modern twist of exotic flavors. If you still feel like exploring, take a drive out to Sconset, where you will be treated to adorable rose covered cottages and the most delicious simple focused cuisine prepared by Chef Rolf Nelson at the Sconset Café. Save room for an ice cream cone around the corner at an old island favorite, The Sconset Market. Any energy left? A visit to Nantucket is not complete without a stop at The Chicken Box where you can dance the night away to live music most any night of the week.  Not feeling down and dirty?  Then head over to the back patio of Ventuno for a night cap and always good company. Have fun and once you've been to Nantucket, you will be hooked!
Erica Wilson has it all!