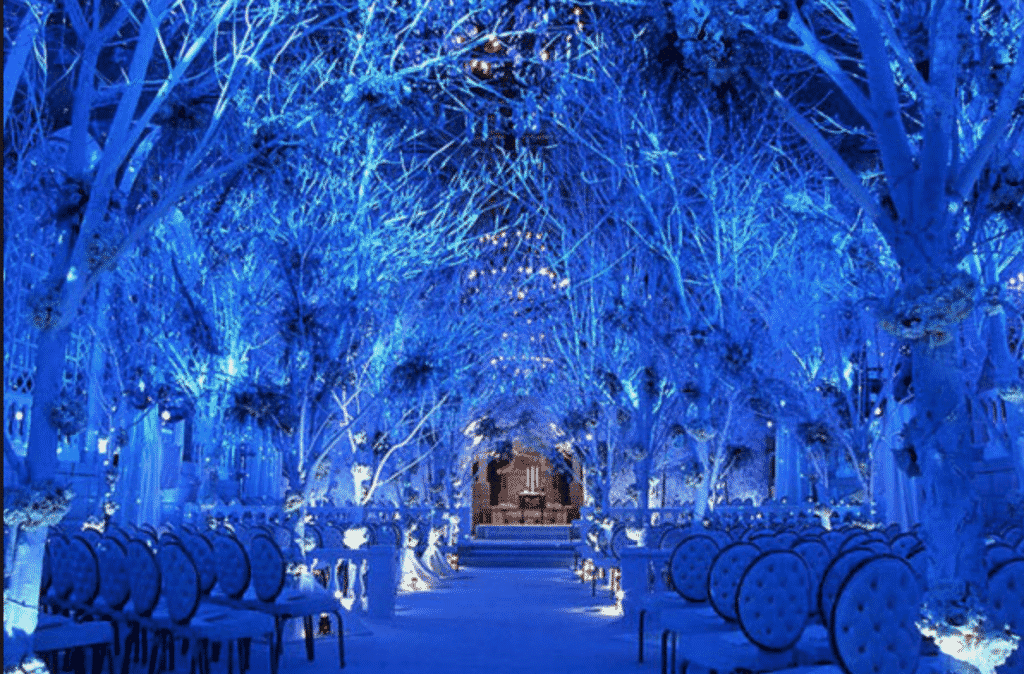 A friend recently asked for help finding a dress for a special winter wedding.  Partial to blue, she asked for a piece with sleeves and that was wearable  throughout  the Holiday Season.  Something old, something new, something borrowed, something BLUE!   We found a collection at SAKS.com , both varied and elegant that will get her to the church on time.  We put together the entire ensemble with accessories of bright silver metallics, with a bling that heightens the effect of  the the rich midnight blue shade.   Scroll down to see some others sensational selections.   And for a dozen tips on "How to be a Good Wedding Guest."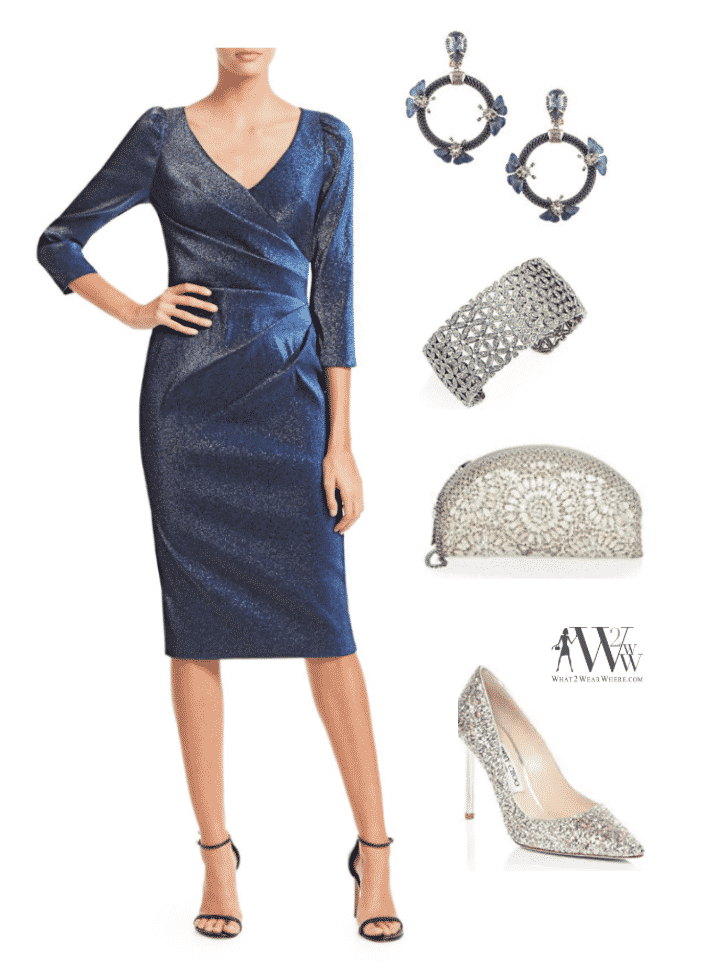 dress: The Stretch V Neck Sheath $650   accessories:   Eric Javits Sadra Half Moon Clutch  $475   /    Adriana Orsini Anise Wide Crystal Cuff Bracelet  $245  /  Alexis Bittar Brutalist  Butterfly  Crystal Clip On Earrings  $425   shoes:  Christian Louboutin Pigalle Follies 100 Glitter Pumps  $745
This brocade has a rich, sumptuous texture. 

Lela Rose Floral Matelassé Holly Elbow Sleeve  $1595
Lela Rose knows how to flatter.  This one has a beautiful V back.

Lela Rose Pebble Barcode Boat Neck Elbow Sleeve  $1590
A show stopper from Michael Kors!  Can be dressed up or down.  

Michael Kors Collection Ruffle Sleeve Sheath  $1995
Florals are in perennial season.  We found this Erdem has a rich palette.

Erdem Fit and Flare Floral $960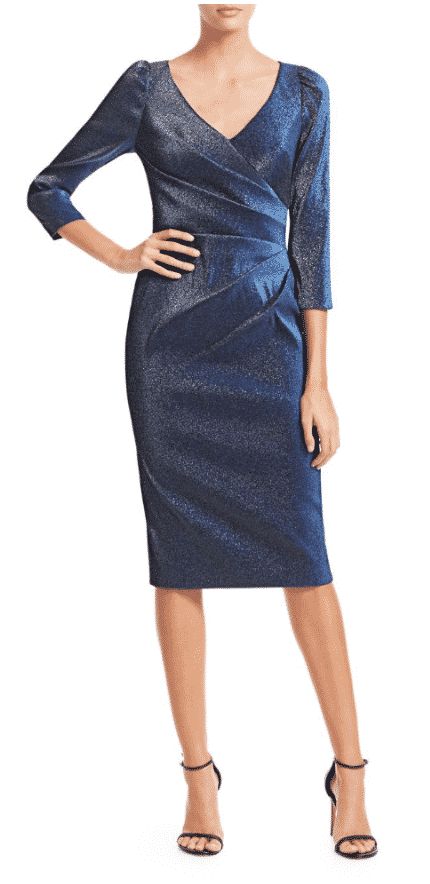 The Stretch V Neck Sheath $650
Shoshanna laces this look.  So feminine and pretty. 

Shashona Lace Hi-Low Dress $440 
And to top it off, we recommend a GlamourpussNYC Fur or Faux Jacket. 
Wedding Crashers One of the Funniest Wedding Movies Ever!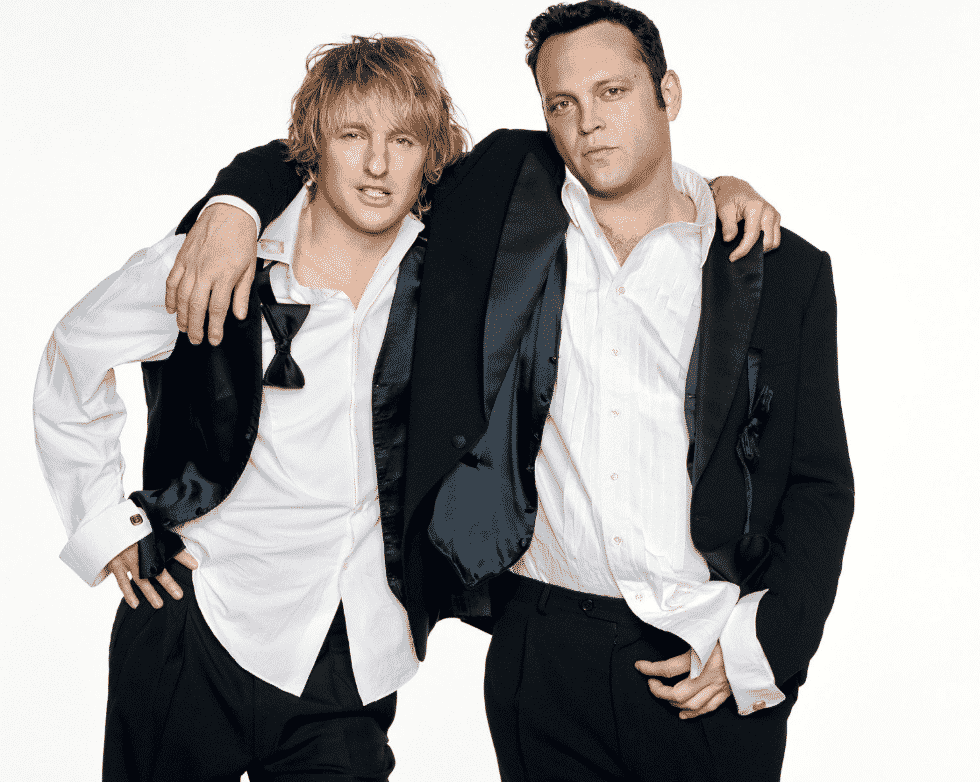 KK's DO's and DON'Ts  for Good Wedding Guests
1. DO RSVP promptly! The family will appreciate it.
2. DON'T procrastinate in sending a gift.  Find out where the bride is registered and pick one that fits your budget and taste.  When in doubt, go to Scully & Scully   for a silver frame engraved with the wedding date or find a silver-plated one that is less costly.
3. If you are unclear on the dress code, especially if there is a theme or destination involved, it is perfectly acceptable to ask the bride or her parents.   Often you will find the preferred attire on the wedding website, or DO write to us and let us do the research!
4.  It is generally acknowledged that black is not worn unless the wedding is after 5:00pm or formal.  So DON'T unless you want to buck the system.  Better to break a rule when you know a rule.
5.  DON'T ditto white – EVER!
6.  DO be on time to the ceremony.   It is not good form to follow the bride down the aisle unless you are holding her train, AKA  Pippa Middleton.
7.  DON'T duck the receiving line to get to the bar.   Give a warm but a brief well wish.    This is not the time for a lengthy conversation.
8.  Speaking of the bar – have fun, but DON'T overdue it.   And if you are not expected to toast – DON'T!
9.  This may be controversial, but DO ask the photographer to take a photo of you.   You will want to be in the album.
12. DO hit the dance floor early.  It is a quasi scientific fact that dancers have more fun and live longer!
10.   DON'T complain about the food.  Actually, DON'T complain about ANYTHING!
11.  DO write a thank you note soon after the party.  If it is a close friend, call as well and DO exclaim profusely at the fabulosity of it all!