Green is made for the month of March with its verdant shoots pushing through the ground as a harbinger of the fragrant season to follow.  And then right in the middle our beloved St. Patrick's Day is ours for the celebrating.   Since our baby girl was born on the day, 21 years ago, we have always found a great cause for a gregarious, green bash – top hats, shiny balloons, shamrocks everywhere, and pots and pots of gold.   For this selection, I am channelling a few years ago when Kelly was 6 and I, well, was quite a bit younger.   Just loving these vibrant, party dresses from J. Crew.    The wearing of the green has become a great American Tradition no matter from where on the globe you hail.   So let's wear it loudly and proudly, dance a jig, croon a tune, and raise a toast to people everywhere celebrating our sameness.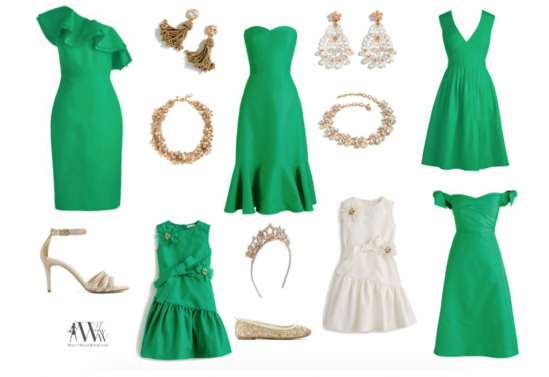 dresses:  One-Shoulder Ruffle Dress In Faille  $ 168  /  Strapless Ruffle-Hem Dress In Faille  $ 168  /
 V-Neck A-Line Dress In Faille $ 168  /  Girls' Jeweled Flower Ruffle Dress  $ 148  /  Off-The-Shoulder Strapless Dress With Ties In Faille  $ 168  /  
accessories:  Beaded Tassel Earrings  $ 65  /  Beaded Rumba Earrings  $ 65  /  Magnolia Cristal Necklace  $ 88  /  Girls' Classic Star Crown Headband  $ 32  
shoes:  Glittery Ankle-Strap Sandals  $ 228 SALE /  Girls' Classic Glitter Ballet Flats  $ 59
And if you are hosting your own gathering, Amazon has a great selection.