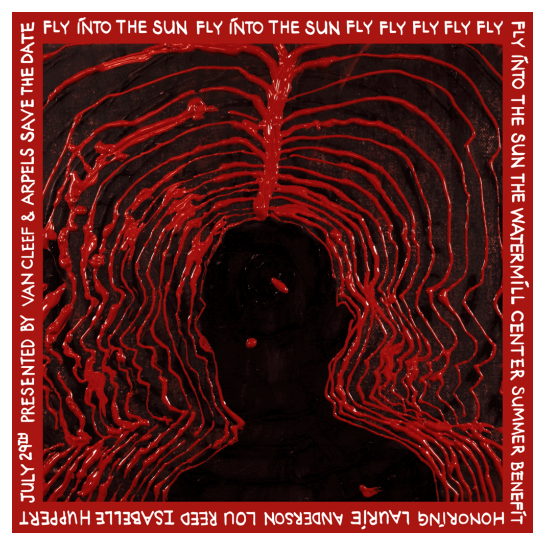 The Annual Watermill Center summer soiree really sizzles, and this year's Fly Into the Sun theme will be hotter than ever.  On Saturday, July 29, guest will assemble at Founder and Artistic Director, Robert Wilson's vision of  enchanted forest and performance art extravaganza, which unites the worlds of art, performance, music, theatre, design, architecture and fashion.  Presented by Van Cleef & Arpels, honoring Laurie Anderson & Isabelle Huppert, and In tribute to Lou Reed, it will be an evening of excitement and enchantment.   All of the funds raised support  The Center's year-round Artist Residency and Education Programs.  
Gigi Dick, Hilary's daughter is interning at the Foundation this summer so we set off to find something sensational to wear.  There will be many interpretations of "Dress Code:  Dark Shiny Matter"  but we chose to take it litterally and came up with two sensationally festive looks.  The evening begins with 6pm cocktails, performances, silent auction and art installation.  At 8pm, attendees are treated to a dinner with live auction and more performances.  And at 10pm the revelry continues with lively dancing into the wee hours.   The creatively, art-inspired event  is not to be missed by art lovers and aficionados of the Hampton summer social scene.  "Hey girl, take a walk on the wild side!"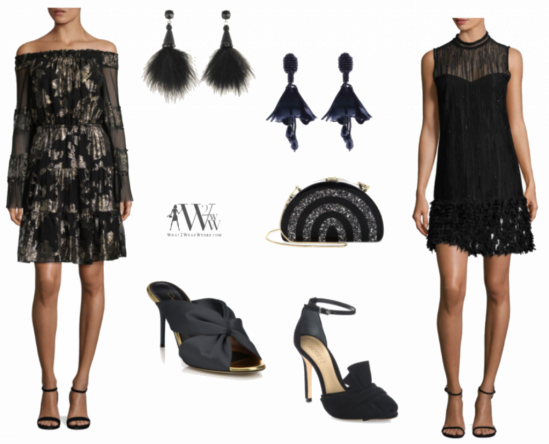 dresses: Talbot Runhof Gathered Metallic Sheath Dress  /  Elie Tahari Mirage Feathered Dress  $698
 accessories:      Oscar De La Renta Impatiens Flower Drop Earrings  $425   /  Milly Half-Moon Striped Convertible Clutch  $295
shoes: Oscar De La Renta Glenn Satin Mule Sandals  $650  /  Schutz Natally Leather Stiletto  $190
And while shopping I found these three amazing Talbot Runhof dress on SALE.  If you are lucky enough to find your size, buy them up.   His designs are so flattering, they make you look good as well as feel good.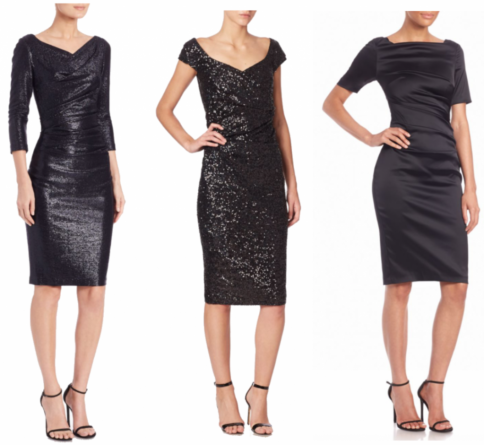 dresses:   Talbot Runhof Liquid Cocktail Dress  $318  /  Gathered Metallic Sheath Dress  /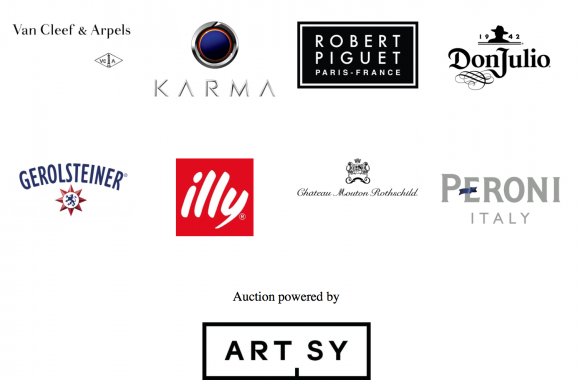 The Watermill Center is a laboratory of inspiration and performance, founded by theater and visual artist Robert Wilson, which provides a unique environment for a global community of emerging and established artists and thinkers to gather and explore new ideas together.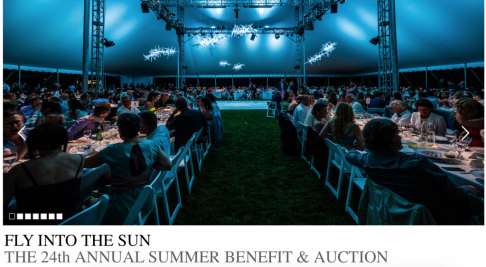 Watch the Video