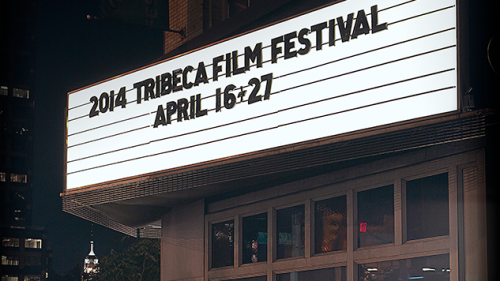 The most anticipated cultural phenomenon of spring,  The 2014 Tribeca Film Festival is upon us. From April 16 through April 27, some of Hollywood's biggest stars will make their way to New York for the 2014 Tribeca Film Festival. Robert De Niro, Jane Rosenthal and Craig Hatkoff founded The Festival in 2001 following the attacks on the World Trade Center to spur the economic and cultural revitalization of downtown Manhattan  through an annual celebration of film, music and culture.  Through their foresight, they have created an enriching event for the entire city.  Culled from more than 6,000 submissions, Tribeca 2014 includes 55 world premieres, 37 first-time filmmakers, and 22 female directors.
For schedule, tickets, videos, talks with the film makers and all things relevant to the festival, go to Tribeca Film Festival 2014. 
It is time to update your LBJ, Little Black Jacket.    We have been eyeing these blazers for their stylish shape and textured and what better way to attend the hippest film festival in the world, that with a few easy pieces.  You can wear to work, sneak out for a matinee screening, then right on to the evenings' performances.    On the weekend, pair with jeans and flats for a uptown goes downtown look.
To Work,  or Weekend, or Downtown on Friday Night.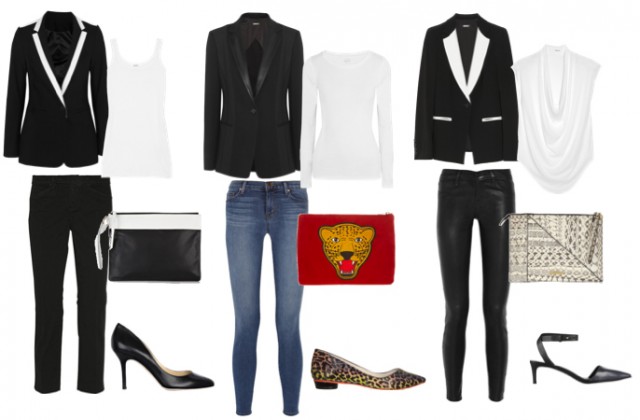 Jackets: Karl Lagerfeld April Stretch Cotton-Blend Blazer $425   /  DKNY Leather-Trimmed Ponte And Mesh Blazer $495   /  DKNY Two-Tone Crepe Blazer $445    /
Tops: Splendid Cotton And Modal-Blend Jersey Tank $45   /   J.Crew Perfect Fit Cotton-Jersey Top $25   /  Helmut Lang Draped Cotton And Modal-Blend Jersey Top $125 
Pants: J Brand Piper Cotton-Blend Twill Skinny Pants $230   /   J Brand 811 Mid-Rise Skinny Jeans $200   /   J Brand 815 Coated Mid-Rise Skinny Jeans $230
Clutches & Shoes: Newbark Two-Tone Leather And Textured-Leather Clutch $440   /  Gianvito Rossi Leather Pumps $640   /  Charlotte Olympia Varsity Appliquéd Suede Pouch $445   /   Sophia Webster Loca Leopard-Print Holographic Flats $330   /  Kotur Peter Elaphe Clutch $595  /  See By Chloé Leather Pumps $295 

This year's lineup includes new movies from directors Jon Favreau, Chris Messina, Courteney Cox and John Carney, screenwriters Nicole Holofcener and Joss Whedon, and even rapper Nas.  The fest's opening night documentary is "Time Is Illmatic," a celebration of Nas' seminal 1994 album, "Illmatic."