Summer is the best time of year for easy living, as long as you take it a little easy on your skin and hair.  Here are our beauty picks to see us through the long, hot sizzle of the season.
FOR SKIN
There are many more expensive sunscreens, but we like the gentleness of the Aveeno Baby Stick (its the perfect size to stick in your bag), and in terms of sun protection for those sun-heavy beach days, we are partial to the fresh spray of Neutrogena's Wet Skin.  Michael Kors Leg Shine is has a wonderful smell and sheen; use it on arms and legs for a touch of translucent color.  Nothing is better for your skin than avoidance of sun, so GlamourpussNYC SPF 50 Top and Gottex Packable Hat are perfect for sun-intense activities like beach, pool and boat.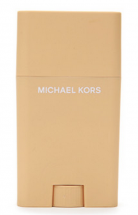 Michael Kors Leg Shine Classic  $32 
GlamourpussNYC SPF 50 Top $155
FEET NEEDS
Feet need lots of help in the summer. We recommend a Friction Stick for blister-free feet, a Pumice Stone to keep your feet smooth, and a Peppermint Stick, for energizing those tired tootsies at the end of the day.
FOR HAIR
To keep your hair looking gorgeous, pick up a bottle Fekkai Protection Mist, wear a hat whenever possible, and for total summer ease, put your hair up in the back and clip Pony Tail or a Pouf.
Fekkai Pré-Soleil Hair Radiance and Protection Mist  $7.99