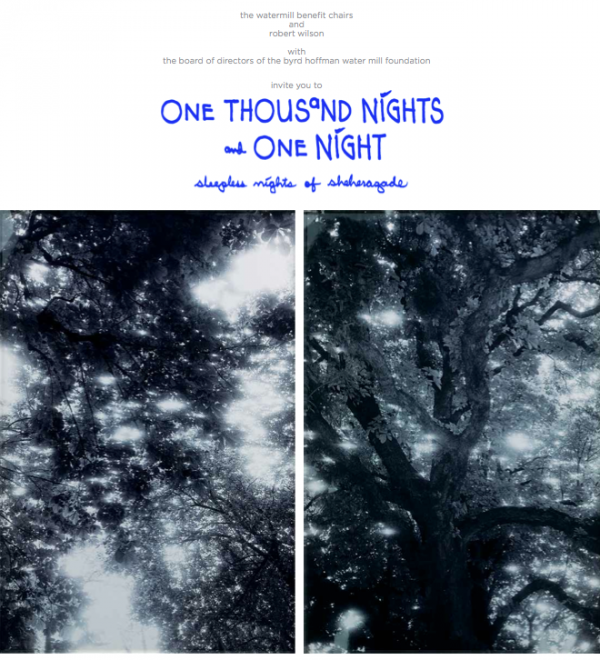 On Saturday, July 26, The Byrd Hoffman Water Mill Foundation will celebrate its 21st Annual Summer Benefit at the Watermill Center in Water Mill, New York. This year's event will honor art patron, Shaikha Paula Al-Sabah, with the accompanied theme of One Thousand Nights and One Night: Sleepless Nights of Sheherazade, a tale about a courageous and clever Persian Queen. The event, which calls for a dress code that is "Bazaar Chic," will showcase over 65 emerging artists from 30 countries. The highlights of the event will be without a doubt the U.S. premiere of Robert Wilson's Recent Video Portraits of Lady Gaga, originally on display at the Lourve in Paris, and a special performance by the renowned experimental theatre director and choreographer, Dimitris Papaioannou. What is sure to be an immersive night of eclectic art will also feature  cocktails, art installations, performances, a silent auction at 6 pm and a seated dinner, live auction, and dancing at 8 pm.  For tickets and information, please go to Watermill Center. 
For what to wear to a summer art happening, we admire the painterly quality of this Halston Heritage One Shoulder Dress, fit to wear for A Thousand Nights of twinkling, moonlit skies.  To continue the stellar constellation, we Jimmy Choo glitter sandals and Alexander McQueen jeweled clutch, and a pair of Tory Burch statement earrings.  Add an armful of bangles and a pair of shades and be ready for one of the most magical and mystical evenings of the summer.
For more information and to purchase, please click on the links.   Halston Heritage One-Shoulder Ombré Dress $375.   /   Tory Burch Selma Drop Earrings $225.   /   ABS by Allen Schwartz Jewelry Mixed Media Bracelet Set $65.   /   Jimmy Choo Vamp Glitter-Coated Platform Sandals $775.   /   Alexander McQueen Jeweled Silk Satin Clutch  $450.   /   Alexander McQueen Two-Tone Plastic Cat's-Eye Sunglasses $355.  /
Watermill is a laboratory for performance founded by Robert Wilson as a unique environment for young and emerging artists from around the world to explore new ideas.  It draws inspiration from all of the arts and cultures as well as from the social, human, and natural sciences.  Watermill is a global community of artists, living and working together and is a haven for the next generations of artists, supporting their work among a network of international institutions and venues that embrace new interdisciplinary approaches.