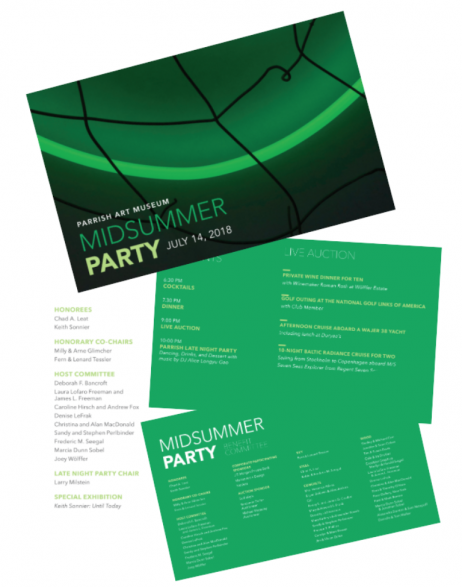 The ideas of a  Midsummer Party makes us giddy as Puck and just as full of delightful mischief.    The Parrish Art Museum's annual frolic is a theatrical tour de force, as artists, devotees and patrons eagerly assemble to kick off the season's sensational soiree.   What fun to assemble on an artistic evening of playfulness and patronage. It is a Who's Who of the art scene and it pays deserving homage the contribution of the East End to the history of art.   From the American Impressionist to the New York School to today's contemporary artists, the Parrish has been at the center of it all since 1897.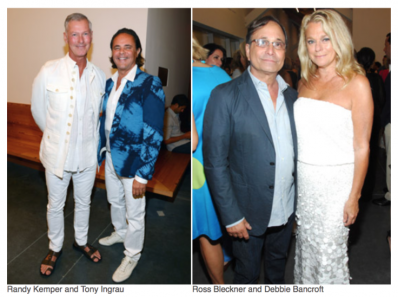 When the clock strokes ten the heat turns up, as a younger generation of philanthropic swells hit the dance floor for merriment and perhaps a bit of mayhem.   The art savvy and super stylish Board Member Debbie Bancroft explains her dedication. "I started chairing parties at The Parrish when I was there on their Junior Committee a few years ago (haha). I've now been a trustee for over 15 years and have brought my 22 year old daughter Serena, into the fold. She's on the Junior Committee and already has a better outfit planned than I do!   Keith Sonnier's amazing neon art work will be exhibited and she's got a great neon blue skirt that mimics it. Clearly, it's time to pass the mantle and I'm proud and thrilled to do.  Along with Keith Sonnier, we are honoring our incredible board member, Chad Leat. Ron Wendt will weave his decorating, neon inspired magic and Olivier Chang will serve up his creative, utterly delicious food. And my darling Geoffrey Bradfield will come out for it, as he has for 35 years."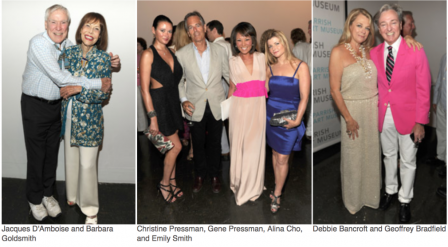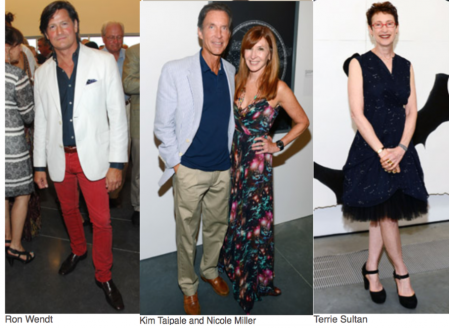 Iconic Fashion Designer  Nicole Miller is another longtime supporter of The Parrish and she has also enlisted the next gen, son Palmer Taipale, to join the Junior Committee. "I always look forward to The Parrish Midsummer Party. It is an amazing night and an incredible group of people attend.  It is such a festive atmosphere and I love mingling with everyone while viewing the exhibition. The dinner outdoors under the stars is a quite spectacular and one of the high points of the summer"
Inspired by the romance of the Midsummer Night's Fairies, I chose these Nicole Miller Summer Lace Dresses and thought they captured the devilment of the night.    Hemlines have drifted south this season, and these peekaboo styles are a brilliant way to appear demure while showing a little leg. Since this party is en plein air, I like a wedge or block heel sandal, both here are by the Brazilian brand Schutz, which delivers great style for the price.   Then kept the accessories soft to compliment the feminine flounce and sway, as you hit the dance floor at for a night of revelry.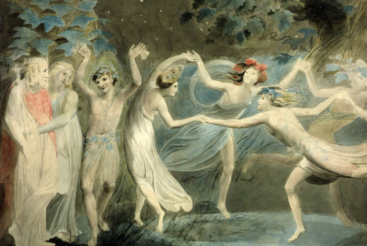 Oberon, Titania and Puck with Fairies Dancing by William Blake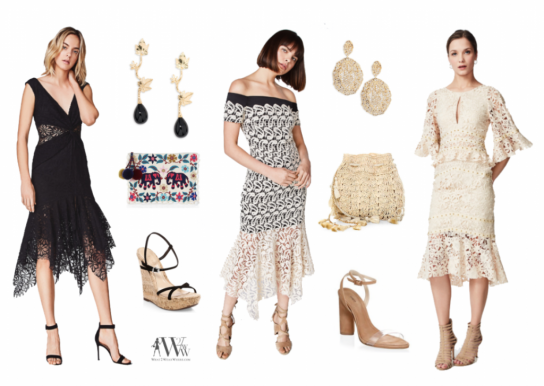 dresses: Nicole Miller Summer Lace $495  / Nicole Miller Bardot Dress $495   /  Nicole Miller Lace Flutter Dress $575. accessories:  Aurélie Bidermann Black Agate Drop Earrings  $385  /  Aurélie Bidermann Vintage Lace Drop Earrings  $440  /  Figue Elephant Garden Zip Pouch  $125  / Kayu Bella Tassel Pouch  $169  shoes:  Schutz Geist Sandals  $180  / Schutz Geist Sandals  $180
Hilary also likes length this season.  "I too chose the longer length frocks of the moment for this outdoor soiree. And though tempted, I decided not to wear neon colors in an ode to the amazing art . . .  but added a bit of silver in my accessories to sparkle on this warm summer night."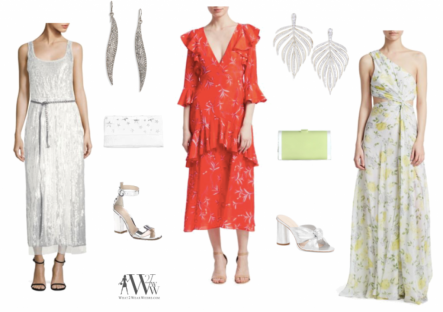 dresses:  Marc Jacobs Sequin Column Dress  $995   /  Borgo De Nor Aiana Ruffle Midi Dress  $1040  / Cinq à Sept Godie Floral Gown  $695   accessories: ABS By Allen Schwartz Pare Wave Drop Earrings  $45  / Adriana Orsini Pirouette Leaf Drop Earrings  $210  / Nancy Gonzalez Star Flap Clutch  $1550   / Edie Parker Lara glittered Acrylic Clutch  $995. shoes:Gianvito Rossi Portofino Leather Sandals  $795  / Loeffler Randall Coco Metallic Leather Knot Slides $395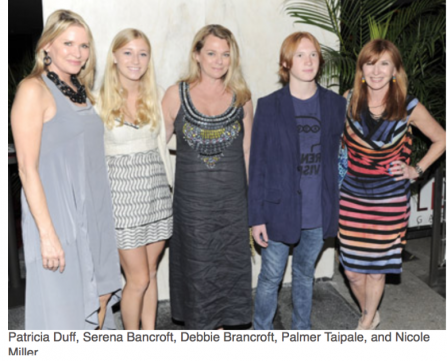 Palmer Taipale, Nicole's son added his enthusiasm. " I am really looking forward to the Parrish Art Museum party and I'm glad to be on the junior committee. This will be the first time I have gone to the party. I have always enjoyed going to the exhibitions at the museum and I am a big fan of contemporary art."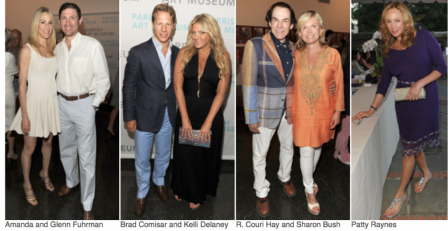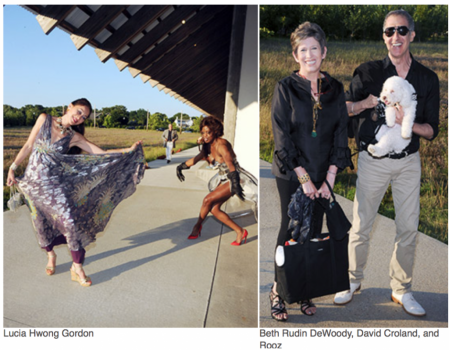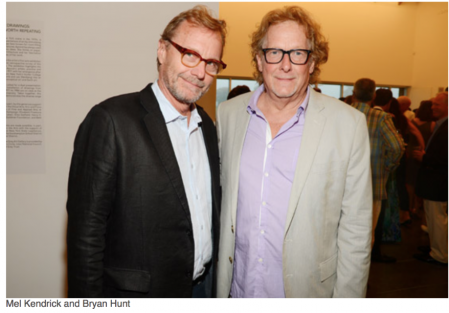 The invitation image is from Keith Sonnier, American, born 1941, detail of Bound Saw Palm, 2004, Neon, wire and transformer.  Courtesy of the artist. © 2018 Keith Sonnier Photograph ©2018 Caterina Verde.   ARTNEWS included the Keith Sonnier Exhibit in the Summer Preview: The Most Promising Museum Shows and Biennials Around the World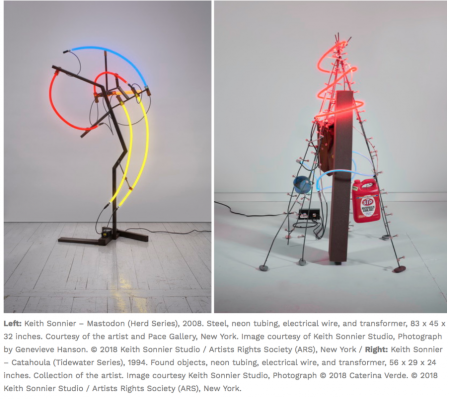 There is so much going on at the The Parrish.   From guided tours to painting classes, jazz on the terrace, and important exhibits, it is on this season's must-see list.