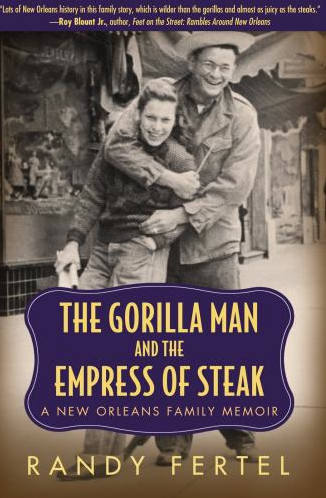 Our friend and neighbor, Randy Fertel has written a wonderful memoir for devotees of food, families, and a rare, well-done tale.  "A lover of fine wines, fine food, and great cars, he has long dined out on the stories that make up The Gorilla Man and the Empress of Steak."R
"The Gorilla Man and the Empress of Steak is a one-of-a-kind real-life tale, as layered, rich, and full of surprises as a street map of New Orleans. Randy Fertel had the good fortune to be born to a pair of American originals, and his parents had the great fortune to live out their fascinating lives in front of a son who's a natural-born storyteller. This is one of my favorite books of the year."  – Mark Childress, New York Times bestselling author of Georgia Bottoms & Crazy in Alabama.
Do not miss The Nation Institute Presents Randy Fertel in Conversation with Calvin Trillin at the Housing Works Bookstore Cafe, 125 Crosby Street, on Wednesday, November 2 at 7:00pm.  For information and for tickets, please go to Housing Works.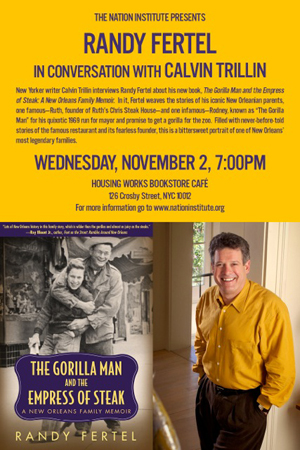 Randy Fertel, a writer based in New York and New Orleans, is president of both the Fertel Foundation and the Ruth U. Fertel Foundation. He holds a PhD from Harvard University, where he received a student-voted teaching award, and specializes in the literature of the Vietnam War.  For more about Randy, his memoirs and a video interview with the author, please go to his website,  The Gorilla Man and the Empress of Steak.