We can't wait to find our inner creative artista at the 23rd Annual Art Show which runs from March 2nd to the 6th to benefit Henry Street Settlement. This exciting show is organized by Art Dealers Association of America and sponsored by noted jewelry designer, David Yurman. The preview gala is on Tuesday March 1, 2011 at the Armory on Park Avenue and 67th Street. The preview calls for Cocktail Attire so we headed to Net-a-Porter.com for our evening wear. Instead of a Cocktail Dress, we decided to go with a fun, contemporary look of this silk and velvet jumpsuit in chic navy and black by Sonia Rykiel, and statement accessories. Love the style? Click here for more tips on What to Wear: Cocktail Attire and for further information on Preview Tickets, please call 212.766.9200 ext. 248 or visit Henry Street Settlement.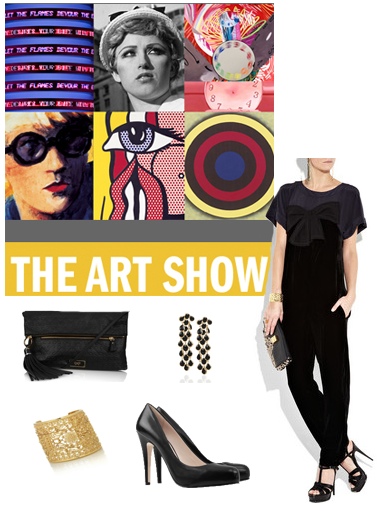 Clockwise: Anya Hindmarch Maeve Leather Shoulder Bag ($635), Isharya Earrings ($480), Sonia Rykiel Silk and Velvet Jumpsuit ($695), Miu Miu Leather Pumps ($475), Isharya Filligree Cuff ($295)
The generous chairs of this year's extravaganza are Bunty and Tom Armstrong, Agnes Gund, Estrellita and Daniel Brodsky, Alexandra Lebenthal and Byron and Anita Volz Wien.   The Art Show, the country's longest running national art fair features 70 of the country's leading galleries who showcase their selections of their works under one roof. Included are paintings, drawings, prints, sculpture, and photography. As Lucy Mitchell-Innes, president of the ADAA said: "What better time to look at art and think about adding to a collection or beginning one! So welcome to the enduring pleasures of the eye. We look forward to greeting you in March."
Founded in 1893 by social work and public health pioneer Lillian Wald and based on Manhattan's Lower East Side, Henry Street Settlement delivers a wide range of social service and arts programs to more than 50,000 New Yorkers each year. Distinguished by a profound connection to its neighbors, a willingness to address new problems with swift and innovative solutions, and a strong record of accomplishment, Henry Street challenges the effects of urban poverty by helping families achieve better lives for themselves and their children.
Images used for The Art Show logo, left to right:
Jenny Holzer
MONUMENT, 2008
22 double-sided, semi-circular electronic LED signs:
13 with red and white diodes; 9 with red and blue diodes on front and blue and white diodes on back
194.3 x 57.8 x 28.9 inches (493.5 x 146.8 x 73.4 cm)
Text: Truisms, 1977–79; Inflammatory Essays, 1979–82
© 2008 Jenny Holzer
Courtesy of Cheim & Read, NY
Cindy Sherman
Untitled Film Still #21, 1978 (detail)
Gelatin silver print, 7 1/2 x 9 1/2″ (19.1 x 24.1 cm)
© 2010 Cindy Sherman
Courtesy of the Artist and Metro Pictures
James Rosenquist
Time Stops but the Clock Disappears, 2008
Oil on canvas with motorized painted mirror (spinning)
h: 84 x w: 56 x d: 5.5 in / h: 213.4 x w: 142.2 x d: 14 cm
Courtesy of Acquavella Galleries
Elizabeth Peyton
David Hockney, Powis Terrace Bedroom, 1998
oil on board
9 ¾ x 7 inches
Courtesy the Artist and Gavin Brown's enterprise, New York
Roy Lichtenstein
Female Figure, 1977
Oil and Magna on canvas
60 x 54 inches (152.4 x 137.2 cm)
©The Estate of Roy Lichtenstein
Kenneth Noland
Mysteries: Caribbean Light, 2001
Acrylic on canvas
60 x 60 inches (152.4 x 152.4 cm)
Courtesy Mitchell-Innes & Nash