We just received a great request from our friend Jaime who is taking a late November Ski Trip to Banff in the Canadian Rockies.  "My husband and I are going to Banff at the end of November and this is my first ski trip ever!! I am so excited but I don't know what to wear and what to pack. I've done my research and have a great idea of what I need but am hoping you can give me a few key pieces that are not too expensive and are appropriate.  I need ski outfits as well as daily outfits for hanging out and going out." She also said that she likes neutrals and warm tones.   We shushed directly to ZAPPOS to find a great ski outfit, in versatile shades of black, and neutral.   We like their quick deliver and ease of returning.  When dressing for skiing and other outdoor sports, remember to layer, layer, layer.  Start with a cosy thermal layer like these Hot Chilly's, then layer on with thin polarfleece vest and top with a warm Obermeyer Jacket.  If you need another layer, consider a wool sweater or polar fleece, under or in place of the vest. And to keep your tootsies both warm and stylish, nothing beats a pair of SOREL BOOTS. Scroll down to see our Ski and Apres Ski Packing Lists.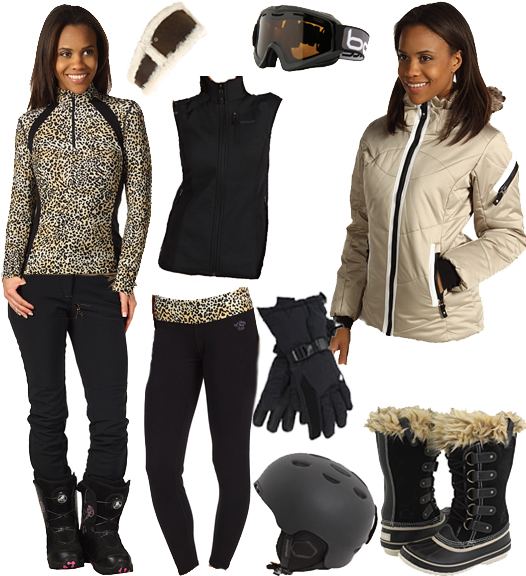 SHOP NOW: Hot ChillysSalsa Print Zip-Top ($60), Columbia Ski Pant ($130), UGG Classic Headband ($90), Patagonia Piton Hybrid Vest ($139), Hot Chillys Salsa Tight ($50), Bolle X9 OTG  Google ($80), Columbia Whirlibird Glove ($55), Pro-Tec Vigilante Snow Helmet ($150), Obermeyer Genevieve Jacket ($378), Sorel Joan of Arctiv Boots ($150)
PACKING LIST FOR SKIING
ON THE SLOPES:  long underwear, 2 pairs of ski socks, 1 or 2 ski pants, 1 or 2 ski jackets, 1 zip neoprene or light fleece, 1 polar fleece vest, 1 ski hat, 1 headband, 1 neck gator, 1 pair of leg gators for powder skiing, warm boots, 1 pair of ski gloves, 1 pair of goggles,  1 ski helmet, sunglasses   EXTRAS: hand and feet warmers, chapstick, sunscreen.
APRES SKI: 2 tops, 2 turtlenecks, 1 heavy cardigan, 1 pair of blue jeans, 1 pair of suede or leather pants, 1 vest (wool, suede or fur)***, shearling jacket or puffer coat and hat (or your ski jacket), knee high boots, low heeled boots.
*** To see our selection from selections, please go to FUR VEST BY MICHAEL KORS.
Click on HOW TO PACK AND PACKING LISTS to find what else to pack for your trip.