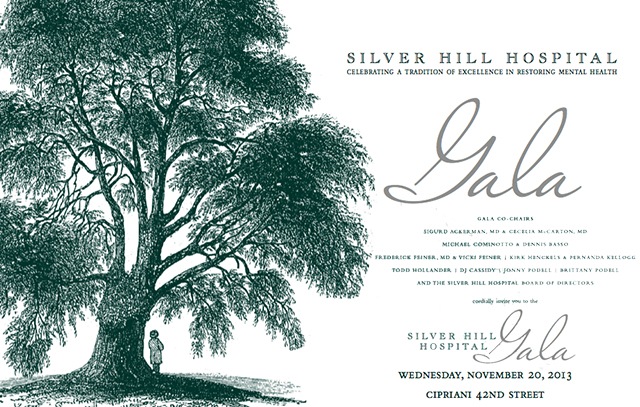 Please join Silver Hill Hospital for their Gala Dinner and dancing on Wednesday, November 20th, 2013 at Cipriani 42nd Street in New York. Proceeds from this festive black-tie Gala, one of the most anticipated of the charitable season, fund scholarships to help patients in financial need attend one of the Hospital's transitional living programs. In addition, there will be a special performance by Cyndi Lauper.  The mission of Silver Hill Hospital is to provide patients with the best available treatment of mental illness and addiction; and to offer continuing support, counseling and education to our patients and their families in every phase of illness and recovery.  To learn more or reserve tickets, please contact the Benefit Office at 212-477-4501 or Silver Hill's Development Office at 203-801-2398.
We were inspired by the deep rich shade of green in the invitation and went to SAKS.com to find two elegant choices for a Black Tie Gala.  The David Meister Sleeveless Taffeta Gown $590  and  David Meister Sleeveless Metallic Gown $588,  are stunning gowns at surprisingly accessible prices.   In keeping with the upcoming holiday, we thoughtfully chose to play up the evergreen shade while allowing the accessories to shine like stars on the tree.   Kenneth Jay Lane Emerald-Colored Faceted Clip-On Drop Earrings $100,  Kenneth Jay Lane Sparkle Teardrop Earrings $150,  Alexander McQueen Demanta Floral Printed Satin Clutch $525.   For some fancy footwork, we added Diane von Furstenberg Mesh & Suede Ankle-Strap Sandals $398,  and  Manolo Blahnik Lace & Satin Pumps $695, to dance the night away   Don't forget to grab your  Alice + Olivia Olsen Rabbit Fur Shrug  $797,  to keep you cozy in the evening's chill.  

Please remember when you click through our site to shop, a portion of our commission will be donate to our Charity of the Month.    


Sparkling ornaments on an elegant column of evergreens.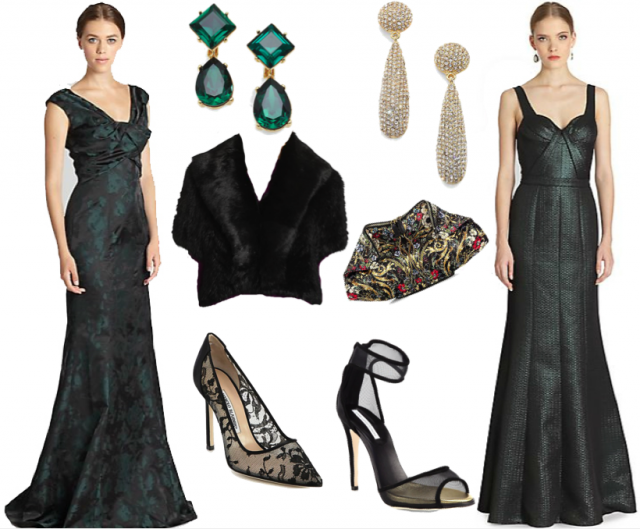 For information and to purchase these items, please click on the links in the copy above.