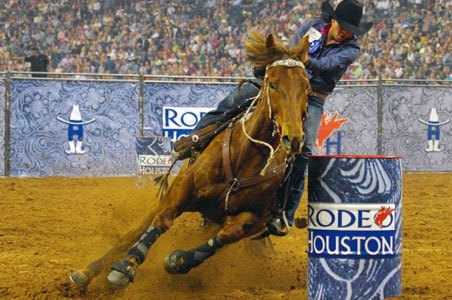 A friend wrote in to ask a great question,  "What shall I wear to the Houston Rodeo in March (as a spectator, not a contestant)?  Well now cowgirl, you have come to the right place.  There is nothing we like more than rustlin' up a little western wear.   "Our advice is to add a little cowgirl to your style but don't go too far overboard.  For this event we like 1. Leather or Suede Jacket or Vest,  2.  Great Fitting Jeans  3.  Western Boots,   Zappos has a wonderful selection collection.   4. Camisole or Blouse with feminine flourish such as ruffles or a touch of lace.  4  Jewelry with a western flair.  5. Leather Belt, as embellished as you like . 

When we went searching,  we wanted to find a jacket that was simple and sleek, following the fit of the jeans.  Everyone is showing the "Moto" asymetrical closing jacket, which is not as flattering, especially when worn open.  Ralph Lauren is a brand that understands the look, and while then didn't invent it, they certainly have perfected it.  Happy Trails, Pardner!
Start with an Investment Piece in Leather or Suede
Distressed Leather Vest $598     /    Blue Label Tissue-Suede Jacket $1298
 Rodeo Spectator – No Spurs Needed
L'agence Semi-Sheer Print Henley Blouse $325   /   Lauren Slimming Classic Bootcut Jean $89.50   /   Maria Xuan Feather Earrings $79.50   /   Serefina Feather Bib Necklace $95   /   Chan Luu Turquoise Beaded Wrap Bracelet $245   /   Lauren Ralph Lauren Leather Belt $52   /   Rebecca Minkoff 'Mini M.A.C.' Shoulder Bag $195   /   Chloé 'Marcie – Small' Leather Crossbody Bag $775   /   Ariat Round Up D Toe $159.95   /    Rachel Zoe Blouse Quincy Surplice High Low $168.75 ON SALE   /   Lauren Jeans Co. Slimming Classic Straight Jean $89.50
But you just might want a hat!