One of our favorite parties of the year is RIVERKEEPER'S Fishermen's Ball.  And this year will prove to be more festive than ever.  Join the festivities as they celebrate their achievements in protecting our region's precious water resources at Pier 60, Chelsea Piers on the Hudson on Tuesday, April 29, 2014, RIVERKEEPER is pleased to honor two changemakers with their Big Fish Award this year: Chelsea Clinton and SolarCity. Special recognition to our great pal, George Horning who brilliantly steered the organization through high seas for many years.  Hosts will be Ali Wentworth and George Stephanopoulos.   For tickets and information, contact Debbie Fife at Event Associates: at 212.245.6570 x 20; or email riverkeeper@eventassociatesinc.com.
For what to wear to this star studded celebration, we went shopping at Bloomingdales to find two great spring party frocks.  And though we chose black, each has a spring fling thing about them.   To accessories, nothing would do by Jewelry by Joan Hornig, George's wife who donates profits from her pieces to the charity of YOUR choice in her Philanthropy is Beautiful collection.   We fell in love with these two Tory Burch new spring clutches, each a breath of fresh air and on your toes with two variations on great party shoes, the Salvatore Ferragamo blush pump and one of our favorites this season, Stuart Weitzman's black strappy sandal.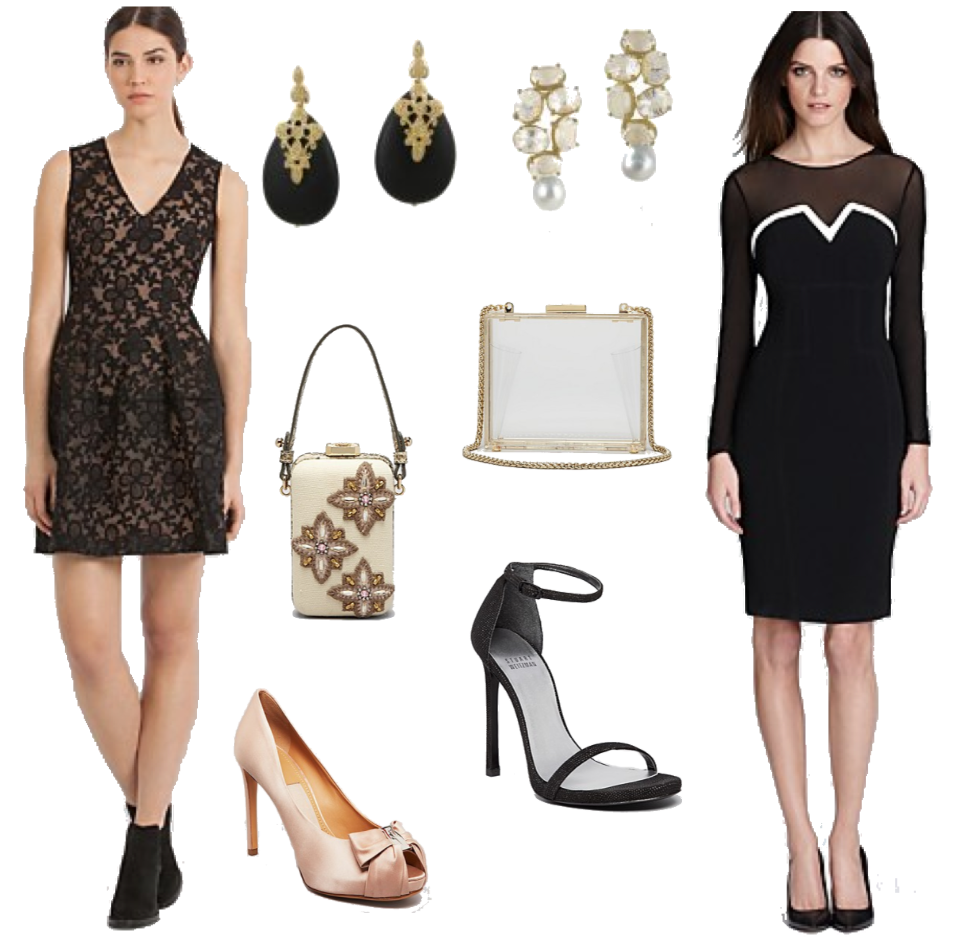 From Left to Right:  Maje Dress Embroidered Lace Front $470  | Joan Hornig Black Tie Earrings | Tory Burch Clutch Jardin Embellished Minaudiere $395 |  Salvatore Ferragamo Peep Toe Platform Evening Pumps $650 | Joan Hornig Ice Cluster Earrings | Tory Burch Clutch Laken Clear Minaudiere $295 | Stuart Weitzman Evening Sandals $398 |   Basler Mesh Insert Dress $795 |
Chelsea Clinton and the Clinton Foundation have worked to promote clean and safe drinking water for communities around the world that need it most. Here at home, Chelsea has been a leader in supporting the recovery of New York City communities impacted by Superstorm Sandy.
SOLARCITY is transforming the clean energy market by providing renewable energy directly to homeowners and businesses for less than they spend for electricity generated by fossil fuels. SolarCity is proving that we can make sustainable choices for the environment that are also good for our economy.
RIVERKEEPER'S Big Fish Award recognizes individuals and organizations that have had a transformative impact on the movement to protect our natural resources. Their innovative problem-solving, bold leadership and dedication inspire all of us to follow in their footsteps and be better citizens and stewards of the earth.