Please join us on  Wednesday April 23rd 2014 11:30am  for the Ninth Annual Purse & Pursenalities Luncheon. With over 100 Designer and Vintage bags to bid on, your pure pursenality can really be defined.   The dashing Chuck Scarborough, NBC's Emmy Award winning anchor and correspondent is the MC and will present honors to Elaine Turner, Laura Vela, Yliana Yepez.   The Chairs, Mindy Fartin, Amy Hoadley, Karen Klopp, Tiffany Moller, Betsy Pitts and Kathy Prounis along with the Design Chairs, Carlos Falschi, Eric Javits and Michelle Smith have put together together a stylish selection of of purses, and a lovely lunch at the elegant Metropolitan Club One East 60th Street New York City.  For information, please visit Madison Square Boys and Girls Club.
What to wear to a spring luncheon?  We love this soft woven sheath from Tory Burch for its lady like fit and flare.  It is a perfect transition from the darkness of winter into the light of spring.  The Penetier Embelished Necklace is a statement in understated chic, echoing the subdued tones of grey and blush in the dress.  Then, don't forget a sweater, wrap or jacket when out and about this season, like this pretty cardigan.    For the bag and shoes, we turned to one of the honorees and friend, Elaine Turner for her stylish selection.  We love how the tones and textures combine create an ensemble of depth and visual appeal.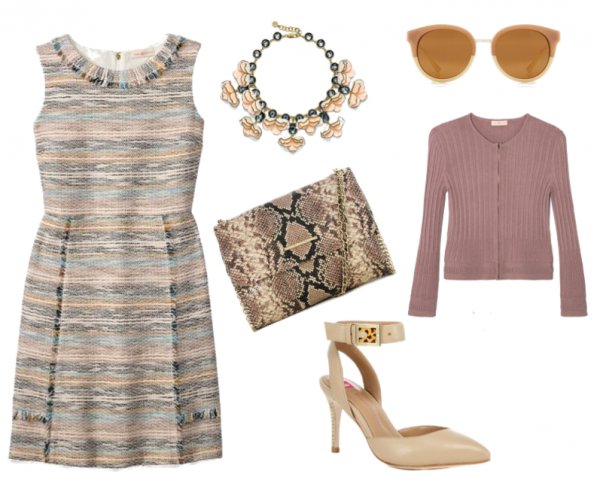 Tory Burch Greer Dress $425   /   Panama Sunglasses $195   /   Pentier Embellished Necklace $495   /   Elaine Turner Nala Python Handbag Nala Python Handbag $425   /    Tory Burch Reyna Cardigan $375   /   Elaine Turner Lara Butter Heel $228 ON SALE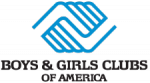 Since 1884, Madison Square Boys & Girls Club has been saving and enhancing the lives of youth by providing after-school and summer programs for children in New York City's most disadvantaged communities.  Programs are engineered to empower each member to achieve three priority outcomes:  Academic Success, Good Character and Citizenship, and the adoption of a Healthy Lifestyle.  Every day, Madison provides thousands of children with a safe and positive environment, one where fun is encouraged and positive role models are plentiful.  A founding member of Boys & Girls Clubs of America, Madison currently serves more than 5,000 youth, ages 6 to 18, at seven sites throughout Brooklyn and the Bronx as well as at Camp Madison in Kingston, New York.