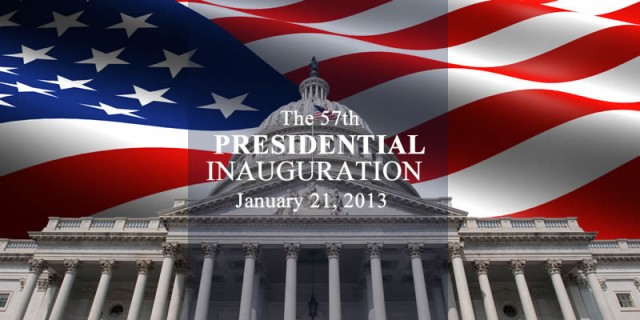 This is your invitation to the 57th Inauguration Day for the President of the United States, to be held in Washington, DC on Monday, January 21, 2013.  A week of festivities will have our Nation's capitol abuzz with excitement and flowing champagne, and will include the Presidential Swearing-in Ceremony on the west front steps of the Capitol Building, the Inaugural Address, Inaugural Parade and numerous Inaugural Balls and Galas honoring Barack Obama's Second Term as President of the United States.  The official theme for the 2013 Inauguration is "Faith in America's Future," commemorating our perseverance and unity, and marking the 150th anniversary of the Emancipation Proclamation and the placement of the Statue of Freedom atop the Capitol Dome in 1863.  If you haven't received an invitation to an Inaugural Ball, worry not; while there are only two Official Inaugural Balls, there are also many other ticketed events to attend, like the State Society Inaugural Balls, and the Unofficial Inaugural Balls.  For more information about the festivities of Inauguration Day, go to Presidential-Inauguration.com.
The Two Official Inaugural Balls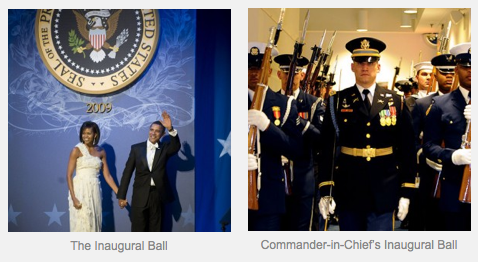 And while we tracked the First Lady trend of beautiful cream designer creations, if we were to attend, we would go straight to Bergdorf Goodman to find something classically elegant, like this wonderfully chic Notte by Marchesa gown in striking black silk. The sequin-embroidered shoulders add the perfect amount of  sparkle that the occasion calls for, with Stuart Weitzman Jewel-Front Evening Sandals and the glamour of Mikimoto's Pearl Drop Earrings. Finally, for warmth and extra polish, we added a gorgeous and luxurious Lamb Fur Kimono-Style Evening Wrap and Opera-Length Leather Gloves.    This spectacular Black Tie ensemble is a tribute  non-partisan fashion.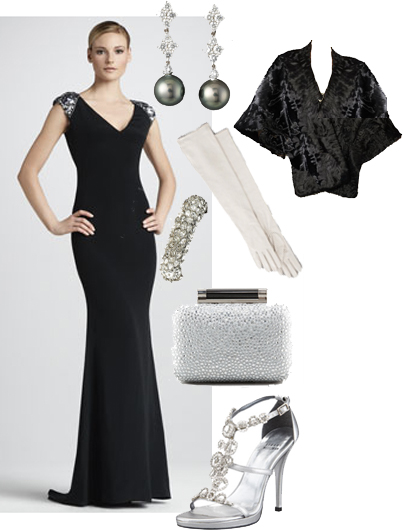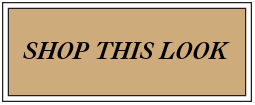 Our Last Four First Ladies Have Looked Stunning at their Inaugural Balls . . .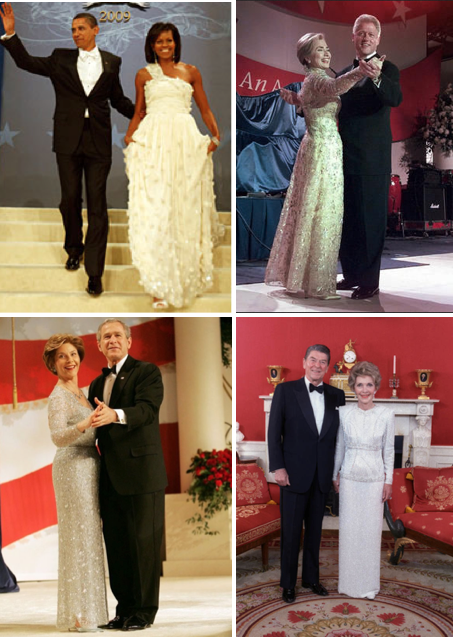 . . .  following in the footsteps of our favorite fashion icon,  Jacqueline Kennedy who set the standard for modern White House glamour.