In the spirit of the 4th of July, this is a truly patriotic story that we want to share with you!  A Pony Girl, our dear friend Miriam Eaves checked off one of the items on her bucket list on Saturday, June 23 when she participated in the annual reenactment ride of the Pony Express, carrying the mochila, or mailbag, to its final eastern destination, the Patee House in St Joseph, Missouri. Each year, 1100 riders retrace the route traveled over 150 years ago by skinny young cowboys, galloping 250 miles a day!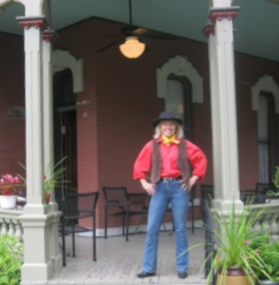 Here is Miriam's story: "My great, great, great grandfather, John Patee, was involved in the Pony Express as he was the owner of the Patee House Hotel, considered one of the grandest hotels west of the Mississippi, which was the Eastern launching point of the Pony Express and housed its offices.   Today, it is a museum that commemorates this daring great American venture, the Pony Express.  In 1859, when there were no telephones, radios or telegraph, letters from New York to San Francisco took 30 days by steamship around South America. The California gold rush was in full swing and the Civil War was looming; something was needed immediately to connect the country.  What happened next was the formation of the Pony Express – a great example of American innovation and entrepreneurism – which delivered letters in the unheard-of time of 10 days, reducing by 2/3 the time to communicate between the coasts!
The Pony Express was officially launched on April 3, 1860.  Ten days and 1966 miles later, the first mochila reached Sacramento.  During its existence, the Pony Express lost only one bag of mail, and the riders traveled a total of 650,000 miles on horseback.   The galloping Pony Express rider, which was the official symbol on every letter carrier's shoulder until the invention of Mr. Zip in the 1960s, remains a symbol of American determination and know-how.
My ride was dedicated to my later Mother, Jean Patee Eaves, who was the original PONY GIRL and very dedicated to the Patee House.  I am hoping you will sponsor my ride by making a small donation to the Patee House Hotel Museum.  Thank you for your support of this great piece of American history and entrepreneurism.
Riders up!   Miriam
You can be a PONY GIRL TOO! We went shopping at ZAPPOS to find this Yankee Doodle Dandy outfit that would be great fun to wear on your next trail ride or on your next mosey to a Western Dude Ranch this summer.
SHOP NOW: Ryan Michael Corset Back Shirt ($90),  Christopher Blue Joanie High Rise Jeans ($91) ON SALE, Renegade by Bailey Reese Hat ($64), DEPT Vintage Suede Vest ($128), Ariat Rosita Distressed Belt ($108), Ralph Lauren Saddle Bag ($228), Old Gringo Hanna Gayal Boots ($550)