It is my favorite night of the Holiday Season when carols are sung and two and a half miles of holiday trees illuminated the wintry night.   Nothing creates a small town atmosphere of community like the Park Avenue Tree Lighting.   On Sunday, Dec. 4 at 6:30 pm  Brick Presbyterian Church is the place to be when  The Fund for Park Avenue continues the 70 year old tradition which began when several Park Avenue families wanted a special way to honor those men and women who died in World War II. Today the iridescent trees remain a symbol of peace and a reminder of the sacrifices made to attain it in celebration of New York's Holiday Season.
For what to wear to the traditional Park Avenue Tree Lighting, with a pre-party at J.McLaughlin and the dinners and parties to follow, we found the perfectly festive separates to wear all of the celebratory season. Black and red are such a natural pairing at this time of year.  Even those of us whose palette is subdued, add a pop of the holiday shade.
Deck Yourself in Holiday Finery!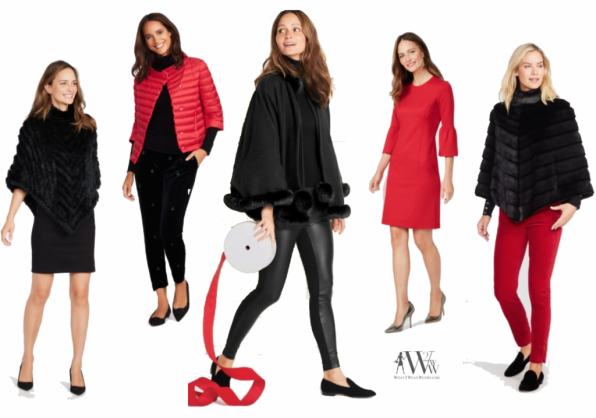 Monica Fur Pancho  $198  /  Beverly Dress Stripe  $228  /   Aspen Down Jacket  $248  /  Lori Leggins In Foux Leather  $165  /  Keaton Bell Sleeve  $215  /  Gwen Faux Fur Pancho  $148  /  Becca Leggings  $165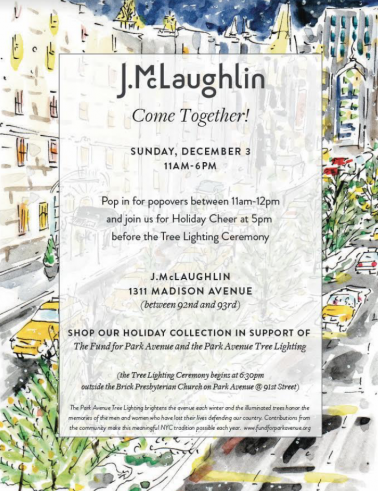 Click here to download the carols!
It wouldn't be the Tree Lighting without my fave photo of Roger Webster and Barbara McLaughlin, President of Fund for Park Avenue.  Roger, we still miss you!