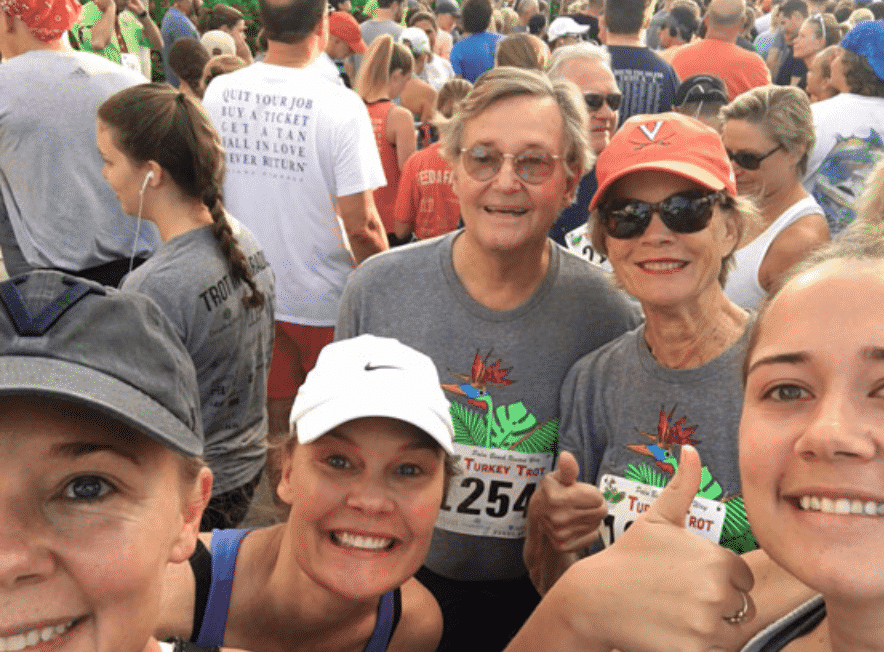 This Sunday, January 27th, is the inaugural Palm Beach 5K Race of Hope to Defeat Depression. The race Grand Marshals, Audrey Gruss and Scott Snyder, will welcome all willing participants, even the four legged kind, in the effort to raise funds for this very important cause that is affecting so many. And to hit the road in stride, what better than sporting performance wear by a new fitness line from Palm Beach. Royal Palm *PB was created and launched last year by childhood friends Lisa Bytner and Mark Cook who worked tirelessly to get the fit and fabrics just right. On their website https://royalpalmpb.com you will find leggings, tees and sports bras in 4-way stretch fabrics, all designed for high performance activities with a touch of gold and silver glam. So whether you are walking, running or watching, you will look chic at the finish line.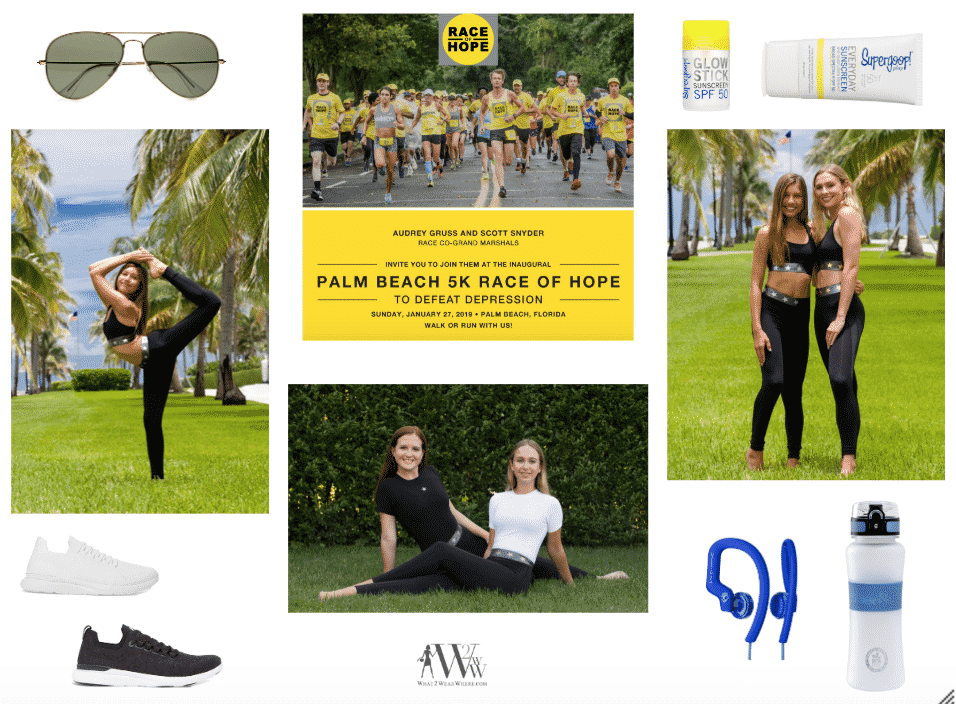 ——–
HDRF was founded in April 2006 by Audrey Gruss in memory of her mother, Hope, who suffered from clinical depression.   The mission is to fund cutting-edge, scientific research into the origins, diagnosis, treatment and prevention of depression and its related mood and other emotional disorders – bipolar disorder, postpartum depression, post-traumatic stress syndrome, anxiety disorder and suicide. Every dollar raised goes directly to research.
NOTE:  HDRF is our January Charity of the Month.  We donate a portion of our commissions from sales.
SUNDAY, JANUARY 27, 2019
RAIN OR SHINE
IMPORTANT RACE DAY INFORMATION
ARRIVAL HOW-TO
PARKING 
Due to the anticipated attendance, please arrive with plenty of time to find parking. Parking is available at The Royal Poinciana Plaza. Please follow the parking signage.
WHEN TO SHOW UP
Pre-Race Packet Pick-Up is Saturday, January 26
Join us at The Royal Poinciana Plaza (In the west courtyard by Coyo Taco) between 8am – 4pm to pick up your race gear, bib number and enjoy great discounts from our Race of Hope partners.  Race of Hope volunteers will be there all day to help register your friends and family, make any changes or answer any questions you may have about race day.
Race Day is Sunday, January 27
Registration opens at 6:30am, SoulCycle leads the warm up at 7:30am, the opening ceremony is at 7:45am, and the race starts at 8am sharp.  If you have any family or friends that need to register, please come around 7:00 am or register them at the pre-race packet pick-up on Saturday. Please give yourself plenty of time to park and get your shirts.
WHAT TO PACK
The perfect on-course outfit. Nothing makes you feel like you're ready to work-out more than looking the part. We will be giving out t-shirts and hats that we would love for you to wear;  if not, that's okay.  Hope for Depression Research Foundation's color is yellow!  Yellow is bright and the color of HOPE.  So, if you have any yellow and want to show your spirit – great!   Bottom line: wear whatever you are most comfortable walking or running in. We recommend wearing lightweight clothing and running shoes.
Schedule of Events
6:30 a.m. Registration/Check-In
7:30 a.m. SoulCycle-led Warm-Up
7:45 a.m. Opening Ceremony
8:00 a.m. 5k Walk/Run Begins
9:30 a.m. Awards
FOOD AND ENTERTAINMENT
Enjoy some music and sound from Custom DJ Services by Leonard Bryan Events
Enjoy chair massages post-race by Paul Labrecque Salon
Check out our sponsors and vendors – Sant Ambroeus, Celis Market, TooJays, Paul Labrecque, SoulCycle, Squeeze Pilates and Coyo Taco have all donated products to this amazing cause.  Enjoy.
Race Day Photos
Please check out Capehart Photography for all race day photos: https://capehartphotography.instaproofs.com/gallery/#events
Finish Line Photos
http://www.itsyourrace.com/results.aspx?id=11577
Race Day Results
Check out Milestone Race Authority for all finisher results: 
http://www.itsyourrace.com/results.aspx?id=11577
INCENTIVES
If you have qualified for a fundraising incentive, please visit our gear tent to pick up your Race of Hope gift.
SPREAD THE WORD
Please bring your friends and family to register on race day. Adults are $50, Students $25, and Youth $15 (under 10).  Thank you for signing up and please continue to spread the word!
Hope for Depression Research Foundation thanks you again for your support and participation in the Race of Hope. 100% of all proceeds goes directly to critical advanced depression research.