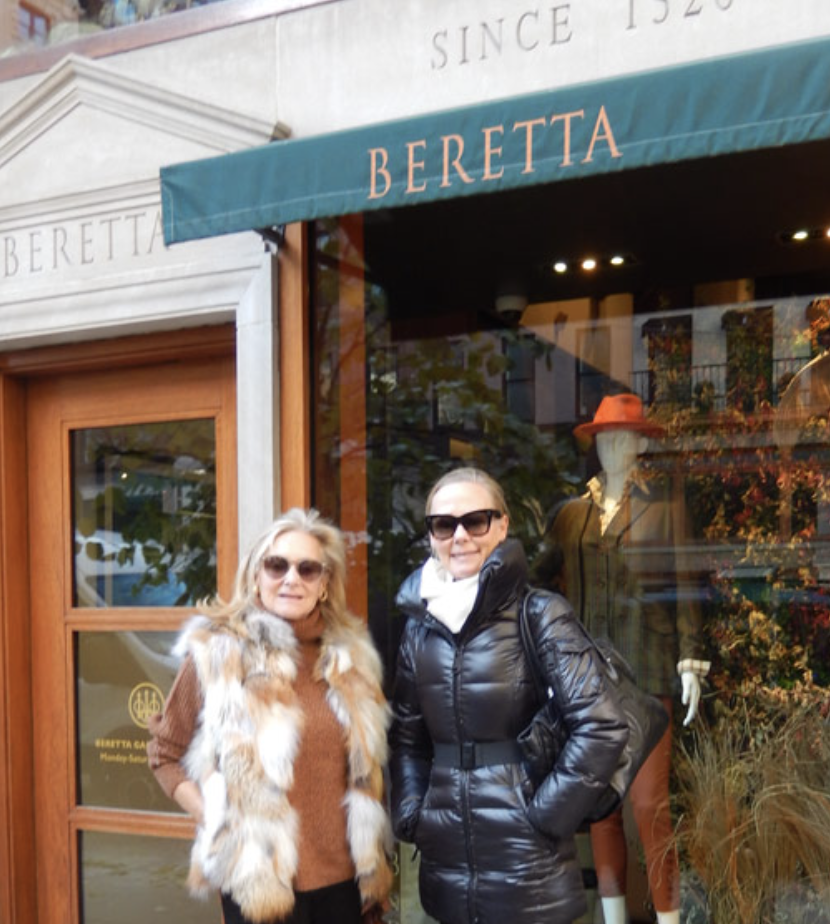 I am totally tingling for a visit to London and the countryside at the end of the month and am putting together a packing list for travel containing a little town and a little country fashion, with a bit of evening glamour for good measure. It's for the birds that I am assembling this ensemble. You can get quite bit fancier (see our article below) but I fancy shopping before I go and I found ORVIS has totally upped their game with stylish choices by both new and familiar brands. Out in the field, as in most fresh air adventures, layering is key.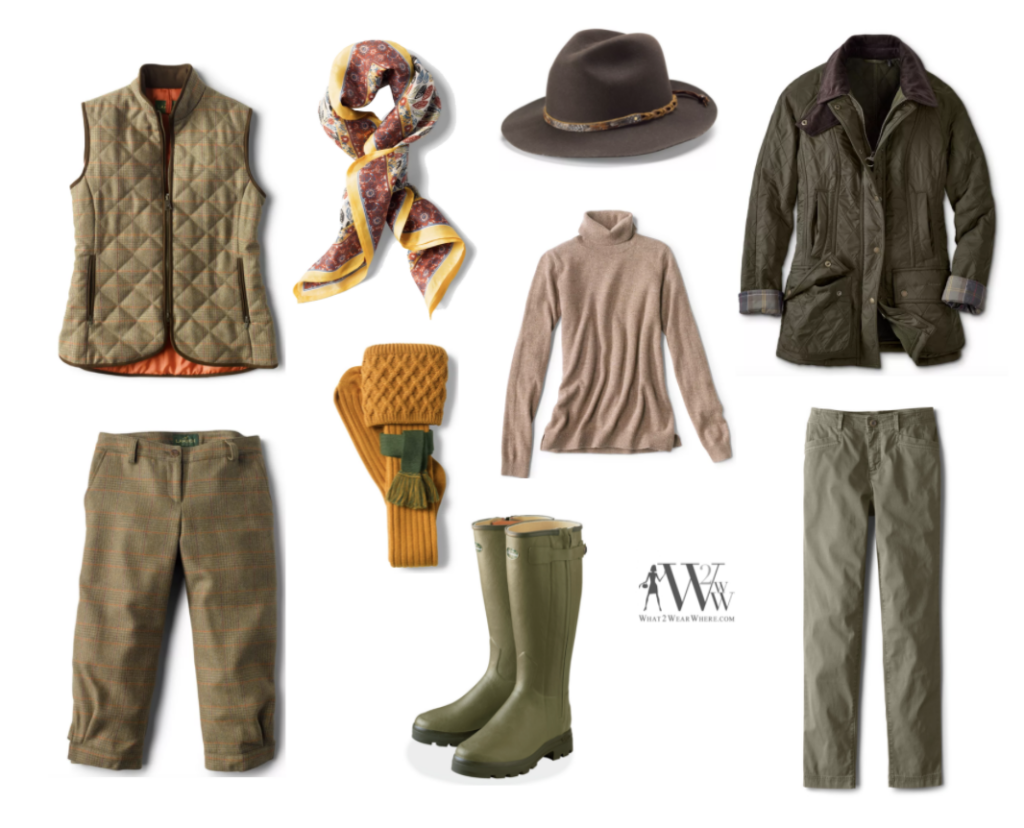 Also will be packing our ear and eye protection – safety first!
Days in London, will be spent walking, shopping and popping into galleries. Last time there I clocked 8 miles a day so comfort is almost as important as style. The lug sole boots are like walking on rubber tires, and can take you all day. If you don't like the look, just make sure to take your boots to the shop to apply a rubber sole for cushioning. I like the J. Crew Topper Coat as you can layer underneath depending on the forecast. The sweater option is for shopping and museums, but you can dress it up with the silk blouse for meeting friends for lunch or tea. Rain is almost a certainty and in that case, switch to your Barbour Field Jacket and hat.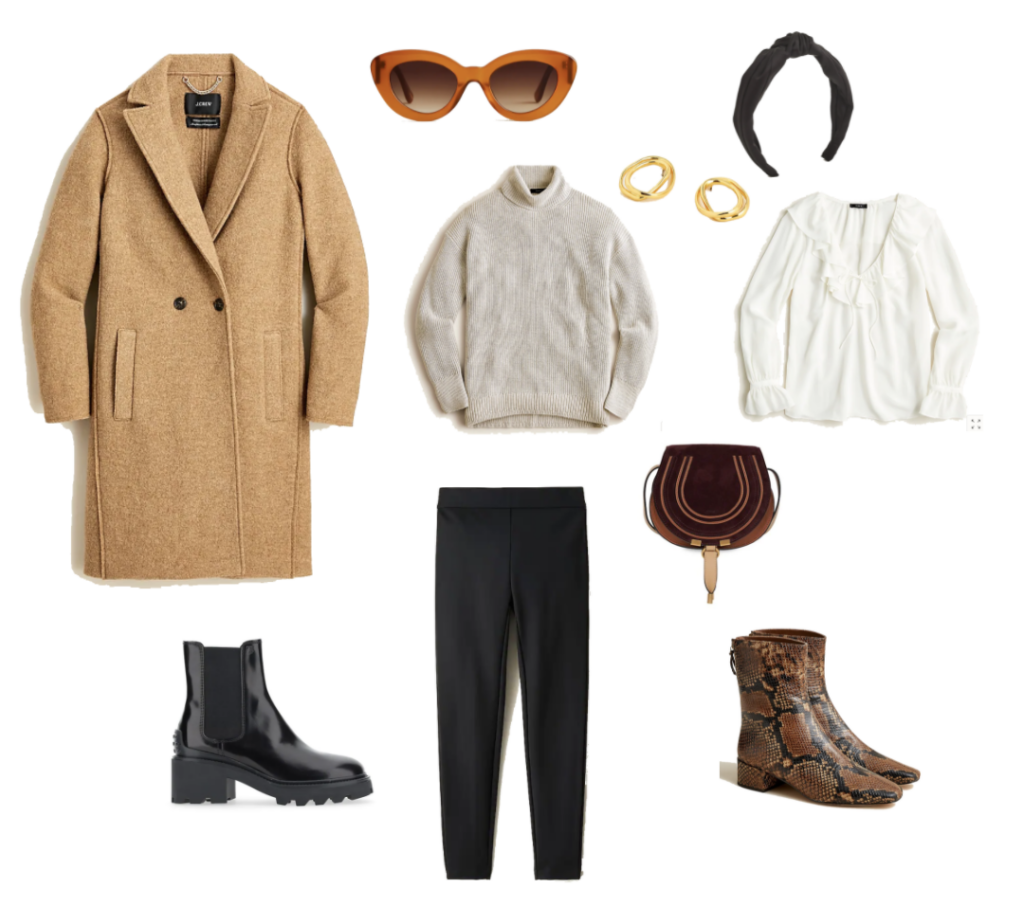 coat: J. Crew Wool Topcoat $248 / tops: Relaxed Turtleneck $94 / Silk Ruffled Top $148 / pants: Pixie Pant $148 / purse: Chloe Crossbody $980 boots: Tod's Booties $775 / Cole Haan Calf Hair Booties $280 / accessories: Headband $29 / Sunglasses
I often pack Lands End Silk Underwear for cool weather travel. It is so light and feels fabulous next to your skin.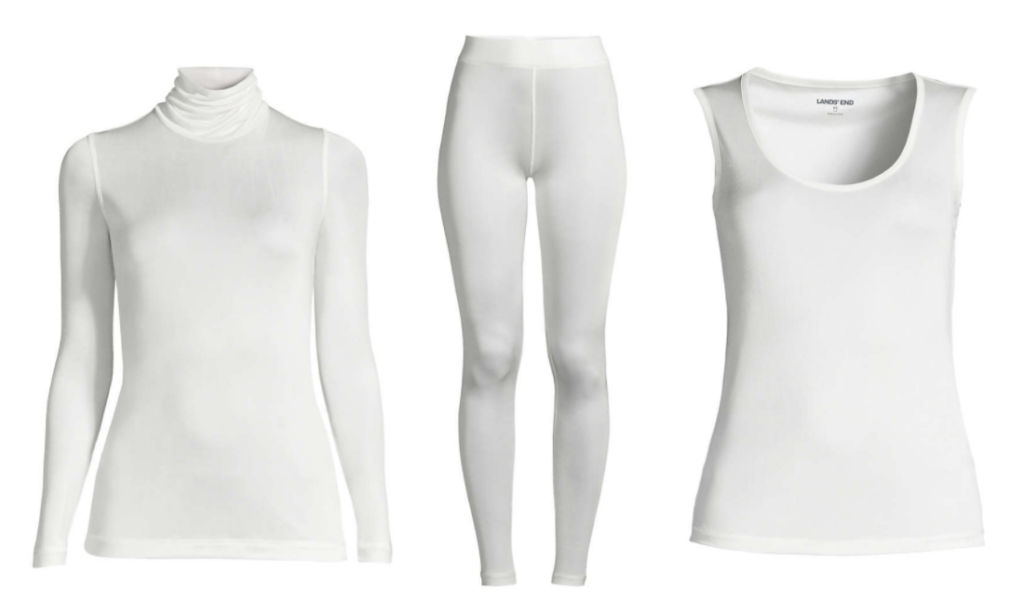 And nights in London are meant for dressing up. Of course a great LBD and a dark floral will do nicely. Pick a suede pump that suits your comfort, add a shearling clutch, another cold weather trend. Lionessa Statement Earrings provide a wonderful pop of whimsey. They are completely light weight – good for packing and for wearing.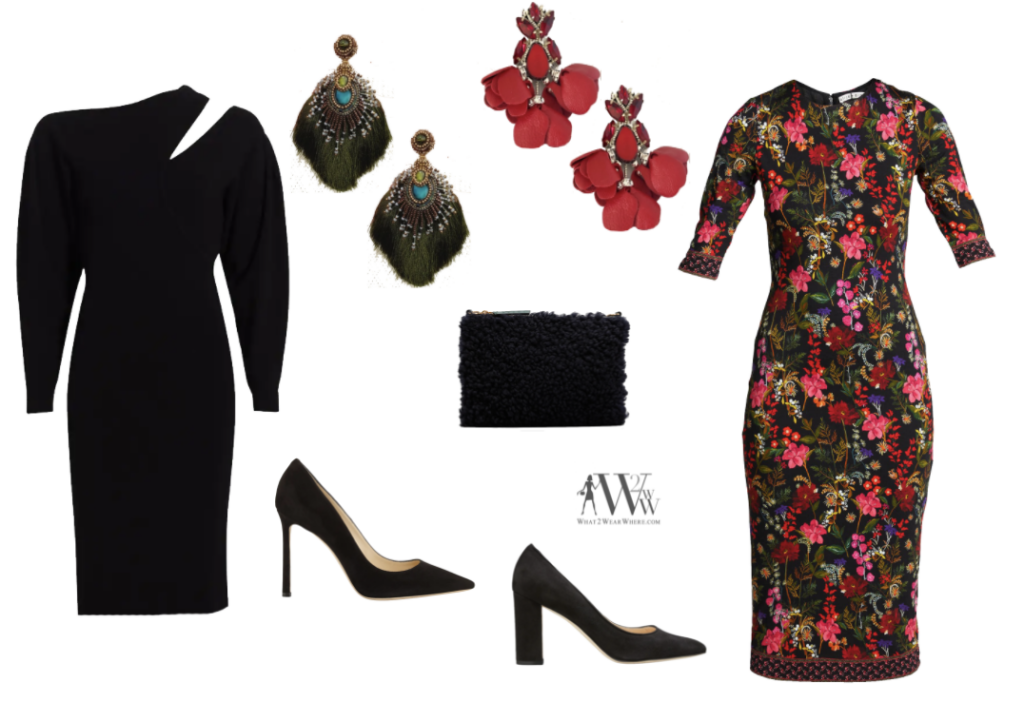 Glamourpuss NYC fur jackets are wonderful to layer for chilly evenings.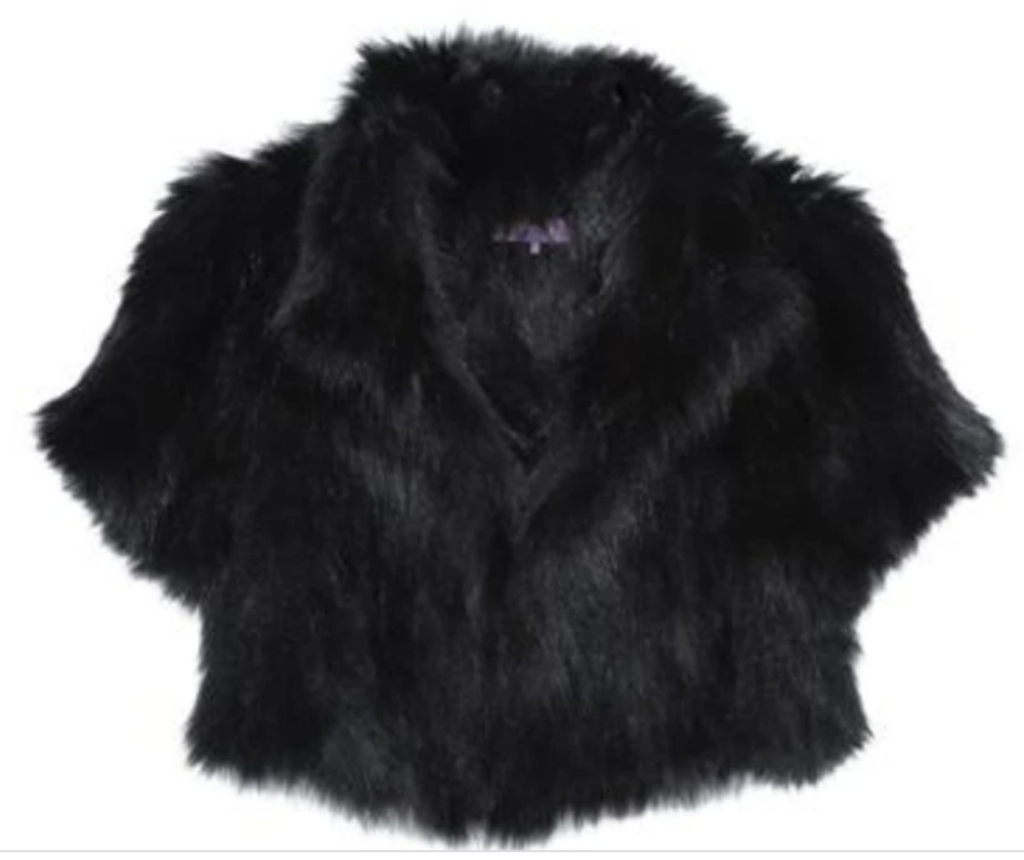 Please take the time to scroll through our article – it is one of our most popular.

What to Wear Where Goes Across the Pond
DECEMBER 27, 2019
GUEST DIARY• BY: KAREN KLOPP AND HILARY DICK
We have received queries over the years, many of them asking what to wear to a shoot in England and other European destinations. Yes, really! Fall and winter are when the events abroad really heat up so we thought now would be a good time to share our thoughts. The following is an excerpt from Packing for Travel: From Jet Set to Trek Set the Definitive Globe Trotting Guide.
"For a shooting holiday in Europe or a Continental Style venue, the attire is stylized and bespoke. You might wear moleskin or tweed — pants or *breeks, socks, garters, and waterproof boots. On top you will need a tailored shirt, scarf, and waistcoat or vest, and a blazer. To top it all off, a waterproof wax cotton or heavier jacket. A hat with a brim is essential. Shooting gloves are a necessary accessory, and some women choose a fur or faux muff that is especially chic for warming fingers. A leather shell bag completes the look."
---
---
* The word breeks is interchangeable with britches — a type of knee length trousers with a fit that is neat and trim. Whereas two plus twos are slightly wider and 2 inches longer, and four plus fours are 4 inches longer and slightly wider still.
---
---
"For evening wear, attire is likely to be Cocktail or even Black Tie. A classic look is black pants, a silk blouse, a lovely cashmere or fur wrap, and a bit of festive jewelry. If Black Tie is called for, you would wear an evening dress or separates. When in doubt let us know and we will do the specific research on your shooting lodge, manor house, castle, ranch or estancia."
The ensemble below is a go-to when Cocktail Attire is called for. The fur or faux wrap is a must as many of the shooting estates can be a bit chilly.
---
---
Or if the suggested attire is formal, then by all means, dress for it! We are enjoying separates right now, particularly long skirts paired with a feminine top like the ones we shopped on Alice & Olivia. Each piece can do double or triple duty. Wear the skirt with a long turtleneck and boots for a more casual look and the top goes so beautifully with ubiquitous black slacks or jeans and a blazer.
---
---
As can be surmised by our brand, What2WearWhere, Hilary and I relish "dressing the part" and so we dashed to Beretta to find the latest in stylish sporting livery. It is a mecca to avid sportsmen and women who seek equipment, advice and attire for shooting, fishing, hiking, safari and basically anything that involves the great outdoors.
---
---
Our friend Parker Gentry, widely known as a great shot, met up with us to fill in her packing list for an upcoming shoot in Surrey. She was recently featured in the book, Chics with Guns by Lindsay McCrum.
---
---
We ventured up to the third floor gun room to be delighted by the vast collection of firearms and memorabilia. The company dates from 1526 has been devotedly and skillfully run by the Beretta family throughout the centuries.
---
---
The family boasts a private museum near Brescia, Italy where centuries of historic firearms and artifacts are impeccably maintained. At the Madison Avenue HQ, you can marvel at the companion piece owned by Ernest Hemingway is his prolific Cuba days.
---
---
---
---
Our next stop was British Sporting Arms in Millbrook, New York with Charles and Margaret Schneible. They have shot all over the globe and possess a treasure trove of personal observations and preferences.
---
---
As to what Margaret's favorite venue, "Wherever I am invited." And then knowingly added, "Dressing up is the best part." We couldn't agree more!
---
---
We ran into Frederick Fekkai, shopping for some last minute items for an upcoming shoot, dashing as ever.
---
---
Then to London, to shop at some of the finest outfitters in the world. James Purday & Sons established his gun making business in 1814 and was touted as the finest gunmaker in London. He received his first Royal Warrant in 1868. In 2014, the company celebrates 200 years of continuous service and unbroken lineage.
---
---
Hilary took a whirl on the Purdy website and put together this marvelous country look.
---
---
"I find classic sporting attire to be inherently chic. Whether strolling Madison Avenue or onto the heath, it is an investment timeless in style."
---
---
We recently discovered Troy London designed by Rosie Van Cutsem and her sister Lucia Ruck Keene for the town and country set. The fit and design is fabulous. Darren Henault and Michael Basset hosted a meet and greet with the designers at their exquisite home.
---
---
This Shell Parka is a perfect layering piece to compliment Hilary's outfit. It is totally waterproof and has an adjustable cinched waist for a flattering silhouette. And, yes, they ship to the US, or in London you can find them at Showcase, 12 Regent Street. Whereas this Suede Gilet is the piece that all the gals wanted for their Holiday List.
---
---
Cordings, established in 1839, is another treasured London institution. The brand's fine tailoring and welcoming decor has been home to British gentlemen for generations. John Charles Cording pioneered the use of rubberized cotton cloth creating a line of totally waterproof outerwear.
---
---
In 2003, devotee Eric Clapton re-established the brand and introduced women's clothing into the collection. Thank you Eric!
---
---
We arrived in Sussex to a warm welcome from Lulu and Edward Hutley, a most clever and discerning couple who have created not only a homestead for their lively offspring and friends but an expansive experience for all who visit. Slades Farm is part of the Wintershall Estate which has been in the Hutley family for many generations. We were entertained in grand and gracious country style.
---
---
It was a misty morning walk to check on the horses. Slades Farm offers instructions in equestrian pursuits and well as a bird hunting opportunities and other social events.
---
---
Elevenses at the Tea House provides a bit of sustenance for those who had worked up an appetite and a thirst whilst in the fields.
---
---
British country style parallels the fundamentals that we value in the culture itself — age old traditions, strength, quality, dependability and practicality. As Berty informed, "The thing is not to look like you tried too hard." Tweed is woven into the very fabric of English country life. It is armour against the elements and camouflage to surroundings. If properly outfitted, one can withstand a day in the damp and often rainy weather yet still achieve an exhilarating shared experience. And as Parker keenly observes, "As with anything in life, the fun is in the company you keep. Any day out with a great group of friends is always treasured."
---
---
Karen Klopp & Hilary Dick founded What2WearWhere to help today's busy women shop for life's events, sports, workplace and travel.