Whether you are heading to London for the Summer Olympics 2012 or any other destination, our advice is to throw into your bag a packable trench or rain jacket, a great hat and a folding umbrella.  We scoured the web to bring you our favorites in travel rain gear.  We also recommend keeping these in a drawer in your office for the unexpected summer shower.
The Classic from Burberry
SHOP NOW: Burberry Brit Packable Trench ($750)
A Very Versatile Pair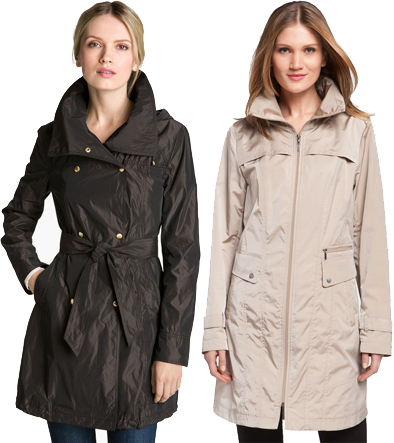 SHOP NOW: Ellen Tracy Packable Double Breasted Trench Coat ($100), Cole Haan Packable Raincoat ($260) ON SALE
These will pack very well, as well!
SHOP NOW: Tahari double Breasted Trench Coat ($110) ON SALE
Packable Rain Hats from TOTES

SHOP NOW: Rain Hats ($18-$25)
Don't leave home without a TOTES folding umbrella.

SHOP NOW: Folding Umbrellas ($12-$30)