The 9th Annual Orvis Shotgun Classic will be held on Thursday and Friday, June 5 & 6, 2014.  This is a very unique opportunity; there is no other event like it across the country.  With the unlimited shotgun shooting, lessons with guest instructors, 5 gourmet catered meals, cocktail party, this event is not to be missed!  Remember — novices are welcome and encouraged to attend. For more information and to purchase tickets, please visit Orvis Shotgun Classic's Website which offers a wide variety of editorial and educational content  with extensive articles and videos about fly fishing, wingshooting, dogs, conservation and more.
We shopped Orvis.com to find  this is a super practical and flattering way to go when shooting.  When in the great outdoors, you will want to dress in the muted shades of nature, khaki, green and browns.   Start with a pair of slim pants, topped with a crisp white or patterned, shirt then slip on a shooting vest with roomy pockets for your spent shells.  Comfortable footwear is advisable, like these leather lined boots, or a short pair of chukkas.   Eye and ear protection is essential in this sport where "safety first" is the order of the day.  After that, pick your hat and shell bag and set out to the course.
SHOOT IN STYLE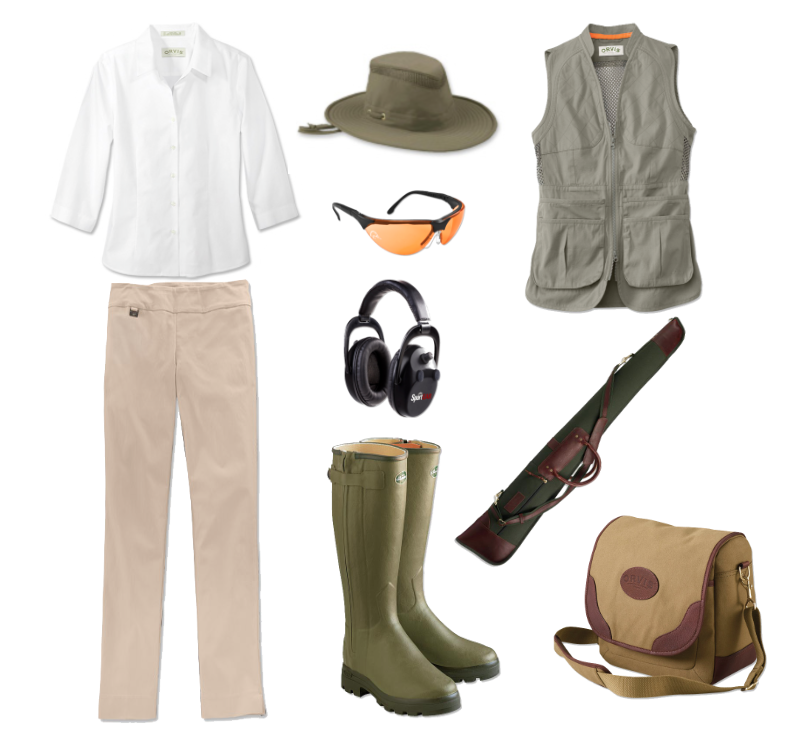 To purchase and for more information, click on the links here:  Wrinkle-free 3/4 Sleeve Shirt $79   /   Lisette Perfect Fit Slim Pants $118   /   Tilley Airflo Hat $79   /   Ducks Unlimited Shooting Glasses $35   /   Sportear Muff Hearing Protection $129   /   Women Le Chameau Leather-Lined Chasseur $489   /   Women's Clays Vest $119   /   Battenkill Gun Cases $198-$269   /   Montana Shoulder Bag $125
Top 5 Reasons to Take up Shooting
1.   It gets you into the great outdoors, at one with nature
2.    It is one of the few sports where men and women can compete on an even par.
3.    You can travel the world to the most beautiful destinations.
4.    Your children will want to be with you.
5.   Your husband or significant other will NOT mess around with you, except, of course, you so desire.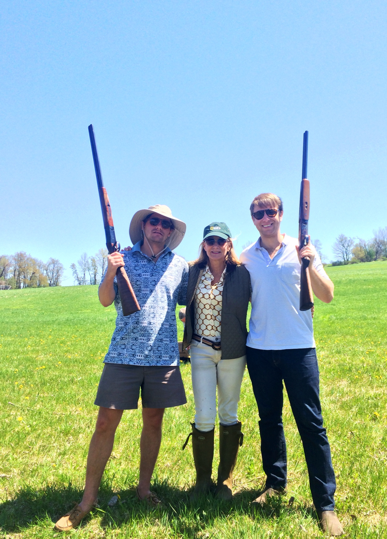 "What is the difference between shooting trap, skeet or sporting clays?"    
Several friends have written to us and it is a great question.   The terms can be confusing, especially when you are just taking up the sport. All are meant to simulate shooting in the field, but their are decidedly different in their approach.  We love the clear illustrations that Clay Targets Online provided, courtesy of Clay Shooting.com 
TRAPSHOOTING
The targets will be going away from you simulating a bird in flight.   The targets are thrown from a fixed location and shooters are behind.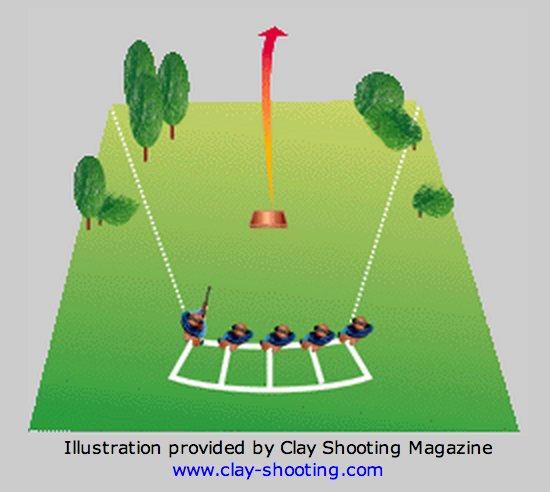 SKEET SHOOTING
The targets will be crossing and coming from opposing angles.  Shooters are in a fixed position.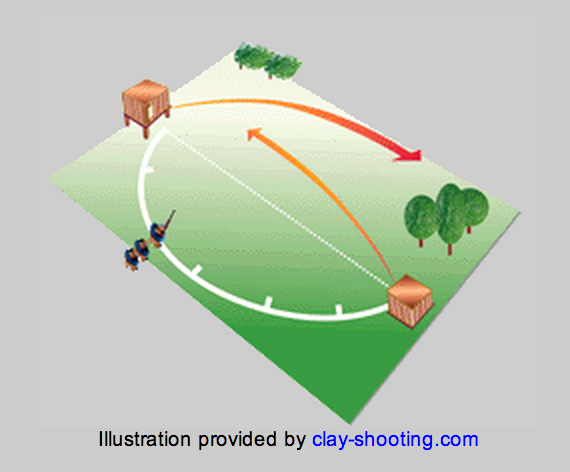 SPORTING CLAYS
A Clays Course is made up of separate stations, typically nestled in naturally beautiful settings,  and designed to mimic the movement of  a wide variety of woodland creatures.   Usually done in pairs and as a competition,  the team moves from station to station, 10 to 12 in number,  while attempting to best their fellow shooters.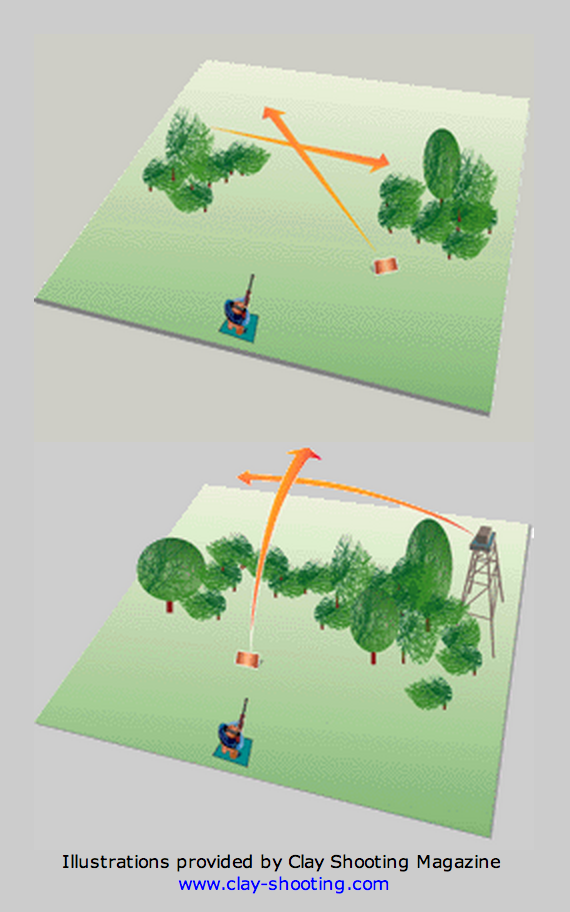 5 STAND or FLURRIES
The shooters are in a fixed locations and the clays are thrown from a multitude of angles and challenges.  In 5 Stand, the shooters politely take turns, while in Flurries, they are all going wilding for the same targets.  This is such great fun with five furiously competitive mates.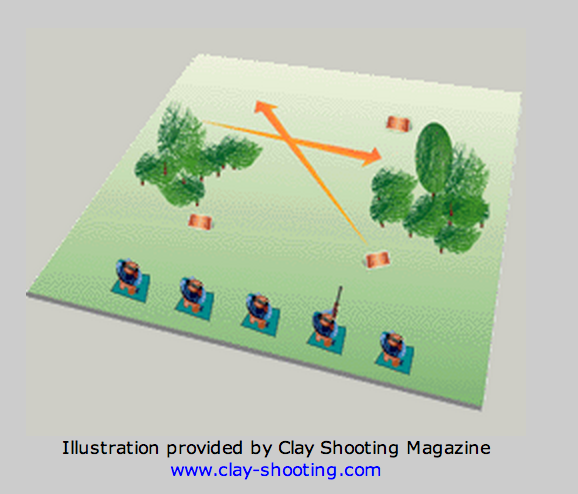 Gun Violence 
We would be irresponsible if we did not add our own disclaimer to this post.  For us, shooting is a family activity.  W2WW is pro shooting for sport, but totally against any gun sales without permits and background checks, and deplores sales of automatic weapons in general.   We wish the National Rifle Association would become exemplary leaders in the field of gun safety.  We offer total support and complete admiration for  Gabby Giffords and Mark Kelly's  Americans for Responsible Solutions  and we urge you to contribute to their efforts.