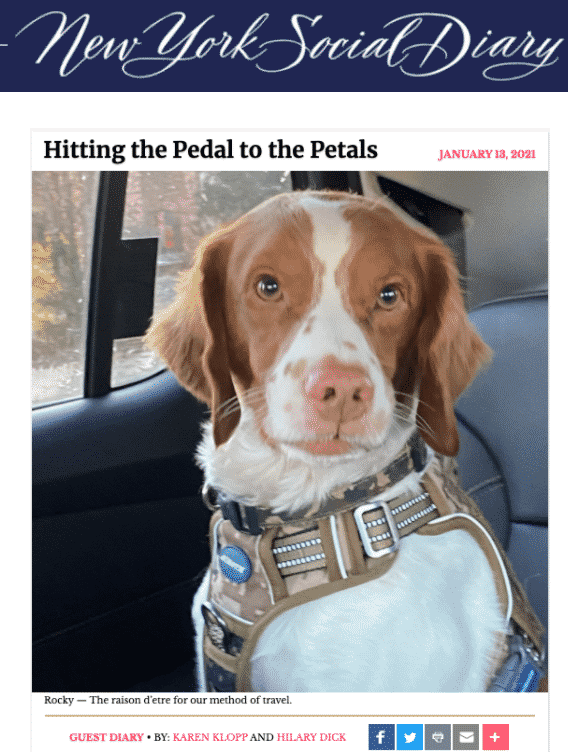 Pedal to the Petals
Road trip! I had been dreaming about a car ride from New York City to the sunny south for months, but somehow my husband did not share my exhilaration. "Come on, it will be fun!" I enthusiastically tried to cajole him. "KK, I just don't share your romantic notion of the open road." Okay, fine. Then one night over drinks (doesn't every great adventure start this way), I found my fellow road warriors, Jack Lynch and Amy Hoadley and our traveling plot was hatched.
7am December 26
Did I mention the raison d'etre for our method of travel? Rocky!
In preparation for the journey, I followed my own advice from Packing for Travel Covid Edition and prepared a "Covid Kit" consisting of masks, plastic face shield, hand wipes, sanitizing wand, thermometer, and plastic gloves. Why take any chances?
We vowed to get an early start on Boxing Day and to find a destination 6 or 7 hours south of the city. Williamsburg, Virginia hit the mark in every way. All of the hotels we chose for our journey, offered a Commitment to Clean, like the one shown here for Colonial Williamsburg.
We pulled into town with enough time to walk around the history laden ways, a trip down memory lane for sure. My last tariance here was a class trip in high school, when the good Catholic girls were taken with the 3.2 beer and the handsome, costumed college boys . . . and vice versa.
The symbolic wreath and garlands were a welcoming sight and a sure sign of the glorious southern hospitality awaiting us. We checked into the Williamsburg Lodge, (highly recommend), then supped at the iconic Williamsburg Inn.
As with most travel dressing, layering was key, especially when wayfaring between extremes in temperatures. Here are a few of the versatile pieces designed to be mixed and matched.
J.Mclaughlin Masie Pants $158 / Glamourpuss NYC Rex Layer Vest $995 / J.Mclaughlin Tortoise Sunglasses $120 / Uniqlo Light Down Jacket $39 / J.Mclaughlin Sanitizer Set $58 / J.Mclaughlin Reversible Cashmere Scarf $189 / J.Mclaughlin Ballet Flats $198 / J.Mclaughlin Dahna Handbag $348
We tried to get Hilary on board. "I received the road trip memo a tad late as I had already booked my tickets to fly. But I had definite FOMO! With that in mind I chose pieces to wear that I would have packed in my bag to hit the road.. . or for the next adventure. White jeans can be accessorized with boots and a big sweater for the colder climates. Add slides and a tank or pretty blouse and you are ready for action down south. And I definitely would pack a dress for that fancy cocktail invite that is sure to come our way. Can't wait to be part of the next traveling team!"
Jonhatan Simkhai Wrap Cardigan $495 / Isabel Marant Etoile Blouse $370 / Bonheur Puffy Hoop Earrings $125 / Wandler Ava Tote Bag $490 / Isabel Marant Cowboy Boots $560 / Frame Straight Jeans $228 / Ulla Johnson Maude Poplin Dress $445 / Cult Gaia Cleia Platform Sandals $458
On our second day we cruised Virginia through North Carolina without a hitch. South of the Border was a tacky must-stop but a short one. Too many people and not enough masks!
Jack's 30 year old Mercedes became "the little engine that could."
The top of everyone's list was Charleston, South Carolina, known as "the Holy City" for its profusion of houses of The Lord. For devotees, the city inspires its own unwavering worship. The hushed clandestine gardens, ethereal graveyards and evocative cobblestoned alleys create a mystical aura of the past with all its faibles, foibles, and glories.
Charleston Place was so welcoming for dogs and owners alike. While Rocky enjoyed the thread count, we took advantage of the central location and the indoor rooftop pool.
The key to the success of our sojourn was to hit the road early and arrive at our destination with time to poke around. Charleston is the most beautiful walking city. One never gets tired of a stroll to the Battery. There is no need to go inside to experience the history, although if you have the time Historic Charleston Foundation has achieved an exceptional preservation of the treasures of the town.
.
Dinner was at our young friend, Miles White's award winning wine bar and shop, Graft. It was named Esquire Magazine, Best Bars of 2020, Eater's 2019 Bar of the Year, Food & Wine Magazine Best Sommeliers of 2019, Garden & Gun Magazine, the Best New Bars in Charleston, you get the idea – fabulous!
Day three, Jack, Vice President of Retail Marketing, always on the job, stopped by the J. McLaughlin Charleston store for a meeting, while we shopped for some vibrant items for the sunny south.
Rebecca Darwin of Garden and Gun Magazine and her two sensational daughters met us at Mercantile and Mash at the Cigar Factory for breakfast. The magazine has their offices in this fascinating structure. In its heyday 1.5 million cigars rolled off of its presses. In 1980 it was listed on the National Register of Historic Places and is now a mixed use facility with shops, restaurants and work spaces.
At midday we decamped to Middleton Place where keen historian and raconteur Jamie Fig gave us a personal tour. It was made more meaningful by his in-depth knowledge and association with the past and present Middleton family.
Next stop the incomparable horse town, Aiken, where we were welcomed by Jane and Bob Hottensen and marveled at the grand family home they have created for their growing family. We enjoyed a full moon, open bar and a delicious informal supper in front of the fire.
Ridgely Hall was the home of Lucy Mercer Rutherford, social secretary for Eleanor Roosevelt who enjoyed a special relationship with FDR. If you want to learn more, there is no shortage of books on the subject.
We toured from room to room where Jane created a continuum of stunning visual vignettes with her significant design talent. A particular favorite was the sun room, which Jane uses as her office, lucky gal!
Jane shared her before and after photos of the renovation of the 11,000 square foot classic Federal Georgian house built in 1928.
We would have liked to spend more time discovering the charms of Aiken and the supreme comfort of the Wilcox Hotel but the road south beckoned our trio.
On the 29th, we headed south, and were delighted to find the first two hours took us through the back roads of the south. There was no traffic and we could appreciate the beauty of the lowlands and the piney scrub.
Rocky longed to stop for some bird hunting, but we kept going with The Swans of New York for company. We finally hit 95 South for the last sprint to our end destination.
John met us at Jack's new apartment which is in a wonderful, "heavily amenitized" building, The Oversea. That is my new phrase – yoga lawn, screening room, heated pool, conference room and many more millennial-driven perks. From the rooftop terrace, The Breakers Hotel shines brightly in the background. The building is also strategically located next to the new and groovy Ben Hotel.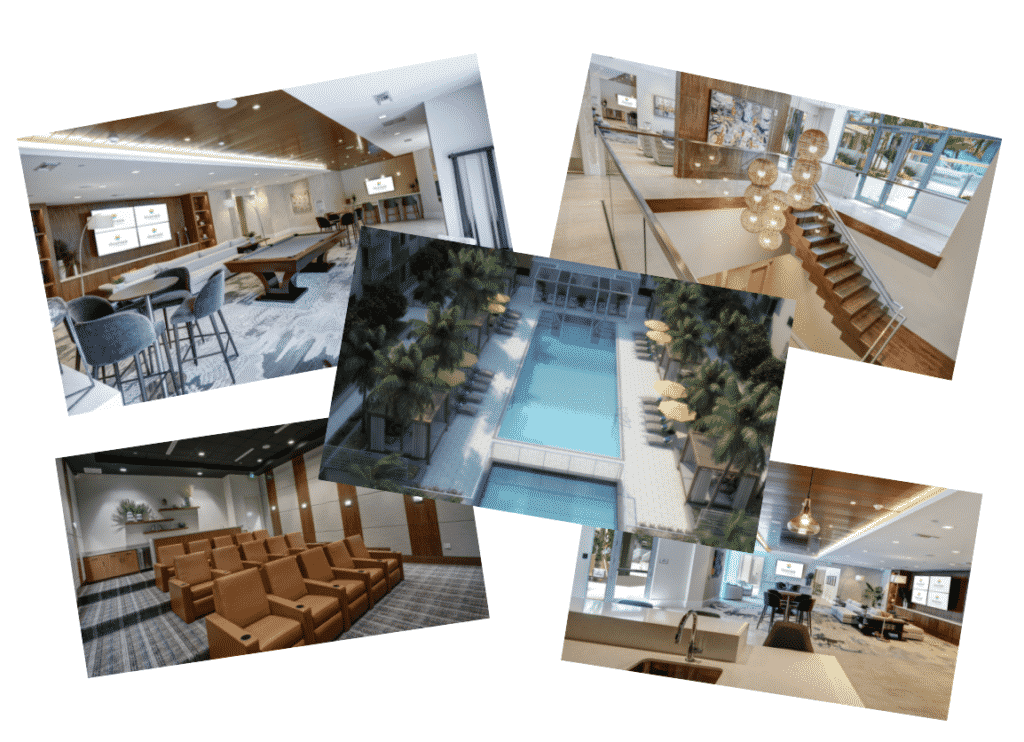 Meanwhile back in Wellington, Rocky is enjoying his outings in the sunshine as we contemplate our next holiday on wheels, Savannah? Cumberland Island? Asheville? Augusta?
.
All the best to finding on our own way in 2021 – onward & upward! xxoo KK & Hilary
Karen Klopp & Hilary Dick of What2WhereWhere.com and Packing for Travel Covid Edition.