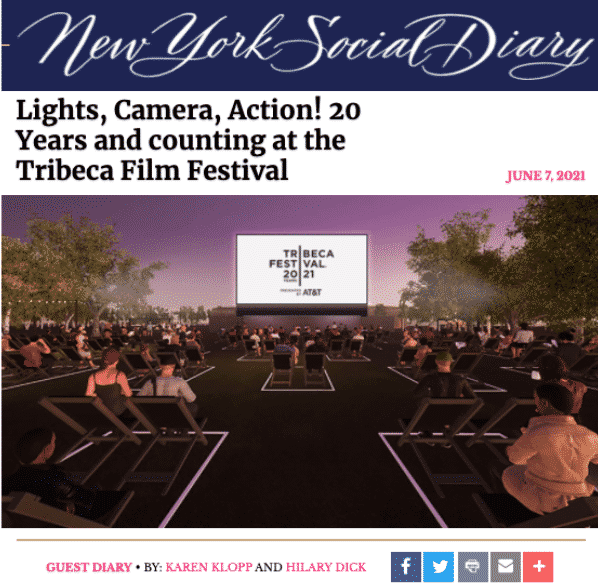 JUNE 7, 2021
GUEST DIARY• BY: KAREN KLOPP AND HILARY DICK
Sound is rolling and the Red Carpet is being unrolled — the Tribeca Film Festival is back in person and that is something for the cultural capital of the world to celebrate with great gusto. 20 years ago Jane Rosenthal and Robert De Niro combined their legendary creative partnership to uplift the spirits of a city devastated physically and emotionally from the ravages of September 11th. Tribeca Film offices were in the shadow of the towers where occupants witnessed firsthand the endless smoke rising from destruction.
"Look left" became the battle cry as the dedicated cast accomplished a Herculean task of imagining and creating the first Tribeca Film Festival within a span of 6 months. As cofounder Robert De Niro shared: "The Tribeca Film Festival was born out of our mission to bring people together in the aftermath of 9/11. We're still doing it." It was an immediate success.
---
---
And in its 20th year, the Festival is once again elevating our town from financial and emotional destruction — the villain of this script being Covid 19. Jane describes, "Although, it was a very different reality following 9/11, as we were digging out of a horrific event, we knew then that the arts would be an important part to revitalizing New York and welcoming patrons back downtown to show strong support for local businesses. Back then, it was all about how many people could we encourage to come downtown and here we are 20 years later, with a very unique, but parallel, challenge. The focus is no longer on how many people can we bring together but rather how we gather together, safely, while socially-distancing."
Jane Rosenthal and Robert De Niro
---
---
Opening night is going to be an old-fashioned (pre Covid) Hollywood blockbuster, as In the Heights bursts from the barrio to the big screen. It is a collaboration of two A-Team artists at the top of their game Lin Manuel Miranda of Hamilton fame and Jon M. Chu, director of Crazy Rich Asians.
---
---
If you have any doubts about the vibrant on-screen excitement, just watch the trailer! "It is such an honor to open the 20th anniversary Tribeca Festival with 'In the Heights.' We can't wait to share this musical love letter to our community, with our community, in our community," declared Lin Manuel Miranda.
---
---
For 12 days, from June 9 to the 20th, we will be jump-cutting all five boroughs, from Battery Park to the Bronx, east side to the west, uptown and down to take part in the regenerative and collaborative process. TFF provides a unique opportunity to witness the best and the brightest artists committed to playing their parts in creating an extravaganza of sight, sound, story, and relevance for today's enlightened audience.
---
---
And while the venues are varied, the heart and soul remains firmly rooted in the original ethos — Tribeca Film Festival as a state of mind — fresh, innovative, disruptive, and decidedly downtown. Which brings us to our beat and to the obvious question, what to wear? We found the answer in summer leather. Summer leather you ask? Absolutely, the new iterations of real and vegan materials are sensationally lightweight and they can be gathered, draped, ruched and flounced in the most flattering way.
Witness our selection from short and sassy, to a modern midi, to an sultry off shoulder maxi. Opening or closing night? Why not hit the wardrobe department for an updated classic, Little Black Dress & Pearls. We shopped at Saks.com and The Real Real to find accessories to complete our glamorous ensembles. Okay, the Gucci pearl embellished shades might be a slight extravagance but darling, you are ready for your close up!
Tres demure!
---
Well, if I was one of the fab stars of In the Heights like Leslie Grace or Melissa Barrera, I would beg or borrow this Balmain, so perfect for stealing the Tribeca spotlight!
---
---
Heights of Fashion …
---
---
Hilary also fancies a bit of leather, "I like the idea of wearing a leather jacket over a floral dress for this city festival. Instead of black, I chose white leather/pleather as it works all year round and is soft but edgy at the same time. Pairing it with a flirty dress is the perfect combination for the air-conditioned theaters to the outdoor after parties."
---
---
There are so many ways to be involved with the Festival this year. Not quite ready to venture out? You can experience Tribeca at Home with categories ranging from International Narrative Competition, to Horror and Sci Fi, to Spotlight Documentaries to Viewpoints. Your next two watching weeks are about to get a shot of adrenaline which allows you to explore your interest in depth with all new content.
---
---
Immersive experiences are also available including a dizzying array of story scapes, outdoor and interactive experiences, and even a virtual arcade. I will consult a 12-year-old on how to proceed with these options.
---
---
Through the years, The Festival has created strategic partnerships across borders and around the globe. As Jane pointed out, "We have developed and built even stronger and broader relationships beyond the Tribeca borders, both locally and globally, which has enabled us to grow and navigate uncharted waters. We've highlighted and celebrated bold and dynamic storytellers for years and now we're coming out of this isolation and pain that the city, the country, and the world has endured, but my hope is that the festival continues to be a beacon for diverse and innovation artists that's not afraid to raise their voices for change and bring about healing through activism — that is the key vision behind the Tribeca spirit."
---
---
Steven Soderbergh's No Sudden Move is making its world premiere on June 18th in an outdoor premiere at New York City's The Battery on Friday, June 18th. He noted the irony: "A year ago I was on lockdown in Tribeca, so I never imagined we could return 12 months later with a new movie screening for a live audience in our neighborhood. I'm VERY happy."
In the meantime, I continued to search for other summer leather pieces which would travel well from borough to borough and found a wonderful selection to be paired with blue or white jeans for casual workplace attire or evenings out.
Tie waisted pants are great fun to wear all summer with everything from a tee shirt to a silk shirt.
---
---
---
Closing night brings the World Premier Dave Chappelle's New Documentary at the legendary cathedral of entertainment, Radio City Music Hall. "Premiering our film at Tribeca and closing out the festival at Radio City Music Hall is a big honor," said Chappelle. "Our film is about courage and resilience, something New Yorkers can relate to."
Please join the city-wide festivities in support of the grand creativity and industry that Tribeca Film Festival enables. In the wake of our interminable shut down, New York City is pulsing with new energy and enthusiasm. We look forward to The Festival and so much more — movies, museums, restaurants, galleries, parks and the glorious life on the street.
I leave it to Jane, to close: "Tribeca is a community of the most resilient and talented storytellers on the planet. In 20 years, our community of creators and partners have become a family. This summer we are excited to reunite as Tribeca becomes a centerpiece of live entertainment in neighborhoods across New York City."
---
---
Be a part of the 20th Anniversary celebration!
---