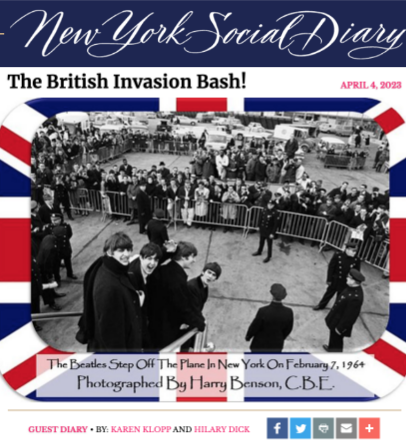 GUEST DIARY• BY: KAREN KLOPP AND HILARY DICK
We love you, yeh, yeh, yeh … which is why we are sharing the details of the most madcap seasonal soirees in Palm Beach. The British Invasion Bash at the Norton Museum of Art takes place tomorrow, April 5th. It will be a Hard Day's Night with reigning Honorary Chairs Harry Benson, C.B.E. and Hunt Slonem together with their royal subjects Event Chair Camilla Webster and Vice Chairs Farley Rentschler, Jennifer Gowdy and Xiomi Penn.
---
---
Harry Benson has graciously given us permission to use his iconic photos of the Fab Four after touching down in New York City for the first time. Gigi Benson, the woman behind the prolific photographer and Commander of the British Empire, explained: "Harry agreed to be the Co-Honorary Chairman of The Salvation Army Bash at the Norton Museum because he remembers as a child hearing his father talk about The Salvation Army always being on the front lines during World War I with food and supplies for the soldiers … as Harry's father witnessed this first hand, Harry has a soft spot for the charity. Trying to get the word out!"
---
---
And so we are! For this fabulous festivity we complied with the invitation's directive to "get your inner flower child at the groovy reception."
---
---
First order of ensemble is platform boots or sandals, if preferable. Then add a floral frock — short, short, short!
Add some ASHA floral accessories and a cap and shades and you are on your way to (groovy) town. Note: If you want to do a temporary hem, pin the dress to the desired height — go ahead, it's just one night — and apply sticky Velcro on both sides of the fabric. Now you are a go-go!
---
---
For the devotees of geometric crispness, here you go! Bell-bottoms, de rigeur as the iconic silhouette of the '60s along with trendy shapes and styles.
---
---
And what cheeky ensembles are inspiring Hilary? "Feathers, cut outs, flowers and platforms. And all is back in style. I particularly like Cult Gaia offerings this season, lots of crochet flowers in all shapes and forms. Perfect for a channeling the '60s. It's all Groovy Baby!"
---
---
It is fitting to celebrate Britain presently as the spotlight brightens on the coronation of King Charles III. May 6th begins the solemn rights with a Coronation service in Westminster Abbey, followed by a coronation procession to Buckingham Palace where the newly crowned King and Queen Consort will appear in royal style on the balcony. The only mystery is who else will be sharing the spotlight. We will be presenting more details and a what to wear article later this month.
---
---
Several generous artists have lent their talents to creating one-of-a-kind bell sculptures to benefit The Salvation Army Youth Arts Program. So Don't Let Me Down, With a Little Help From My Friends, we can Come Together and We Can Work it Out. Sorry, we couldn't resist.
---
---
Make the sensational scene, come ready to party, and support The Salvation Army in their mission to help those in need.
It's not too late to purchase your ticket(s) or sponsor this event HERE.