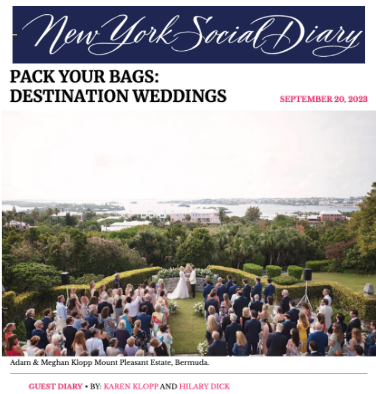 With the coming of the season, Hilary and I have turned our attention to fall, and more specifically, fall weddings. As Hilary's daughter Sophie prepares to tie the knot this week, we can think of nothing else. What fun to look back on some of the most memorable weddings, both pre & post Covid!
---
---
---
---
It seems like all weddings qualify as destination weddings these days even if they are in your own town. No longer single service invitations, nuptials have been transformed into weekends of celebrations — the rehearsal dinner, wedding lunch, wedding reception, and Sunday brunch.
---
---
---
---
---
All of these events can be dizzying to plan and pack for, but just remember our creed: "We take the guesswork out of dressing, the legwork out of shopping and the panic out of packing." To help you along the way, we are sharing pages from the book, Packing for Travel, From Trek Set to Jet Set, the Definitive Packing Guide.
---
---
---
Bermuda Formal or the Bermuda Rig or consists of a blazer, shorts and knee socks. It dates back to British Military Officers at the start of the 20th Century finding long pants unbearably hot in the tropical climate. Adam & Meghan Klopp chose this attire for their rehearsal dinner at Tucker's Point.
---
---
---
---
A Morning Suit, as the name suggests, is worn before 6 p.m. It consists of a long formal jacket with tails, a waistcoat and striped trousers.
---
---
---
This snappy pink shade is so popular because of a certain someone's blockbuster movie that it has become neutral, especially when paired with black accessories to give it chicly stated gravitas. It flatters all skin types in its reflected glow.
The New LBD is a LPD — Little Pink Dress!
---
---
---
A rule of thumb is the later the wedding and reception, the more formal your outfit should be. As the nuptials move to the afternoon, with a dinner following, the attire becomes more along the lines of evening wear. We like being festive in something that has a bit of shimmer, like satin, silk, or brocade. Sequins and jeweled details can also be quite celebratory. But don't go too far with the sparkle. Remember, the bride should be the brightest star.
---
---
Traditionally, Black Tie began at 6 p.m. but a wedding at 5 p.m. with a reception to follow, can be considered formal attire. For this, we suggest a long dress, party shoes, or sandals, sparkling jewelry and a beautiful evening clutch. And to answer many queries, a short dress is perfectly appropriate for formal occasions; just make sure it sparkles. In our experience, more brides today are favoring Black Tie for their wedding attire. And why not? Some moments are too special to be anything but formal.
---
---
---
---
We're happy to report that florals are still in style and we found some beautiful fall shades …
---
---
---
In many Eastern countries, including China, red symbolizes wealth and good fortune, making it the perfect color for brides.
---
---
A White Dinner Jacket can be worn for formal occasions year round in the tropics and in summer in the United States. So dashing!
---
---
---
Hilary has been shopping all over for the most glamorous looks. "It is a difficult task to find a Mother of the Bride dress, let alone ones for other weddings I have coming up. For my daughter's wedding, I called on our friend Paola Quadretti, a fabulous Florentine designer, to make my one-of-a-kind beautiful dress. And then I found these fun frocks as options for fall fetes. As the big day looms, along with a looming hurricane, you definitely want to have your look set and ready so you can enjoy the celebration in full!"
---
---
---
For his wedding in Nicaragua, Bobby Hottensen chose khaki pants and guayaberas for his attendants. A stylish and practical choice for a tropical climate.
---
---
There a style of popular dressing which I call European Formal, but it is also known as Island Formal. The women are in long dresses, as in a Black Tie invitation, but the men wear suits and ties. This saves packing a tuxedo and is a handsome look.
---
---
When heading to a destination, be sure to check the weather before you pack and visit the website of the venue to find out the services it provides. Court reservation or tee time? Massage or blowout? You will need to book ahead for a convenient slot.
---
---
And to guarantee a seat at the table, follow our good guest guide …
---
---
The couple's websites will list registries for gifts the bride and groom have chosen. If uncertain, there is something wonderful about receiving a personalized gift like an engraved photo frame or the wedding invitation in a beautiful frame.
---
---
---
And we'l leave you with out very own David Patrick Columbia's wedding in October 1964 …
When you shop through our site, we receive a commission and we donate a portion to our Charity of the Month.
To see all of W2WW affiliate retail sites click HERE.
Thank you for your support.