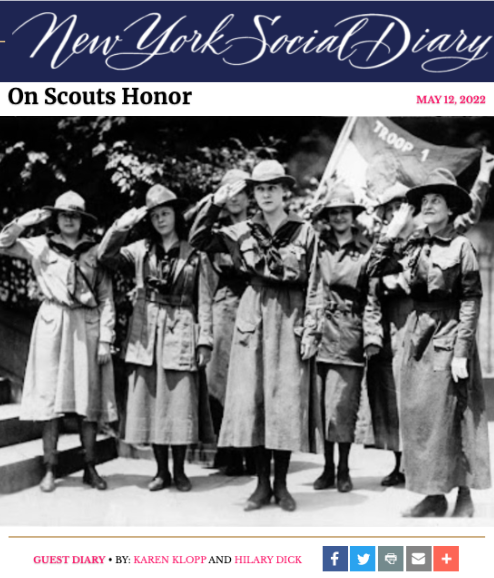 On Scouts Honor
MAY 12, 2022
GUEST DIARY• BY: KAREN KLOPP AND HILARY DICK
The southern season is still in the swing of things. Many charities were forced to postpone winter fundraisers while the Palm Beach Snow Birds are waiting longer to venture back up the Atlantic Flyway. On Friday, May 13, 2022 the Girl Scouts will honor Sharon Bush with the Lifetime Achievement in Philanthropy. The Emerald Awards honors women in Palm Beach County who exemplify leadership and serve as role models for young women in the community.
---
---
An Emerald Award Honoree is recognized as a woman who brings new ideas to life, demonstrates creative problem solving, and brings innovation to her field of expertise or community. This is an honor that Sharon richly deserves as she has valued service throughout her life donating her time as well as her talents. In 2001, Bush received the Outstanding Mother Award, awarded annually by the National Mother's Day Committee, in 2011 she was awarded the Girl Scout Women of Distinction Award, and has been in the forefront of the fundraising efforts for Christo Rey High School in Brooklyn.
---
---
Sharon's family learned by example. Lauren Bush Lauren started FEED in 2007 after traveling with the World Food Programme and seeing hunger first hand. She designed the highly recognizable FEED Bag to raise both awareness and funds to fight world hunger.
---
---
We reached Sharon on Mother's Day for her thoughts, "Wishing all mothers and female mentors who give years of unselfish love, unselfish patience and unselfish guidance a shout out today and everyday. You are all the keepers of the light and love that helps the world go round."
For our what to wear moment, we chose the fresh look of Girl Scout Green.
This lively collection will keep you cool all summer long. Just a note about ordering online. Retailers, caught with inventory in the Covid crunch, now seem to be stocking less. In other words, when you see it — get it. Stores now make package return so seamless, that it encourages a buy to try approach.
Scouts Green …
---
Hilary comments on the award: "I am so proud of Sharon and her well deserved award for all of her amazing philanthropic achievements. Having been a Girl Scout myself it makes it even more special. Though maybe not the most devoted scout, I remember those days fondly, even the late nights working for my badges … and of course the cookies! Sticking with the the green theme I chose these dresses for the hot days of May in Florida. To compliment the color I added neutral accessories and slides. Just add your favorite sunnies and you are set to celebrate these inspiring women."
Hilary Goes Green …
---
The Girl Scouts were founded in 1912 by Juliette Gordon Low in Savannah Georgia at a time when women did not yet have the right to vote. Her vision of empowering girls of the day to expand their talents and opportunities was revolutionary. From one troop of 18 girls over a century ago, Girl Scouts has grown into a world wide organization of relevance, enterprise and discovery.
---
---
---
The Girl Scout Code resonates today and reminds us of a time when we began each day, in every school in the nation, by standing to face the flag and with hands over hearts to recite the Pledge of Allegiance. It felt good. It is notable that this historic organization still honors their original mission while promoting leadership in such contemporary areas as the environment, mental health and inclusion.
---
---
The results from the Girl Scouts Research Institute are impressive. Read the entire report here.
---
---
So kudos to Sharon and her fellow awardees who exemplify the fine characteristics of today's GIRL — Go Getter, Innovator, Risk Taker, and Leader.