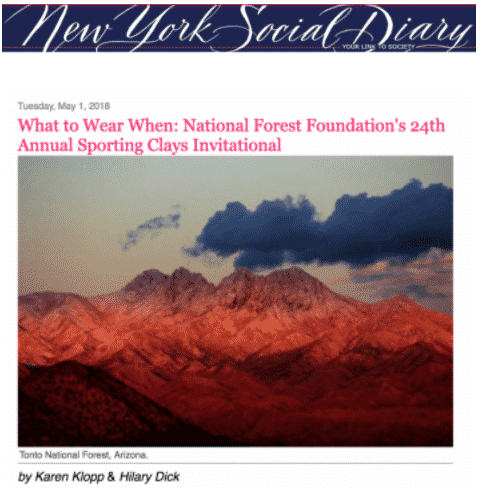 As the old song goes, "If you go down to the woods today, you're sure of a big surprise! But it is not surprising that many of our woods exist because of the National Forest Foundation and its mission to bring people together to restore and enhance our National Forests and Grasslands. It embraces a pure democratic ideal of preservation for wildlife, habitat and humans in perpetuity.
Alternative Visuals

Tonto National Forest, Arizona
There is no pecking order here, just the sights and sounds that lift spirits and souls. Each year 170 million visit our parks to shuss, tread, cast, doodle, noodle, paddle, picnic and play. It would be sad to imagine this country without the national treasures that our parks contain and without organizations like NFF to protect and advocate for them.
Simone Mailman, KK, Frederic Fekkai, Pam Taylor at Beretta for a W2WW party benefiting NFF

Kevin Smith, Dr. Steven Butensky, Dallas Pell
Eames Yates Jr, Kevin and Denise Delhanty

Enthusiastic supporter Pam Taylor Yates explains her commitment, "We are big believers in forests, from our own backyard forest in Millbrook, New York to the multiple amazing forests across the country. They provide habitat for birds and animals, cleaner air and water, and irreplaceable beauty. The challenges from wildfires to climate change threaten the wild places we cherish. It is imperative that these National treasures are protected and allowed to thrive."

Each spring a hardy band of sportsmen and sportswomen gather for the NFF Annual Sporting Clays Competition at Ten Mile River Preserve in Dover Plains, New York.

For those not familiar with Sporting Clays, it is a form of clay pigeon shooting in which the participant takes his or her place at shooting stands spread out over natural terrain. Each numbered stand replicates a type of prey and their movements. When ready, shout "PULL" to have the clays released at varying speeds, heights and direction.
KK getting tips on high ones.
It can be quite competitive and it is one of the few sports where men and women compete toe to toe. Our friend Simone Mailman, one of the best shots around, shares her passion. "Shooting clays is such a fun way to spend time outdoors, especially with a few friends as we all like to cheer each other on. Some of the best shots I know are women, incidentally. Follow it up with a leisurely lunch and it makes for the perfect day."
Shooting Beauties!

Tim Schieffelin, Robert Booz, Mita Bland, Georgiana Bland

Tim Schieffelin, KK, Robert Booz, Camilla Helman, Peter
The weekend begins with a Cocktail Reception in at the Greenwich Country Club with
ol' Smokey as the star of the show.
Tim Schieffelin, Board Member and a champion on the course and off, invites all to join the festivities, "Please join us on May 11th and 12th for lots of fun supporting our precious 193 million acres of National Forests and Grasslands! After all, they give us clean air and water, diverse wildlife habitat and abundant outdoor recreation opportunities and they need our attention now and for the generations to come. What to wear? Ask Karen!"

Tim knows that as lovers of the natural world we embrace the attire for the great outdoors. Our two best sources of stylish attire are Beretta and Orvis – two great companies dedicated to preservation of the environment and education of sporting types throughout the world.

We recommend your apparel reflect the palette found in nature: tans, browns, greens and muted shades. Layering clothing according to the temperature is key to comfort and style. Start with a pair of jeans or long pants, add a shirt – we recommend an SPF, bug resistant top with a shooting vest, and low heeled boots. Eye and ear protection is mandatory and a hat provides a safeguard against falling shot. A cartridge bag is a good addition to your indigenous ensemble.
While I was shopping Orvis, I came across a digital version of ear protection which block out the noise of the shooting range while still being able to hear normal discussion. Since they are pricey, I may wait for Mother's Day to suggest.

Of course, Hilary's choices present the chicest shooting style. "I can't resist adding a little sparkle to any outfit. And while keeping in line with the traditional attire I added a bit of a twist with embroidered jackets by Veronica Beard. They add a bit of fun to the landscape of muted tones without being too bright. And I love Penelope Chilvers boots for any occasion. Top off your look with a pair of glitter aviator sunglasses and a cap and you are sure to be a winner in the competition." .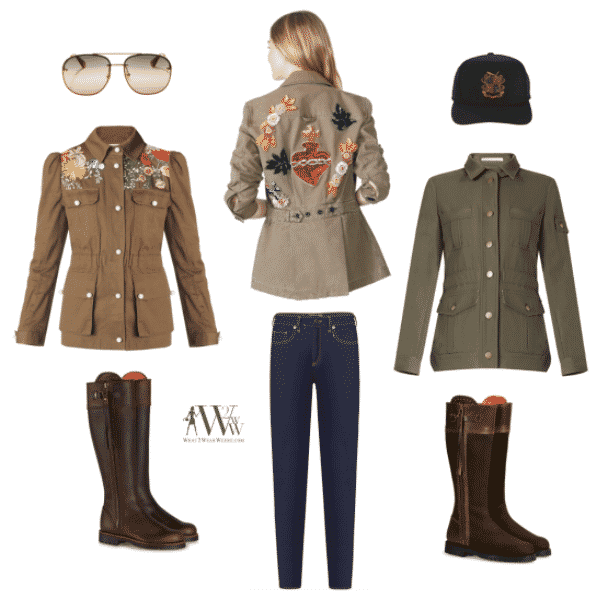 The National Forest Foundation just began a campaign to plant 50 million trees, please join them in their mission. Watch a short video on the initiative.