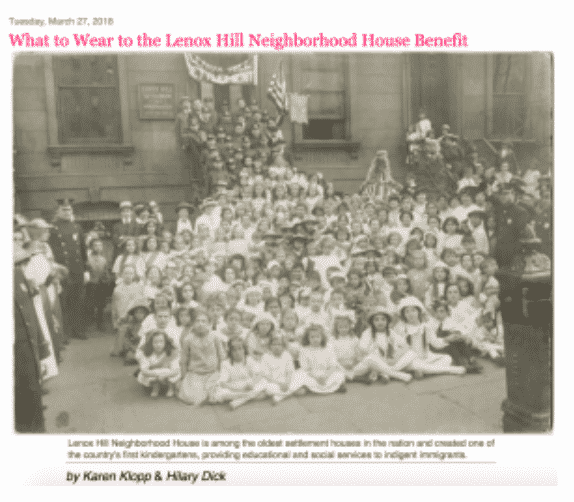 Spring is here and with it comes the greatly glamorous Lenox HIll Neighborhood House Benefit, assembled with loving care in the hallowed hall of Cipriani's 42nd Street. The Design Committee reads like a Who's Who of top tier in the field. Appreciative attendees anticipate the exquisite table designs incorporating china, crystal, silver, linens, chairs, props and extraordinary centerpieces, all unique interpretations of a vibrant theme. And we discovered, to note, the unanimous enthusiasm of its espousers, who enjoy coming together as a community.
Albert Villalobos, Lindsey Coral Harper, David Klein Design Associates, Cullman and Kravis Associates and Vincente Wolf have all generously donated their creative support as Design Chairs. This year's theme, "Make a Splash" will no doubt result in a frenzy of wet and wild creations.

Tom Edelman, Lizzie Edelman, Ingrid Edelman and Eleanor Edelman

The involvement and enthusiasm for LHNH spans generations as Lizzie Edelman, daughter of Board Chair Tom Edelman and wife Ingrid, designer, can attest, "I am very excited to be attending the Lenox Hill Neighborhood House Gala again this year. Always a wonderful celebration for all ages, this event helps bring attention to, and raise money for, a great organization that is close to my father's heart – one which has inspired my own commitment to social impact work over the years. It has been an honor to watch the programs grow, and see first hand the great support they offer so many people in New York City."
Christopher Spitzmiller, Honorary Design Chair offered us a glimpse into the process, "The Lenox Hill party, 'Make a Splash' is right around the corner! For over 15 years I have attended and look forward to seeing what my designer friends come up with for there tables! It's a visual feast and giving support to people in my own neighborhood really matters to me."

Lenox Hill Neighborhood House has a rich, 124 year history. Established at a time when immigrants were pouring into Manhattan, the Settlement Houses were established to provide educational and social support to the poorest settlers. This gala brings the Upper East Side community together in support of its own neighbors.

Margot Takien, one of the Chairs of the events reflects on the importance of the organization, "Lenox Hill Neighborhood House is a magical place. It's a special organization within our community that cares for the young and the old. It is not only a home away from home for so many people, it is a caring environment, providing legal advocacy for so many that don't have a voice, food for those that struggle, a headstart for the young, and entertainment for those who are lonely."
Mark Gilbertson also notes the community aspect of the event, "It's a beautiful and fun evening and a good chance for many people who live on the Upper East Side and elsewhere to acknowledge all the good work that the house has done for the young and old of the neighborhood for well over 100 years."
Last year's Honoree, Geoffrey Bradfield has his own special bond, "2017 marked my 40th year as a New Yorker and being a citizen of this great country. Being recognized by my neighborhood in such a generous fashion was especially meaningful. There are moments in our lives that move us to reflect on how fortunate we are. Receiving this amazing honour from LHNH was a moment in my life I will always cherish."

For our What to Wear moment, I decided to forego the mermaid look and choose an ensemble in a neutral palette to let the ravishing decor take center stage. Whether you are going long or short, you will want to sparkle with metallic accessories and Mother of Pearl chandelier earrings by ASHA. We found out about this lovely jewelry company from Hilary's daughter Sophie, who helps Ashley McCormack with the line.

As usual, Hilary's splashy selections are swimmingly sophisticated, "While Karen decided not to be drawn in by the lure of the mermaid theme, I couldn't resist! "Make a Splash" immediately reminded me of the iconic movie starring Daryl Hannah as the mermaid. So of course, I am thinking sequins. These three dresses featured here are elegant and timeless but will shimmer as you move between what are sure to be unforgettably designed tables. We can't wait to see what this year's incredibly talented designers have up their sleeves to benefit our neighborhood."
Daryl Hannah in Splash 1984

For more information please contact Virginia Pitman, Director of Special Events, at 212-218-0474 or vpitman@lenoxhill.org.