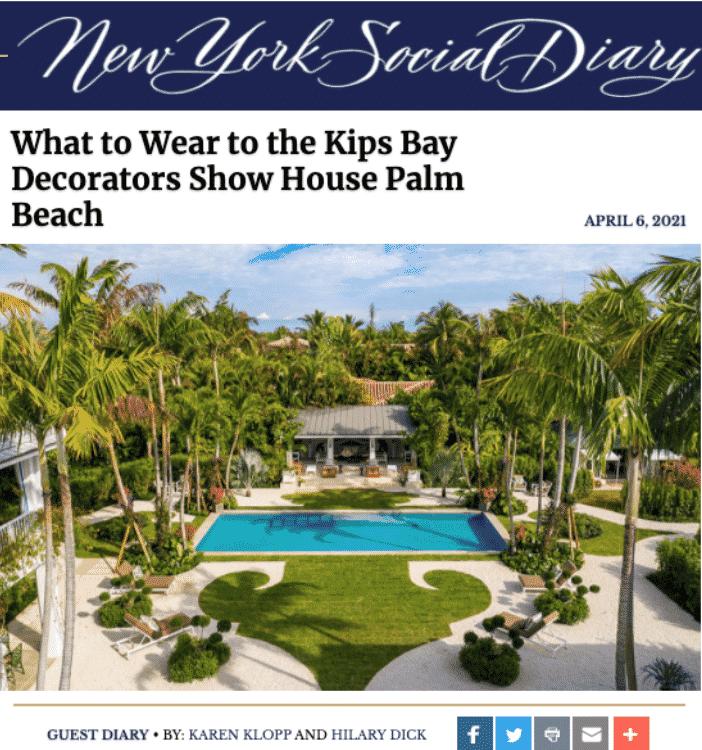 April 6, 2021
GUEST DIARY• BY: KAREN KLOPP AND HILARY DICK
Calling all aesthetes to the 4th Annual Kips Bay Decorator Show House Palm Beach. Officially open to the public tomorrow, April 8th, this year's show house is a 4,400-square-foot Mediterranean villa on Southern Flagler Drive in West Palm Beach, lushly landscaped by the highly decorated team of Fernando Wong and Tim Johnson. We simply cannot wait to see what visual delights await us.
---
---
The format this year is "Covid considerate" as a limited number of tickets are sold for a particular two- hour time slot. This gives viewers just enough time to peruse each designer's stylish a la mode creation and book your returning dates. The Show House will be open from Thursday, April 8, 2021, until Sunday, May 9, 2021, with the Opening Day Preview Reception on April 7, 2021. As fine weather friends are flocking to Florida, this year's showcase will be more popular than ever so reserve your spots now. Last year's pre-Covid photos paint a perfect picture of convivial life in the past and the hopefully not-too-distant future.
---
---
---
---
---
There is a lot of excitement for this year's event generated by the generous participation of the who's who of the design world. And for what to wear when around such a talented and creative group? I kept choices neutral and layered in a bit texture for interest. This Veronica Beard Satin Midi is a perfect minimalist backdrop for architectural experimentation. Accessories are stylishly provided by ASHA, whose line is inspired by art, architecture. Experience has taught that wedges or block heels are the ideal choice for wandering a house and gardens of this stature.
Ready for Opening Evening …
---
---
---
I have reserved some spots for the 3 p.m. to 5 p.m. slot and invited some friends to join me, then go onto an early dinner at Swifty's Palm Beach. I put together a versatile day-to-night look, with Acler's Juliette sleeved shirt dress an update on the classic. The Rosantica raffia bag adds a bit of whimsy as do the Staud sandals. ASHA earrings complete the pulled-together look.
From Show to Swifty's …
---
---
Hilary is feeling feminine. "I too am dressing for a day turning into an evening event. I am always warm, so I chose this flowy off-the-shoulder dress to keep cool as we stroll amongst the rooms and gardens. The Show House visit is one of my favorite things to do each year in Palm Beach. I am always inspired by the creativity of the designers and take notes for my own, one day, Floridian dream house."
---
---
---
---
2021 Kips Bay Decorator Show House Palm Beach Designers
ALEXANDRA NARANJO DESIGNS
AMY MORRIS INTERIORS
ANNA BRAUND INTERIORS
BENJAMIN DEATON INTERIOR DESIGN
http://www.benjamindeatondesign.com
BRITTANY BROMLEY INTERIORS
http://www.bbromleyinteriors.com/
CASA GUSTO
COURTNEY GILES INTERIORS
ELLEN KAVANAUGH INTERIORS
FERNANDO WONG OUTDOOR LIVING DESIGN
FORBES MASTERS
HARRY HEISSMAN IN COLLABORATION WITH ARTIST STASZEK KOTOWSKI
http://www.harryheissmanninc.com/about.
HW INTERIORS
KEMBLE INTERIORS
http://www.kembleinteriors.com/
LORNA GROSS INTERIOR DESIGN
MALLY SKOK DESIGN
!
MARK WILLIAMS DESIGN
http://markwilliams-design.com/profile.php
MIKEL WELCH DESIGN
NINA MAGON STUDIO
NICOLE WHITE DESIGNS INTERIORS
SMI LANDSCAPE ARCHITECTURE
http://smilandscapearchitecture.com
All proceeds from the Kips Bay Decorator Show House Palm Beach benefit the Kips Bay Boys & Girls Club and Boys & Girls Clubs of Palm Beach County.
To purchase tickets, click here.